Today, entrepreneurs have embraced a new trend of operating online businesses. Because people all over the world prefer using mobile apps that are available on the play store for anything from scheduling health appointments to getting house maintenance done.
With all of these being regularly used, consumers are now more likely to employ multi-service applications to meet their daily needs. This is due to the fact that almost all corporate sectors nowadays have embraced mobile app development for their operations. And all of them may be available on Play Store which can be accessed with just one click on the user's mobile.
How Apps Become Super Apps?
---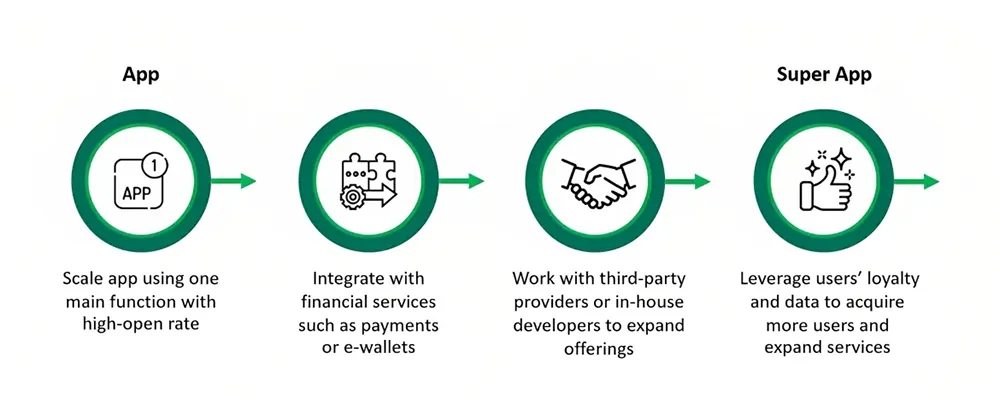 The report of 2022 says that 72% of citizens from Australia, the US, Germany, and the UK are fond of using super apps. Apart from these nations, the requirements for multi-niche applications among users in other countries have also burgeoned to some extent.
Furthermore, withholding such demand, it's expected that the need for these platforms will bolster even further in the upcoming years, and also known that super apps are the future, as per the sources of 2022. The earlier-mentioned figures must have influenced you to get them created.
But, if you are hesitating for developing the white-label multi-service solution with some misbeliefs in mind, then here are some of them discussed and reasons that convince you to build it from the numerous companies mentioned.
Myths regarding marketplace platforms
---
Before plunging into any new industry, it is natural that you might have several misconceptions about it. Similarly, for the super-apps vertical, here are some common misbeliefs that most startup owners possess are stated below. It also becomes their obstacle in getting multi-service applications created by technology partners.
Myth #1 - Super Apps are expensive
It's totally a wrong thought of entrepreneurs that making a marketplace solution falls heavy on their pockets. Instead, it's completely inverse to that because the programmers don't require to write code from the beginning. An application with mandatory functionalities implemented is already built. Hence the developers only update the platform by embedding the features to fulfill the requirements of a particular business. Hence, due to the less toil of coders, it would cost considerably lesser.
Myth #2- Multi-service platforms are made for general purpose
Many startup owners avoid getting super apps built for their ventures by thinking that they will not receive such solutions made by keeping their enterprise's requirements tailored to it. But it's not true at all, as IT firms deliver white-label platforms; hence the need for numerous trades belonging to various verticals of different sizes is fulfilled by gearing them with customized attributes. In short, it says that such applications would efficiently meet entrepreneurs' expectations.
Myth #3 - Requires significant duration to launch
One of the misconceptions that many business admins have is marketplace platforms consume much time to get launched. It's completely false because reputed technology partners offer multi-service app solutions ready within 5-6 working days at max, which includes publishing it on an application store. Thus, it clears all the wrong thoughts of entrepreneurs regarding the prolonged launching period of such software.
Myth #4 - Marketplace solutions are only accessible on mobile
The biggest fear present in the minds of startup owners is their platform would only be used by audiences utilizing smartphone solutions, so they would not be able to fetch the computer users and suffer losses in the future. However, it claims incorrect, as tech firms always keep in mind all categories of users. Thus, entrepreneurs can receive such apps created without any hesitation regarding the accessibility of applications across various devices.
By reading solutions to the above myths, you must have gained a clearer vision of developing a multi-service platform from the technology partner, as they provide the attributes discussed in the next section, which makes it worth investing capital in them.
Are Super Apps really worth investment?
---
Now, you might be thinking that receiving a marketplace platform for an enterprise must have fascinating features streamlining business activities and helping it in gaining huge conversions soon. Refer to each of them stated below:
Set delivery radius
Running a multi-service venture online, it's possible that you may have to deliver services to customers residing far from the specific premise. It would not be feasible for you to offer facilities to such consumers. So, to solve that issue, as a business admin, you can set a boundary across the entire town for delivering orders. Thus, by accessing these attributes, you can charge fixed proportion fees from users based on their preferred location for gaining services.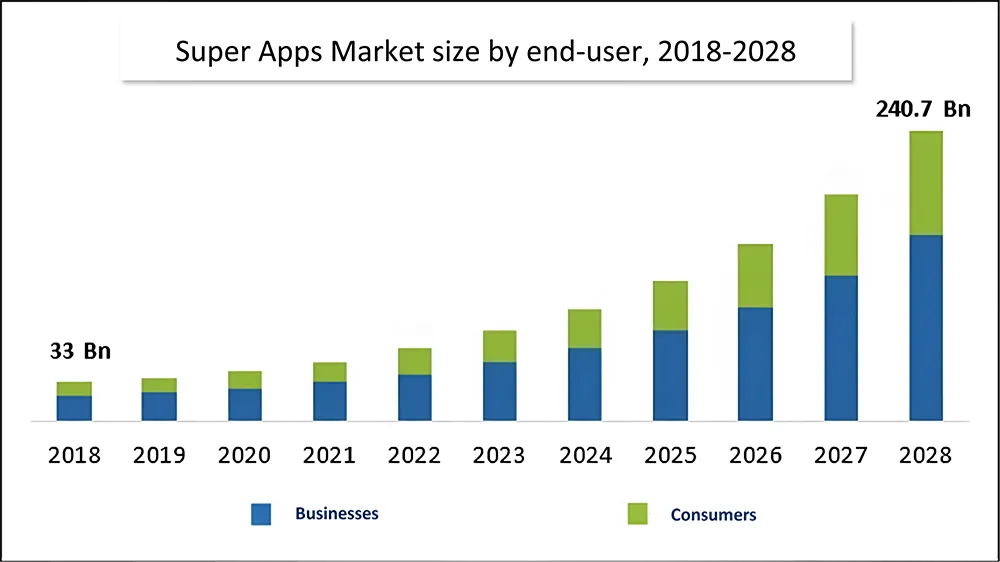 Allot tasks
On receiving orders from an app, merchants can manually assign orders to providers available for giving services at users' doorsteps. Furthermore, they can assign deliveries to providers automatically if busy with other work. An application sends the request to all the available providers nearby. The one who accepts it will be assigned a specific order. Thus, it facilitates vendors in allotting delivery tasks to professionals.
Verify users
As a startup owner, you can confirm the identity of users, merchants, and partners by validating their documents and other mandatory information required for using a platform. It will assist you in maintaining authenticity within an app and keeping their data secure, as a particular user will not be permitted to utilize a solution until an admin verifies and approves them. Implementing this feature would be useful to both you and every stakeholder of the application.
Add location
If you are willing to expand your multi-service trade in other countries, then you possibly can. In such a case, a specification of adding location across the globe seems helpful to you. You can manually select any nation in which you want to start operating your enterprise there. It will assist you in gaining many other benefits of running a business overseas. Furthermore, you can also monitor all the ventures remotely using this feature.
So by reading the above-mentioned features, you must have derived the point that it's worth investing the capital in white-label super apps. It would assist your enterprise to gain certain advantages discussed in the following section.
Several perks of white-label multi-service solutions for startup owners
---
Operating an online marketplace trade would benefit you in different business aspects. Knowing them will likely change your mindset toward a white-label super app and will convince you to get it created for your venture. Refer to each of them stated below:
Streamlined management
Due to the incorporation of numerous enterprise-friendly attributes, you can easily accomplish many time-draining and challenging activities for operating the business efficiently. They are automated to some extent, which assists in performing various tasks easily, including preparing the sales report, analyzing profits, keeping track of employee activities, etc. Thus, by getting numerous activities simplified, overall venture management would seem optimized up to some level.
Bolstered profitability
It's apparent that adding a variety of facilities to your solution would help you in doubling the earnings of your enterprise considerably, as conveyed in the Harvard Business Review(HBR). Apart from this, there are also multiple channels of revenue followed through which you can charge commissions from every stakeholder of your platform, which involves service fees from consumers, charges from delivery providers, advertisement fees, and enrolment charges from entrepreneurs. Hence, in this way, it assists the venture in boosting its income significantly.
Easily configurable
It hardly happens that you receive a multi-service application ready fulfilling your enterprise requirements from the very first use. Generally, it requires you to revamp an application's functionality from technology partners even though the business needs are clearly and thoroughly described. Implementing them exactly as per the discussion is quite challenging. To fill out such minor patches by adding a finishing touch or modifying the specific internal components completely, you would receive a source code of a platform through which you can work on any future improvements needed.
Let's look at the figure below depicting the expected features of a super app.

Thus, by receiving such access to the technical structure of a solution, it becomes easily customizable.
Scalability enhancement
Running a venture conventionally, you can handle the traffic in limited quantities; it would slow down the performance of your enterprise because you need to perform all the necessary functions along with dealing with an audience resulting in low scalability. But, by operating a marketplace venture online through a white-label multi-service app, the business would be scalable enough as a platform is robust to tackle any size of traffic and allows you to perform any operations seamlessly through it. It, in short, results in the rise in the scalability of trade considerably and greatly nourishes its overall performance.
Conclusion
Now, you might have all the doubts cleared regarding super apps by reading the myths, certain attributes, and their positives that make it worth investing your money in them discussed earlier.
White-label solutions have been criticized for being pricey and ineffective, however, these are just misconceptions. In fact, they might be less expensive than creating a custom solution from scratch and help businesses save time.
White-label multi-service app solutions are still a viable and beneficial alternative for companies wishing to increase existing service offerings or introduce new ones to their clients. This blog has gone through the fallacies and inaccurate information about White label Multi-service App solutions.
We hope it was helpful and covered the facts you were not aware of. To get more such insights, do not forget to check our blog .