Did you know about 4.9 billion people worldwide rely on the internet for their virtual needs from social media and entertainment to online shopping and selling? You might even shock to know that this is about 63% of the global population. This is how data is driving the world.
But have you ever thought about what happens to your personal data when you use the internet? Are you aware of the potential dangers and threats?
This blog post will go into the fascinating topic of online privacy, a concept that has no cure but only prevention practices, whether it is in the best software development company or a leading business in any domain.
This blog is significant for everyone who is looking to protect sensitive data or simply aims to reclaim their digital sovereignty, it has got them covered.
So, grab a beverage of choice and get ready to learn everything there is to know about online privacy! We'll look at practical steps you can take, common concerns individuals have while going online, and how VPNs can play an important part in data security.
What is the concept of online privacy?
---
Online privacy has become a heated topic of debate in today's digital age. But what does it all mean? Simply, online privacy refers to an individual's ability to control their personal information and data while using the internet.
When you go online, whether it's to browse websites, use social media platforms, or make online purchases, you leave a digital trail.
Your name, email address, geographical data, browsing history, and even financial information may be included in these footprints.
Top 5 ways to protect your privacy online
---
#1 Keep Your Software Up to Date
Keeping your software, including operating systems and applications, up to date is one of the easiest yet most effective strategies to protect your online privacy. Critical security patches that correct vulnerabilities that hackers could exploit are frequently included in software updates. You may reduce your vulnerability to cyberattacks by applying updates on a regular basis.
#2 Use Strong and Unique Passwords
We've all heard it before, but it bears repeating: strong and unique passwords are essential for maintaining your online anonymity. Common passwords, such as "123456" or "password," are easily guessable. Instead, create complex passwords with uppercase and lowercase characters, numbers, and symbols. Additionally, use unique passwords for each account to avoid a domino effect if one is compromised.
#3 Enable Two-Factor Authentication (2FA)
Using two-factor authentication to provide an extra layer of security can dramatically improve your online privacy protection. To access your accounts with 2FA enabled, you'll need a password and a secondary verification method, such as a text message code or biometric confirmation.
#4 Be Mindful of Phishing Scams
In recent years, phishing scams have gotten more sophisticated, posing a substantial threat to online privacy. When clicking on questionable links or sending personal information via email or social media messaging, always be cautious. Before exchanging sensitive information, double-check the sender's email address or website URL for any discrepancies.
#5 Use Virtual Private Network (VPN) Services
A VPN encrypts your internet traffic while hiding your IP address, making it more difficult for prying eyes to monitor your online activities.
It establishes a secure tunnel between your device and the websites/services you access, making third-party interception harder.
A good VPN service, such as Surfshark lifetime subscription, adds an extra degree of security while maintaining anonymity and allowing safe browsing across several devices
Can you protect yourself Online?
---
Online safety has become a crucial concern in our digital age. The internet is filled with potential privacy dangers and cyber threats that could jeopardize our sensitive data. But the question is whether you can defend yourself online. Yes, but it takes a proactive approach and the adoption of particular procedures to protect your privacy.
Strong and distinct passwords are required for all of your accounts. Names and birthdays are two examples of irrelevant information to avoid. Instead, use intricate letters, numbers, and symbol combinations.
Be cautious of phishing efforts. Cybercriminals frequently pose as genuine companies in order to deceive unwary users into disclosing personal information. Before supplying any confidential information, always double-check email senders' addresses or website URLs.
Using dependable security software such as antivirus programs and firewalls gives an extra layer of defense against viruses and unwanted access.
Fourth, when visiting the web, consider using virtual private networks (VPNs). VPNs encrypt your internet connection and disguise your IP address to preserve your online privacy.
Avoid excessive social media sharing. Be cautious about what you post publicly, as malevolent actors may use it against you.
While these precautions improve one's online security, it's crucial to realize that no defense is perfect.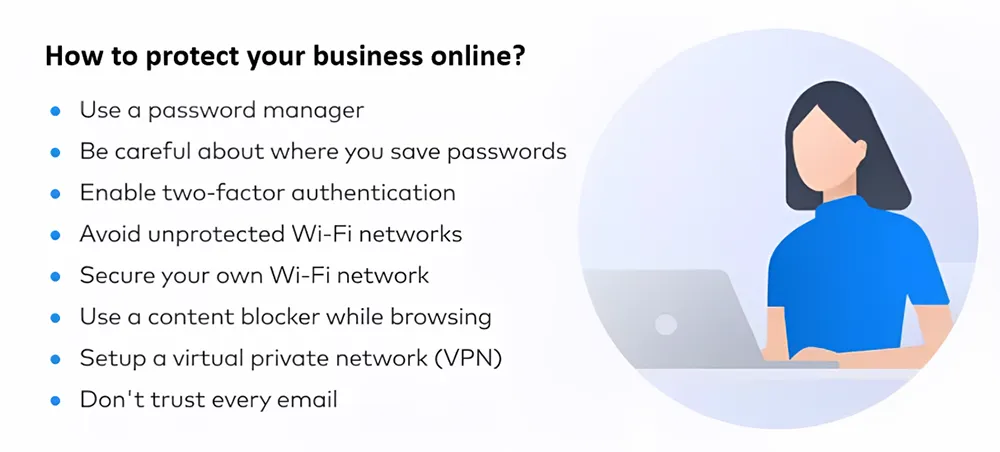 Users can considerably reduce their exposure to potential risks hiding in the broad world of the internet by continuously adopting good digital hygiene habits and staying educated about developing problems in cyberspace using resources. VPN Guide - users can greatly minimize their exposure to potential dangers lurking in the vast realm of the internet.
What is your biggest privacy concern when going online?
---
When it comes to getting online, many people are concerned about their privacy. It's no surprise that privacy has become such a heated topic, given the ongoing developments in technology and the increasing amount of personal information exchanged online. So, what is your main privacy concern when you go online?
Some people may be concerned about their personal information being stolen or hacked. With data breaches growing increasingly widespread, it is critical to protect sensitive information such as credit card details and social security numbers. Online shopping and banking have simplified our lives, but they have also made us more exposed to hackers.
Others may be concerned that their browsing activities may be recorded by advertisements or perhaps by governments. The thought of someone knowing every website you visit or every search query you make can be intrusive and unsettling. As a result, many people seek strategies to safeguard their identity when surfing the web.
Another major problem is social media privacy. In an age when sharing every element of our lives on platforms like Facebook and Instagram is the norm, there's always a nagging concern about who can acquire access to this information and how it might be used against us.
When it comes to online privacy, everyone has different objectives. Whether it's protecting personal information from hackers or remaining anonymous while browsing, taking precautions to secure yourself online is critical in today's digital world.
Stay tuned for the following segment, where we will explore practical internet security measures!
Key points to consider for Online data privacy.
---
Without adequate precautions and protection, your sensitive information can be easily accessed by hackers or third parties without your permission.
Maintaining your autonomy and having control over who can access and use your personal data is the goal of online privacy. It entails taking precautions to safeguard yourself against potential threats such as identity theft or unlawful spying.
To properly protect your online privacy, use strong passwords for all accounts, including emails and social media profiles, and keep them up to date!
Second, restrict the quantity of personal information you give on social media sites to only the details requested by service providers for lawful purposes.
Furthermore, avoid clicking on strange links or downloading files from untrustworthy sources because they may include malware capable of compromising your privacy.
What are the top 3 privacy issues?
---
In today's digital world, privacy concerns are escalating. With the increased sharing of personal information online, it is critical to be aware of the top privacy issues that may affect you.
1. Data breaches: One of the biggest privacy concerns is the risk of data breaches. Hackers and cybercriminals are constantly trying to gain access to sensitive information such as credit card details, passwords, and social security numbers. When a data breach occurs, your personal information can end up in the wrong hands, leading to identity theft and fraud.
2. Online tracking: Another major privacy issue is online tracking. Many websites and platforms use cookies and other tracking technologies to collect data about your browsing habits, preferences, and interests. This data is then used for targeted advertising or sold to third parties without your consent.
3. Government surveillance: The revelation of mass surveillance programs by government agencies has raised serious concerns about online privacy. Governments have access to vast amounts of personal data through various means such as monitoring internet activity, phone calls, emails, and social media posts.
Conclusion
In conclusion (without explicitly stating "in conclusion"), when it comes to protecting your privacy online - knowledge is power. Educate yourself on best practices for maintaining privacy and act today! By doing so, you can navigate the vast virtual world with peace of mind knowing that your personal information remains safe and secure.