Blockchain is a distributed digital ledger. It helps to record every transaction across various computers. Many tech titan clients have begun to hire Ethereum Blockchain developers for smart contract development since it helps with unbreakable security, fine transparency, and data permanence. It builds trust and eliminates any intermediaries. This technology provides a verifiable record and tamper-proof of every transaction.
Blockchain is a groundbreaking technology. It emerged and captivated the attention of innovators, industries, and business owners worldwide. It is crucial for businesses to determine th best place to advertise a business and keep transaction records. Hence, an influencer, blockchain technology, and other aspects can help businesses thrive.
Blockchain technology has extended its influence far beyond the field of finance. With its revolutionizing capabilities, it has the potential to transform many industries. This article will delve into the wide potential of blockchain. Also, it will examine its applications in diverse sectors.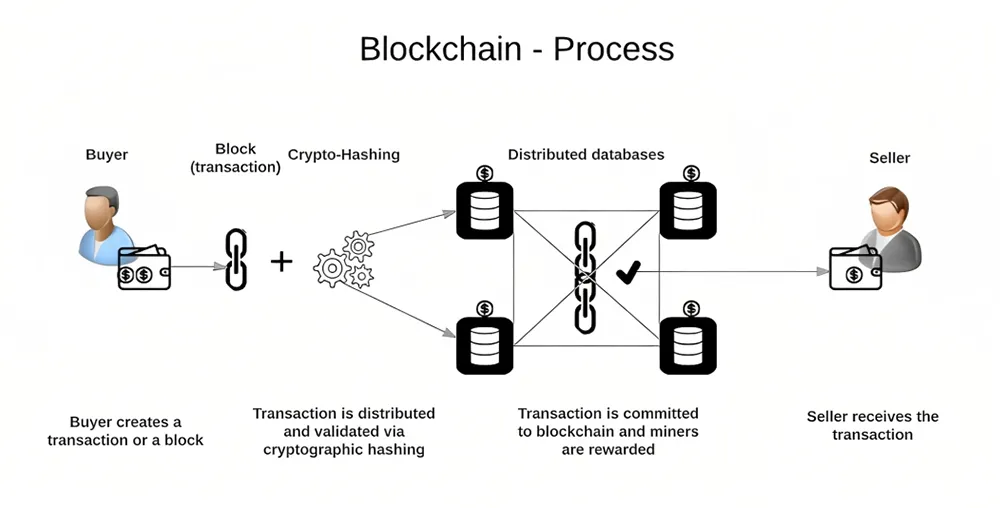 Blockchain in Healthcare
---
Securely manages patient data and information. Enables interoperability as well as advances medical research.
Joe Troyer, CEO & Head of Growth of DigitalTriggers, said, "Blockchain-based Electronic Health Records (EHRs) help in securing patient data. It allows the establishment of encrypted and tamper-proof electronic health records. Blockchain technology in the healthcare industry guarantees the privacy of data. It provides consistent interoperability between healthcare providers. Plus, it also empowers the patient to keep a record of their overall health information. Blockchain supports medical research which is another plus point in the healthcare industry. It can share data securely meanwhile preserving patient consent and privacy."
Blockchain in Energy and Utilities
---
Empowers decentralized grid management and energy trading. Also, blockchain-enabled smart contracts empower sustainable practices.
Blockchain technology empowers the energy sector. It allows decentralized peer-to-peer energy trading. Plus, it also facilitates automated and transparent grid management with smart contracts. It enhances energy distribution optimization and the use of renewable energy sources. Blockchain-enabled smart contracts also allow consumers to participate directly in the energy market. Blockchain improves energy efficiency and promotes sustainability. It does so by reducing reliance on centralized intermediaries. It also allows greater consumer control over energy usage.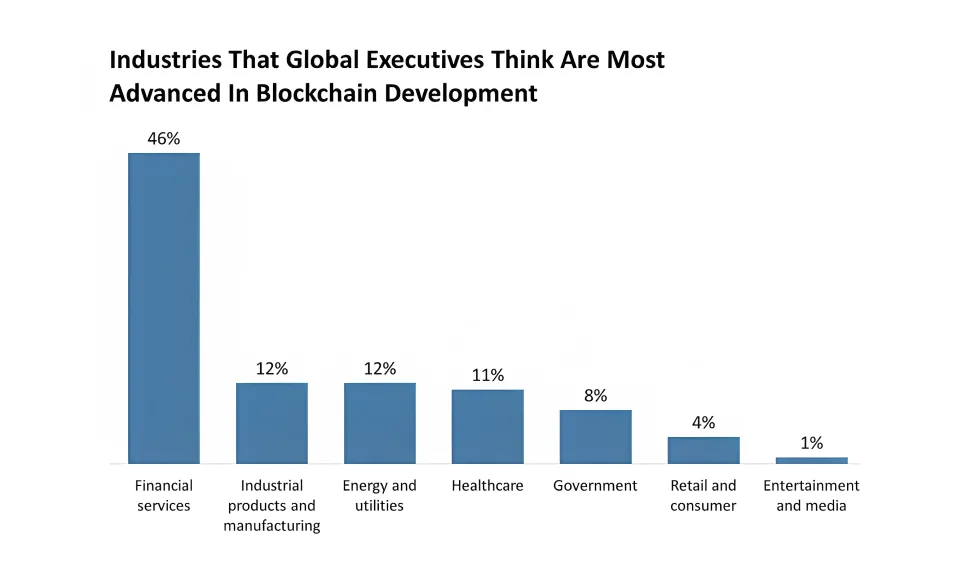 Blockchain in Intellectual Property
---
Safeguards ownership and simplifies licensing. The blockchain-based copyright and royalty management systems protect creativity in the digital era.
Alex Contes, Co-Founder & SaaS Expert of ReviewGrower, advised, "With blockchain technology, you get a secure and decentralized platform. In such platforms, you can manage intellectual property rights and simplify copyright procedures. You can do all this while ensuring that you make fair compensation for creators. The artists, content creators, and musicians can register their work securely. Also, they can track ownership, and receive automatic and transparent royalty payments. Moreover, it protects against infringements. It also guarantees proper rewards and attributions for creative contributions."
Blockchain in Finance
---
Blockchain networks enhance security, transparency, and efficiency in financial transactions.
Ryan Steinolfson, Business Owner at Accelerate Marketing, said, "Blockchain technology revolutionizes traditional financial systems. It uses decentralized networks and improves the efficiency of a business. Since blockchain eliminates intermediaries, it enables faster transactions. This technology allows peer-to-peer transactions. Hence, it reduces a lot of potential problems. Plus, you get more cost-effective transactions, ensuring data integrity with cryptographic verification. Its transparent nature enables enhanced auditing. Moreover, it also prevents the risks of manipulation as well as fraud."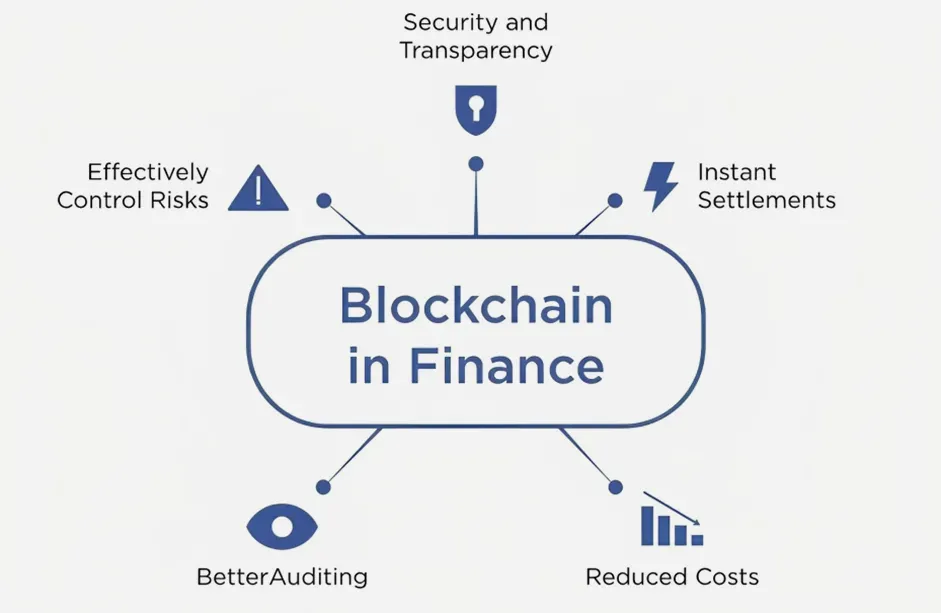 Blockchain in the Government and Public Sector
---
It improves efficiency and promotes transparency. Blockchain-based Identity Management and Public Records Systems strengthen trust in governance and public services.
Blockchain provides an opportunity to enhance efficiency, transparency, and trust in different services. Government can implement blockchain-based identity management systems to securely verify identities. Meanwhile, it will also help to lessen fraud and smoothly run administrative processes. Blockchain also allows immutable public record systems creation. It will guarantee the integrity of important documents, voting systems, land ownership records, etc.
Blockchain in Supply Chain Management
---
Revolutionizing authentication, efficiency, and traceability. Global supply chain leverage Immutable blockchain technology to revolutionize its sector.
Anila Lahiri, Chief Marketing Officer at EINSearch, said, "You will find plenty of inefficiencies, counterfeit products, and lack of transparency in the global supply chain. Blockchain technology provides an immutable ledger to supply chain management and transforms it. It offers records for transactions and every movement of goods. This allows end-to-end traceability, transparency, and authentication across the supply chain. Blockchain verifies the authenticity of products, optimizes logistics, and reduces counterfeiting. Thus, it improves efficiency, building trust among the stakeholders. Blockchain technology enhances the overall resilience of supply chains throughout the world."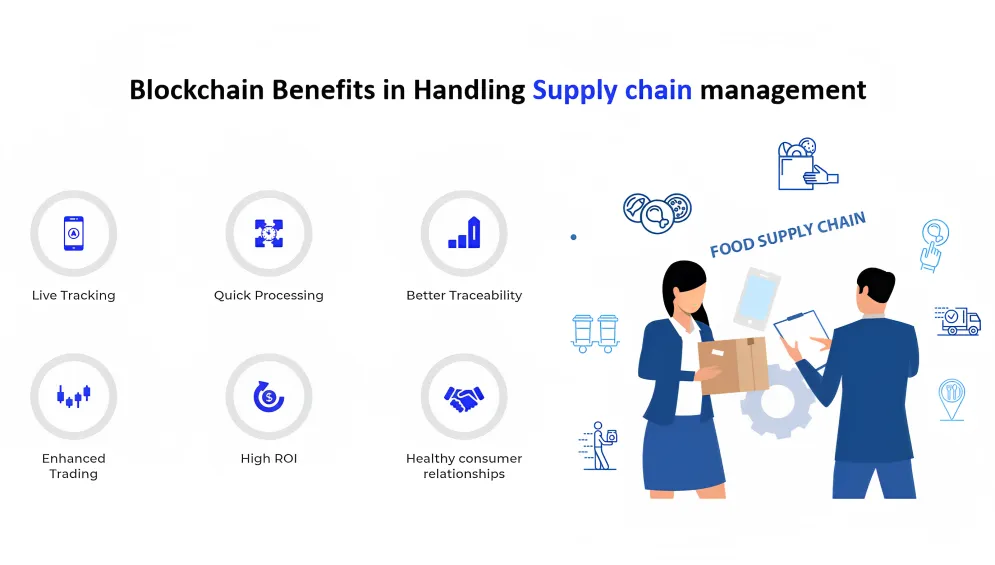 Blockchain in Manufacturing and Logistics
---
Optimizes inventory management and reduces counterfeit. Blockchain-based Track and Trace Solutions improve the efficiency of the supply chain.
Vicky Cano, Chef & Recipe developer at mealfan, said, "Blockchain technology revolutionizes the manufacturing as well as logistics industry. It introduces decentralized and transparent track and trace solutions. Manufacturers can leverage immutable ledgers to verify the origin of products. They can also ensure the authenticity of products across every stage of the supply chain. This helps to effectively reduce counterfeiting and ensure the integrity of the product. Moreover, blockchain-based track and trace solutions smoothly run inventory management. It also enhances supply chain efficiency and optimizes logistics. With these factors, companies can improve customer satisfaction and operational performance."
Blockchain in Manufacturing and Logistics
---
Enhances trust and boosts supply chain visibility. Blockchain-based Solutions enable secure transactions for retail and e-commerce businesses.
Josh Snow, CEO of Customerfeedback, said in an interview, "Blockchain technology offers a secure and transparent platform. In the retail or e-commerce, the platforms are alike for both consumers and businesses. Use blockchain's decentralized nature. It will help retailers to build trust as it ensures the authenticity of products. Hence, it reduces the risk of counterfeit goods. It also enables transparent supply chain visibility. Blockchain-based solutions provide protection of customer data and lessen the risk of fraud. This will ultimately boost the overall shopping experience."
Blockchain in Real Estate
---
Streamlines property transactions and ensures transparency. With Blockchain-based Smart Contracts and Land Registry, the blockchain simplifies title management.
Blockchain technology transforms the real estate industry. It simplifies property transactions and makes sure to streamline title management. You can automatically execute real estate transactions through blockchain-based smart contracts. It minimizes the need for any intermediaries, reducing associated costs as well. Blockchain-based land registry systems offer tamper-proof records. This helps to prevent any fraudulent activities, building trust in property ownership.
Blockchain in Insurance
---
Streamlines claims to process and improves fraud detection. Blockchain-based Platforms help in the improvement of underwriting.
Blockchain technology transforms the insurance industry. They streamline claims processing. Also, they help in the detection of fraud and improve underwriting practices. Use smart contracts and immutable records. The insurers can reduce paperwork and processing time, automating claims settlement. Moreover, blockchain allows efficient verification of policyholder information. It also improves fraud detection capabilities, ensuring transparency in insurance transactions. This leads to enhanced customer satisfaction and operational efficiency.
Blockchain in Entertainment and Media
---
Empowers artists and protects copyright. Blockchain-based Platforms revolutionize content distribution.
Blockchain helps musicians, artists, and content creators. It provides decentralized platforms for copyright protection, content distribution, and fair compensation. In the entertainment and media industry, artists can publish and monetize their work. Blockchain helps to do all these actions with complete security. This ensures transparent royalty payments, minimizing unauthorized distribution risks. Additionally, blockchain-based platforms allow direct interaction between consumers and artists. It will foster an inclusive and more collaborative entertainment ecosystem.
Conclusion
---
Blockchain technology has immense revolutionizing power in various industries. It influences not only the finance industry but also many others. Blockchain has the capability to disrupt traditional systems. It improves efficiency and builds trust in the evolving interconnected world. With the help of blockchain technology, many businesses have improved their customer experiences. Plus, it also helps industries to become visible in the digital realm. Blockchain has affected different industrial sectors globally. Hence, it is considered to reshape the future of industries very soon.