Did you know that Office 365 platforms are used by more than 1.3 million organizations worldwide? You might even be surprised to know that 258 million people prefer these platforms to boost their business' productivity to exceptional levels. These statistics demonstrate how these applications have grown to be a trusted ally for millions of enterprises to bridge their business gaps.
Microsoft Office 365 platforms are known for their remarkable add-ins. These are available in large numbers, each with the potential to meet business requirements.
Add-ins play a stunning role in simplifying corporate operations. These are often used for various purposes such as documentation, data analysis, communication, email, storage, and other services.
When they are readily available in large numbers and each one can meet the business requirements, what is the need for custom Office 365 Add-in development?
This is what we are going to learn in this blog. Let's deep dive and learn the importance of custom add-ons and off-the-shelf solutions.
What is the need for Office 365 Add-ins in today's digital landscape?
---
Businesses nowadays are very focused on finding solutions that require the least effort, greater productivity, and optimized efficiency. This is where Add-ins come into play.
Adopting Office 365 Add-ins unlocks a world of efficiency, productivity, and agility, enabling organizations to thrive in the ever-evolving digital landscape.
Microsoft Office Add-ins assist businesses in streamlining their processes by incorporating new functionality.
They increase efficiency by automating processes and providing easy access to vital information.
Add-ins can be modified to meet specific organizational requirements.
They make document sharing and real-time collaboration possible.
Overall, they enable your organization to run more effectively, customize workflows, and optimize operations in the digital environment.
They can expand the fundamental functionality of Office apps and combine them with other services.
What is Off-the-shelf Add-in?
---
Off-the-shelf Add-ons are pre-made extensions used to increase the functionality of Office applications. They can only be used without customization and have limited features. These add-ons could be a valuable tool for companies with straightforward needs. They conveniently give the finest user experience while offering the best way to speed up everyday procedures
Regardless of whether you want data analysis, templates, tools for collaboration, or other useful capabilities. Consider them as ready-made updates that enhance your use of Office.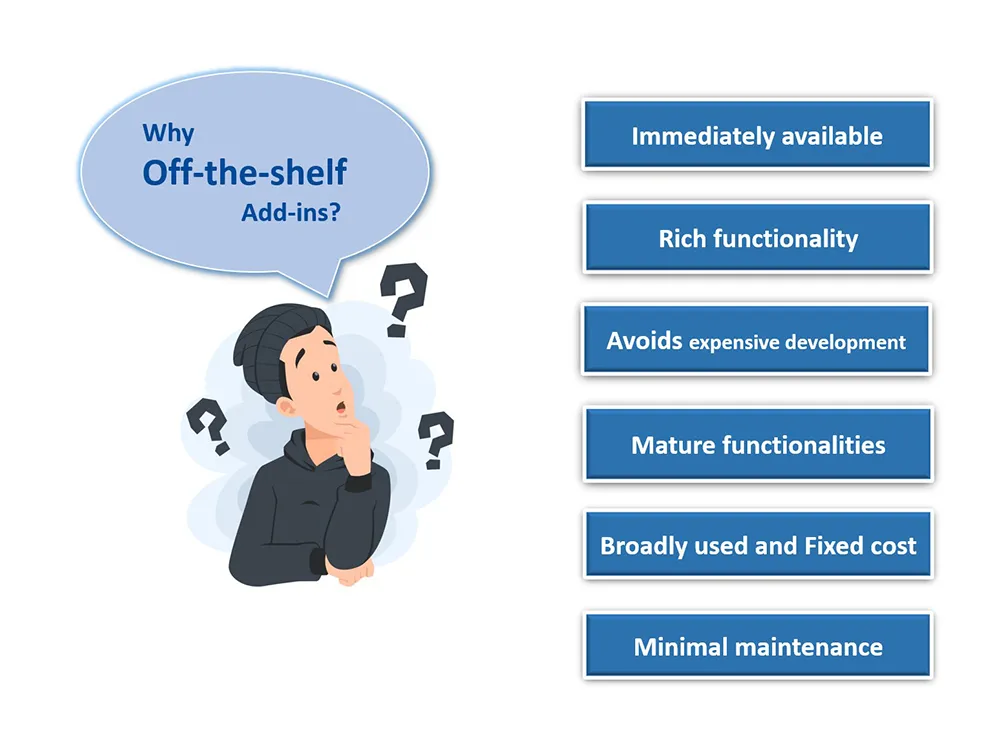 What are the benefits of Off-the-shelf Add-ins?
---
Now that you are well aware of the importance of Off-the-shelf add-ins and how they could be a game-changer for Microsoft users. These powerful extensions extend functionality, streamline workflows, and improve productivity.
Let's explore some of the benefits of embracing off-the-shelf add-ins for Microsoft applications.
Expanded Functionality
Microsoft apps are implemented with basic functionalities and when you sense the need for speed, these Addins are the first thing that springs to mind.
These Ad-ons expand the essential features of Office platforms and aid in streamlining business activities.
You may find add-ins that add specialized functionalities to create stunning visuals, analyze data, integrate project management, and more.
Collaboration made effortless
Use readily available add-ins that are focused on collaboration to promote seamless teamwork. Co-author documents, streamline communication, and interact with cloud storage systems. Work efficiently together wherever you are.
Reduced manual processes
It eliminates manual processes that distract employees from their primary tasks.
Improved efficiency
It reduces effort and enables experts to concentrate on more significant tasks which are of priority.
Time-saving automation
You can save valuable time with existing Add-ins. You may generate reports, perform calculations, manage emails, organize schedules, generate leads, and many more. Boosted productivity with high-value work.
Improved creativity and professionalism
There are several Add-ins that assist with professionally designed templates, graphics, and editing tools to elevate your office work. Impress your clients with visually stunning presentations, brochures, and email campaigns and create a long-lasting impact.
What is custom Add-in development?
---
Custom add-in development is the process of creating add-ins based on the client's specific needs. These add-ons serve as creative solutions that let users customize their Office experiences to suit their needs and streamline corporate processes.
Customized Add-ins are among the finest options for businesses that seek ways for workflow optimization and harness the power of Microsoft platforms for their business.
Let's delve into the core concept and learn the benefits of custom Office 365 Add-ins development.
What are the benefits of custom Add-ins development?
---
Businesses would find some worthwhile benefits with custom plug-ins development. They are:
Boosted efficiency and streamlined workflow
Streamlining workflows and increasing productivity are two key advantages you would find with bespoke plug-ins development. By integrating customized Add-ins, you can seamlessly automate repetitive tasks and reduce errors. This saves time and allows your business to concentrate on high-value tasks.
Tailored features and functionality
Businesses can benefit from customized features designed and developed as per their needs. Compared to commercially available alternatives, these add-ins are more functional and can speed up activities more successfully. Custom add-ins provide you the ability to improve your Office products precisely to meet your needs, whether that means automating complicated procedures, producing specialized document templates, interacting with external systems, or adding industry-specific capabilities.
Seamless Integration and Enriched Collaboration
Customized Add-ins can be integrated into any of your Office platforms be it Outlook, Word, Excel, or PowerPoint. These solutions will help you make your business flawless and effective.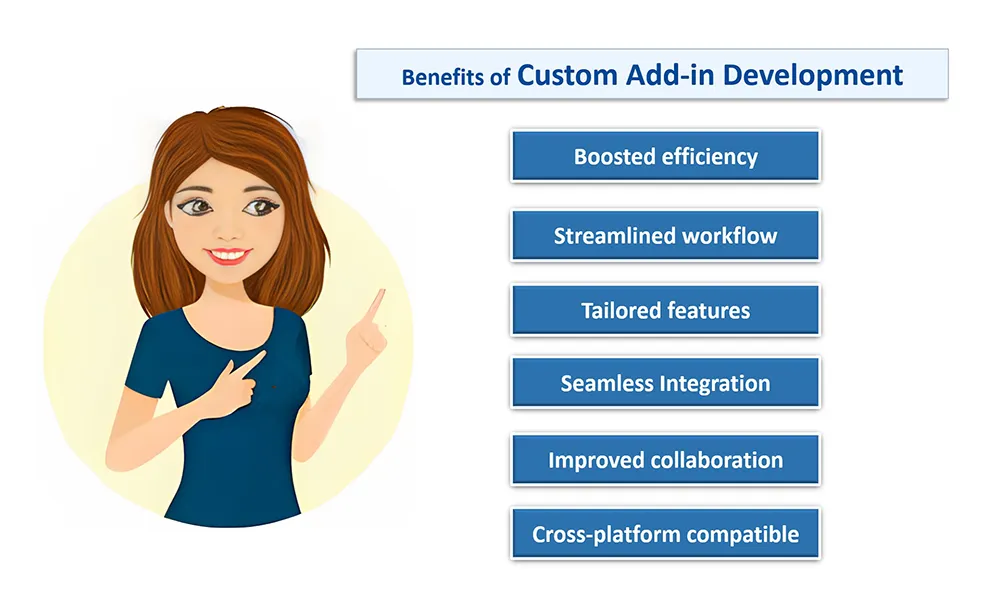 Integrating bespoke Office Add-ins allow you to access and modify data from various sources without leaving the comfortable Office environment. You may integrate them with external services, databases, or APIs to do so. This will also promote cooperation through real-time data exchange and communication among team members.
Cross-Platform Compatibility
Cross-platform compatibility for Windows, mobile, web browsers and macOS is possible with custom Office Add-in development. Regardless of the device or operating system they are using, this flexibility guarantees that clients can access their customized features and functionalities.
Meanwhile, take a look at how Office 365 Add-ins supercharge productivity and efficiency.
Customized Add-ins vs Off-the-shelf: Factors Deciding the right choice
---
When it comes to enhancing your business's productivity with Microsoft applications, choosing the right add-in is crucial. Two primary options to consider are off-the-shelf add-ins and customized add-ins.
There are certain factors you need to consider when deciding which one is the best to go with.
Factors to Consider When Choosing Off-the-Shelf Add-Ins
---
Off-the-shelf add-ins are pre-built extensions readily available for use with Microsoft applications. They offer a range of features and functionalities designed to address common business needs. Here are a few reasons why off-the-shelf add-ins may be well-suited for your business:
#1 Quick implementation
Since these add-ins are ready-made, they can be quickly integrated into your existing Microsoft applications, saving time and effort in the implementation process.
#2 Cost-effectiveness
Off-the-shelf add-ins are typically cost-effective options, as they are developed for a wide user base, spreading development costs across multiple customers.
#3 Established functionality
Off-the-shelf add-ins often have established functionality that caters to common business requirements. They can automate repetitive tasks, provide data analysis capabilities, facilitate document collaboration, and more.
Factors to consider while Choosing Customized Add-Ins
---
Customized add-ins are tailor-made solutions developed specifically to address your business's unique needs and workflows. These add-ins are built from scratch or by extending existing off-the-shelf add-ins. Here's why customized add-ins might be the ideal choice for your business:
#1 Precise fit for business needs
You may have customized add-ins built to match properly with your own business needs, ensuring that you have the capabilities and functions required for your specific processes. For example, Add-ons for Outlook that could manage thousands of emails effectively with a click.
#2 Enhanced efficiency as a top priority
By automating specific processes and streamlining workflows, customized add-ins can significantly improve efficiency, saving time and reducing manual errors.
#3 Integration with current systems
Custom add-ins may effortlessly interact with the systems, databases, APIs, and third-party apps used by your company, giving users a consistent and satisfying user experience.
#4 Competitive advantage at any cost
Customized plug-ins provide you with a competitive advantage by letting you set your company apart with distinctive capabilities, custom reports, specialized tools, and industry-specific functionality.
#5 Scalability and flexibility for Add-in
Custom add-ins can grow and evolve with your business. These add-ins may be upgraded and even modified to meet new requirements and enable future expansion as your demands alter.
Users looking to enhance their Microsoft Office experience have a wide range of options available to them thanks to Office 365 Add-ins. Users may achieve higher levels of efficiency by customizing features, simplifying workflows, connecting other systems, and providing cross-platform compatibility.
So, what are you holding out for? Hire Office 365 Add-ins developer now to embrace the power of personalization.
Conclusion
The decision between pre-made add-ins and bespoke add-ins depends on a number of factors related to your company. Off-the-shelf add-ons offer continued support, established functionality, cost efficiency, and speedy setup. Customized add-ins, however, provide a precise match for business requirements, increased effectiveness, interaction with current systems, a competitive edge, and scalability.
To decide which one is best for your firm, consider your budget, special requirements, time limits, and long-term objectives. Whatever route you take, utilizing the power of add-ins will definitely increase the productivity and success of your business ecosystem.