The adoption of social media for eCommerce has grown rapidly. Businesses rely on visibility while Billboards and flashing kind of displays are losing ground to online presence. Social networking is used by eCommerce firms as a trustworthy and strong sales tool. It takes time to build an organic following, but highly focused marketing initiatives are far faster.
According to Google, 97% of customers conduct online research before visiting a local business. To be a successful entrepreneur, you must have a strong online presence. You need to connect to the people that follow you. In order to make a good relationship with your customers, you should answer their questions. For instance, if you own a gaming laptop business. Before purchasing a laptop, they may ask about the processor, GPU, and overall performance. If you answer their queries, they will trust you and feel relaxed while spending a decent amount for a purchase.
What exactly is social media e-commerce marketing?
---
Social media e-commerce marketing is a type of digital marketing that focuses on using social media platforms to promote and sell products or services online. It involves creating and sharing content, interacting with customers, and driving traffic to an e-commerce development website to generate sales and increase revenue.
There are many different strategies and techniques that can be used in social media e-commerce marketing, such as creating social media ads, using influencers to promote products, running social media contests or giveaways, and creating engaging content that encourages customers to share and engage with the brand.
Social media platforms have become a crucial tool for e-commerce businesses to promote their brand, products, and services. By using social media marketing strategies, businesses can increase their brand exposure, attract new customers, and boost sales.
One of the key advantages of social media marketing for e-commerce is the ability to raise brand exposure. Social media platforms allow businesses to share content, engage with their audience, and reach a wider audience beyond their existing customer base. This can help to increase brand recognition and awareness, which can lead to increased product interest and ultimately, more sales.
Social media can also be used to drive traffic to e-commerce websites. By sharing links to their products and website content on social media, businesses can attract potential customers who may not have discovered their website otherwise. This can increase website traffic and provide more opportunities for sales conversions.
In addition to driving sales, social media can also be used to interact with customers and provide them with support. Customers may have questions about products or may encounter problems during the purchase process. Social media provides a direct line of communication between businesses and customers, allowing businesses to provide pre and post-sale support quickly and efficiently.
Role of Social Media in E-commerce
---
The primary goal of social media e-commerce marketing is to leverage the power of social media platforms to reach a wider audience, build brand awareness, and ultimately, drive more sales. By using social media to connect with customers, businesses can create a more personalized and engaging shopping experience, which can lead to increased customer loyalty and repeat business.
Social networking can help you build your e-commerce business no matter how big or small it is. It may assist you in reaching your potential consumers, increasing traffic to your website, and increasing your ROI. Reaching out to customers through social media is the easiest, quick, and most inexpensive method of building a strong presence.
Why Social Media Sharing is important for E-commerce?
Social media helps people discover your business. Most people use social media and spend a decent amount of time discovering different brands. If you have a strong online presence, then visitors trust you, and visitors may convert into customers.
This post will provide you with some pointers on how to establish a powerful internet presence.
Set A Goal
Social networking may help your business in various ways. But if you want to be successful, you must set a goal and strive for it. But, in order to be successful, you must have a goal to strive for since you will need to take steps to develop a social media strategy and get there. Your fundamental objective is to turn visitors into customers and earn more revenue and grow more. But it all depends on setting a goal. One such platform is LinkedIn mostly used for effective marketing and lead generation. LinkedIn is used by everyone to highlight their professional skills and expertise, and if you can position yourself as an authority in your field and acquire a significant following, then LinkedIn can be a powerful tool for your social media E-commerce marketing strategy.
Plan a Strategy
Aiming to improve your online presence is a good start. After you know your goal, you need a plan. The first step in building a successful social media presence is identifying who will be on your team and assigning specific tasks to them. Create a content calendar and choose a posting frequency.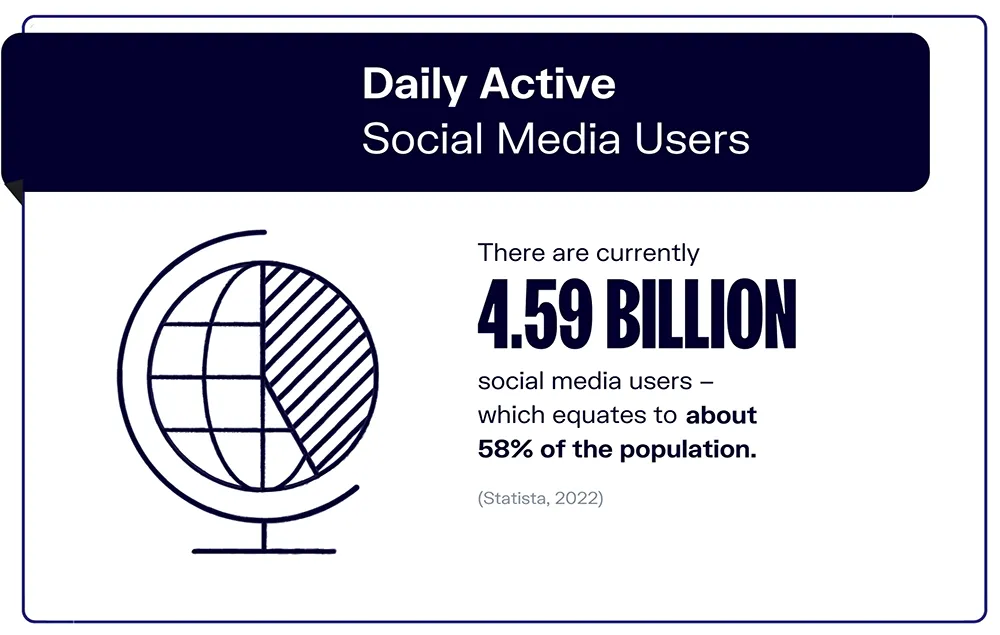 Identify Your Audience
Identify your audience. Almost 3 billion individuals use social media. But you cannot appeal to all the people in the world. You need to dominate a niche. If your eCommerce development company
Build A Strong Relationship With Followers
Social media allows you to connect instantly with followers worldwide. It is its beauty that you can make relationships in a very short time. You can build relationships with people by answering their queries. Try to respond when your followers @mention and share with you. Like, comment, and retweet to contact people.
Build An Optimized Profile
It's important to start with the basics while developing your company profile. You should give an overview of what your business does, where your business is located, and how people can contact you and order. Other than that, using Keywords and hashtags is important as well.
Start Publishing Relevant Content
Posting content that followers find interesting and useful can help you make your online profile optimized. Because content is the primary factor in growing a committed organic following, you can publish blog posts, guides, eBooks, success stories of customers, webinars, and videos. Your social media profile is unrestricted as long as it fits your business and appeals to your audience. No matter whether you're humorous, serious, perceptive, or playful, add your personality to everything as long as it's reliable, excellent, and in accordance with the brand.
Tools for Scheduling and Automating Posts
It takes effort and dedication to stay active and present on social media. But, content writers can use automation technologies to publish and schedule posts up to a month in advance.
These tools, which include Hootsuite, Sprout Social, Buffer, MeetEdgar, and BuzzSumo, can help you save time by allowing you to plan and schedule multiple articles at the same time. They also help you monitor your networks and reply to notifications more rapidly.
Maintain Brand Voice and Presence
Social media requires ongoing effort. Building trust takes time. Every post should reflect your brand and image on social media. If you have multiple people posting on social media, everyone will have their own style. Thus, limit the number of people posting and make sure everyone knows your voice and image. Automation tools can save you time and keep you active on social media when you're not! With the correct tools, you can reduce your spending time, but it will still take at least 10-20 minutes a day to monitor and answer inquiries.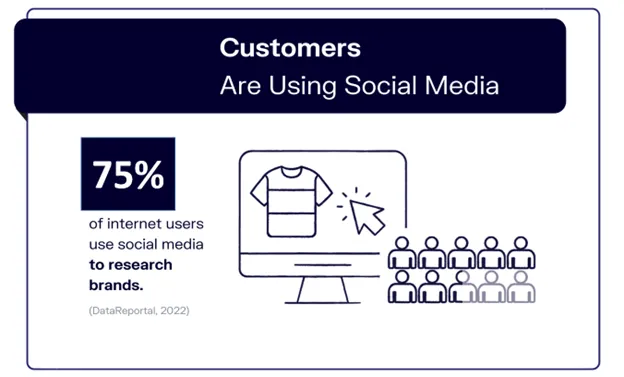 Develop Brand Loyalty
It is important to retain a current customer by developing the trust of the customer and building brand loyalty. Social networking lets you interact with current customers and show them you are valued. New product releases, discounts, and other interesting updates can keep your social media followers interested and increase brand loyalty.
Track Your Progress with Metrics
Social media use is increasing every day. It's not required to be on every social platform. It's best to set goals, find your audience, and choose a medium accordingly. To stay on target, measure the metrics that matter for your brand and goals. For instance, monitor social traffic to boost site visitors and then work on turning those visitors into customers. Google Analytics, Facebook Analytics and page insights, keyword reports, Buffer, and BuzzSumo are other metrics providers that will help you to keep an eye on the metrics to track your progress.
Promote Items On Your Accounts
With social media's growth, people spend more time on it to read the news, chat with friends, and work. Consumers spend a lot of time on social media, so they may explore and discover new items. It is important to inform potential customers about your product range in order to increase brand awareness and sales. You can use social media profiles to promote your eCommerce products. Showcase your items' qualities and benefits with eye-catching photographs and videos. Keep in mind that online shoppers can't touch, feel, or interact with your products. This implies you should go all-in on showcasing your products on social media as often as possible. If customer finds something that they need, then there are chances that they will visit your profile again. Therefore, the promotion of the product on social media is important.
Run Appealing Social Media Ads
Most platforms like Facebook, Instagram, Twitter, and Youtube offer advanced sponsored campaign settings to assist companies in reaching the correct audience and converting them into customers. Promote your eCommerce shop with targeted social media ads. Interests, demographics, and behavior help target your audience. Your social media channel offers a variety of ad styles and targeting options. These advertisements are one of the best strategies to increase sales and customer reach.
Livestreams
One underappreciated kind of content is live video sessions. These videos can help you interact with your audience, share "exclusive" content, and offer more product insights. Give customers a chance to look at your business and show them live product demonstrations using live video. This builds trust and customer involvement.
Use Social Media Influencers To Grow Your Audience
eCommerce companies no longer promote their products with just ads. Influencer marketing is growing because people trust opinion leaders as much as friends. eCommerce companies flourish by working with social media influencers.
Collaboration with influencers in your niche can assist you in reaching a larger and more engaged audience. Influencers can advertise and endorse your products on their channels. Work with influencers in your niche and audience. This is an essential eCommerce marketing strategy for any online business. Micro-influencers work best because their followers trust them more. Their audience is smaller but more engaged.
Advantages of Social Media Marketing for E-commerce
---
Social media marketing can bring many advantages to e-commerce businesses. Here are some of the key benefits:
#1 Increased visibility
Social media platforms provide an opportunity for e-commerce businesses to reach a wider audience and increase their visibility. By leveraging the power of social media, businesses can expand their reach and attract more potential customers.
#2 Enhanced customer engagement
Social media provides a direct line of communication between e-commerce businesses and their customers. This allows businesses to engage with customers, address concerns, and build relationships that can lead to increased loyalty and repeat business.
#3 Targeted advertising
Social media platforms offer advanced targeting options, allowing e-commerce businesses to target their ideal customer demographics, interests, and behaviors. This can help businesses optimize their ad spend and drive more conversions.

#4 Increased website traffic
Social media can be a powerful driver of website traffic for e-commerce businesses. By sharing links to their products and website content, businesses can attract more visitors to their sites and increase the chances of making a sale.
#5 Improved brand awareness
Social media marketing can help e-commerce businesses build brand awareness and establish themselves as authorities in their niche. By creating valuable content and engaging with their audience, businesses can develop a strong brand identity and attract more customers.
Thus, SMM can be a highly effective tool for e-commerce businesses looking to boost their online presence, attract more customers, and increase sales.
Wrapping Up
---
Social media usage is getting popular. People spend more time on it. Therefore, e-commerce businesses can easily target their audience and reach their objectives. You can post more than product feed posts. This is uninteresting and won't earn you any interaction. Instead, use social media to sell items, engage customers, and develop brand awareness. Above we have discussed some tips that will help you grow your customers and to build a strong online presence. Your online shop may expand with the correct social media marketing goals and strategies.