Have you ever thought about how some organizations constantly manage to get incredible exposure with implausible traffic? What helps them to makeultimate brand recognition? Yes, today in this blog, we are going to expose this pitchin detail and learn how to make the most out of this.
Table of Content
To establish brand recognition and attaingreat traffic for any organization,Guest blogging is an ultimate way. Before making a move on it,first,let us understand what exactly is the Guest Blogging.
What is Guest Blogging?
---
Guest Blogging can also be called as Guest posting, which is an act of writing top-quality content for some other company's website.Through this, you will get an opportunity to attract boundlesstraffic through your do-follow linksspecified inside the content.Besides, your brand recognition would also get increased with thisapproach.
Deciding the Goals for Guest Blogging
---
Before proceeding further, your primary task is to determine what exactly the goal is for this guest blogging. This would be very helpful in determining the right kind of blogs to submit for guest posting. In general, we can find 3main goals for the above subject. They are -
Put yourself as an authority with your name in the agency.
Accomplishing high traffic to your website.
Implementing backlinks on the website.
These three strategies could be achieved with top-quality and informative content on the top ranking blogs.
In case, if your aim remains on achieving #1 or #2, then you should concentrate onappealing and good-sized blogs that could catch the user'sinterest. And if your aim is focused only on #3, then linking your blogs with strong DA (Domain Authority) would make great sense.
You might be thinking about how to verify all these described things? No need to worry, there is a free toolbar called SEOmoz through which you can check all these possibilities.In short, recognizing the goals in advance is a great plan to follow.
Now, let us delve deeper into the concept and learn about the ways of finding Guest Blogging opportunities.
What are the ways to find Guest Blogging Opportunities?
---
Finding the sites that are relevant to your industry or niche is the first task you must be focusing on. The following are certain criteria you would be looking for.
Industry-focused content.

Grab audience interest on your industry.

Socially shared and commented blogs with engaged readership.

The DefaultValue attribute of the Description element will have a placeholder. Replace it with the My First Outlook add-in keyword.

How often the blog owner is active on social mediaplatforms (to get your work promoted on them).
Finding the Guest Blogging Opportunities
Finding relevant websiteson Google that match exactly to your industry/niche and accepts guest posts.You can search in this way - "your niche + blog". This is one of the fastest and intuitive ways of finding the Guest Blogging Opportunities.It is also important to consider the DA and PA of the websites before submitting to. It is also recommended to choose websites having DA > 25 at least and avoid high spam score websites for guest posting your blogs.
This is how the results page would look like when you search for your niche related blogs.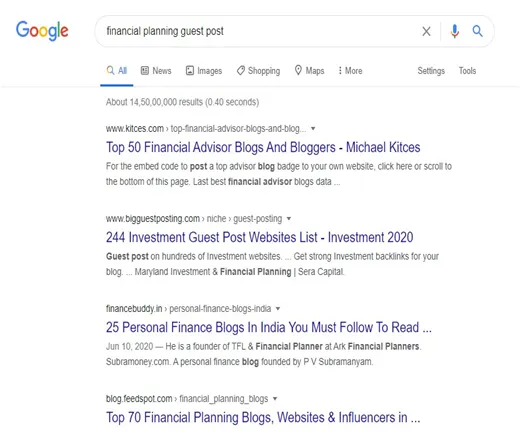 With just one proper search you could possibly find list of websites that provides guest blogging opportunities.
Advanced Search
In some situations, we feel difficult to get accomplished results for guest blogging. In such case, we need to take the things to advanced levels and start utilizing some advanced link prospecting strategies.
Advanced searching is done using some special operators and these will help to a great extent in narrow down the scope and finding the best Guest blogging opportunities.
The following are some of the major operators used for finding guest posting opportunities
Intitle search – Example: intitle: "SEO guest blogging"

Inurl search – Example: inurl:[guest] + [topic]

The OR search – Example: "iFour" CEO OR "Founder" OR "Director"

Site search – Example: "site:name.com
Some other searches include - Exact match search, Cut Search, etc.
Top Quality content will always be in demand
---
It is an ultimate fact that in Digital marketing field, top-quality content would always staydemanding. Most of the top sites which offer guest posting opportunities accepts only the fine-quality content.
David Balaban, the owner of Privacy PC says that - "To become successful in this area you need to be an expert in your business. I am a computer security expert and I write articles for sites that cover this topic. Success in guest blogging, as in everything else, depends on hard work. You need to write many helpful articles and systematically submit those articles to potential websites. I manage to write 3 - 4 articles a week. I can increase this number, but I do not want to lose quality, and the quality requires a lot of research. Top sites demand high-quality content.At the moment, I have about 350 sites in my track record that have posted my articles. When looking for new sites, I have to send 10 - 20 letters a day. A lot of time is spent looking for email addresses of people who are responsible for content and blogs."
Increasing the credibility of Brand, Domain Authority, and Backlinks
---
Many experts claim that with the help of informative and quality content, one should also keep an extra focus on raising the credibility of theBrand, Domain Authority, and backlink strategy.
VolodymyrBilyk,a reputed Marketing Manager at CNA International IT, says –
Success - raising the credibility of the brand and its representatives. A couple of articles and op-eds on the industry-niche website plus a couple of references in the blogs as experts. No direct promo - just showcasing the expertise on personal examples. Result: traffic boost to the website immediately after the posts went live, and a significant increase in potential lead contacts during the week. There was a sequence of ten posts on different websites, and it gave us enough leads to work through for almost three months.
Failure - raising the website's domain authority and backlink profile. While the strategy in itself was tried and tested, the problem was that the niche had a limited pool of credible websites with high DA. You could go with general-purpose tech websites, but the impact was limited due to no-follow links and direct mention limitations. In addition to that, I had no internal experts to represent, so the whole effort was borderline anonymous. The result - the effort's result didn't justify the initial investment.
What are the top Guest blogging outreaching tools?
---
BuzzSumo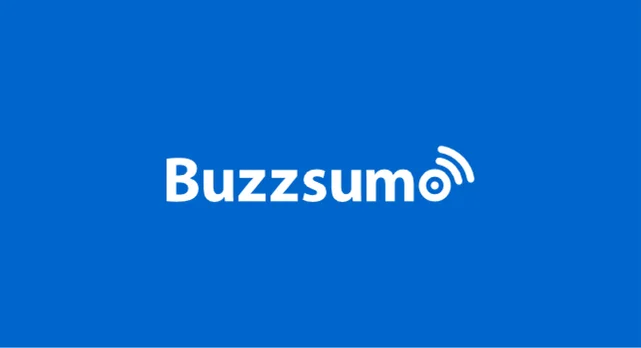 BuzzSumo is a perfect tool that helps in finding popular content according to the topic on any website.
By this, you can outreach to the owners of the blog sites, connect them,and make your pitch for guest blogging.
Traackr

To outreach the influencers and create fine relationships with them, Traackr is the best option.Traackr provides a wide array of options to import contacts, and track conversations.
Through the help of this data-driven platform, you can handle campaign managementefficiently and grow user network.
Tomoson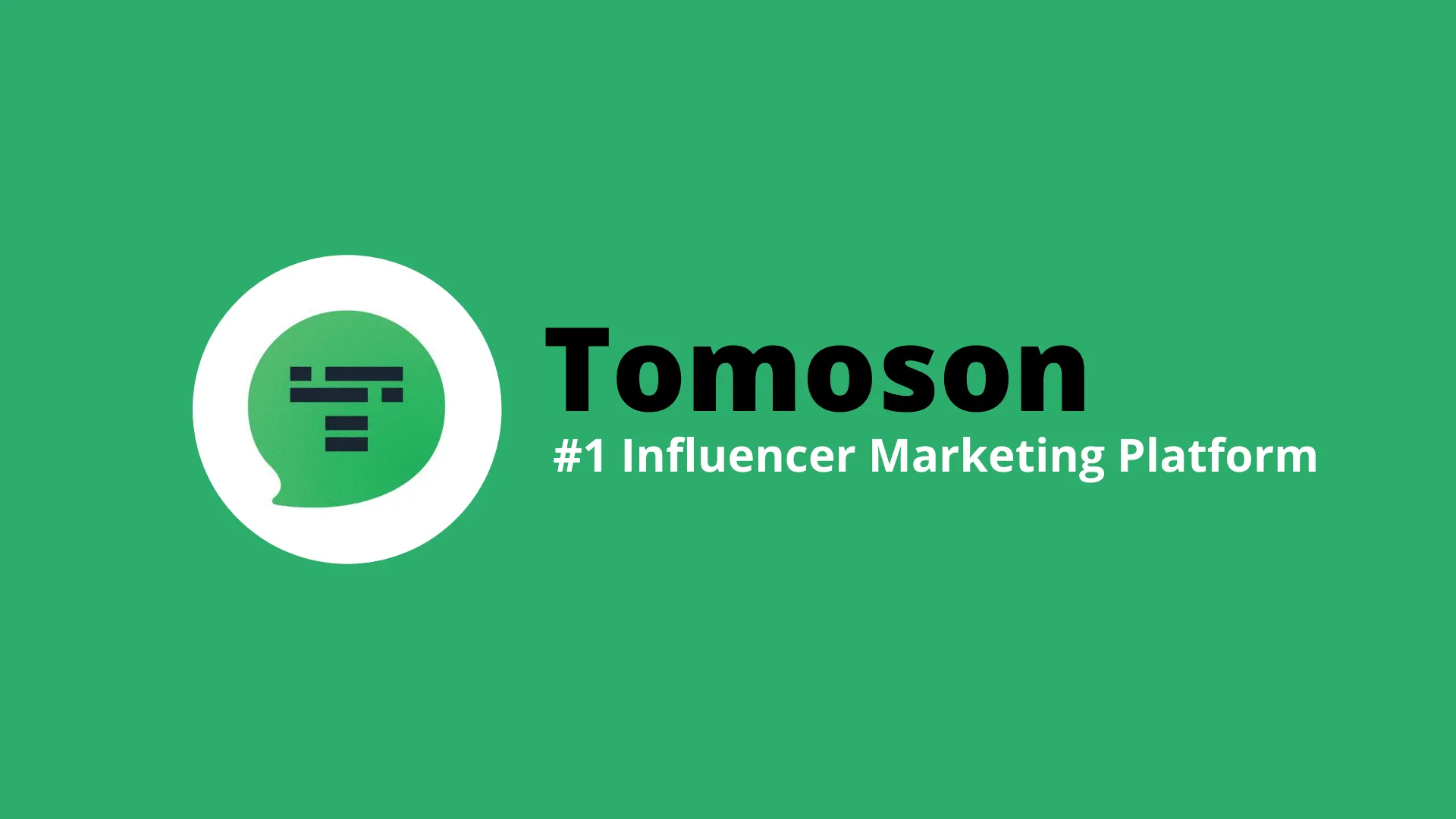 Tomoson is an influencer marketing platform, that helps in building the brand.
Through Tomoson, you can possibly manage various social media accounts from a single place. That means, with just one click, you can post your interesting content to multiple accounts and have control over them.
PitchBox

Pitchbox is one of the vital tools that is used to fulfill the blogger outreach needs. It is helpful in link building and promoting the content by outreaching the influencers.
To talk about the features of Pitchbox, then it includes influencer's social profile and contact management, performance metrics, personalized templates, automated follow-ups, etc.
Buzzstream

Buzzstream is a web-based software tool that assists with email outreach andhelps in automating key tasks such as tracking reply rates, finding email addresses, follow up through emails, etc. All these you can continue from one place.
Inkybee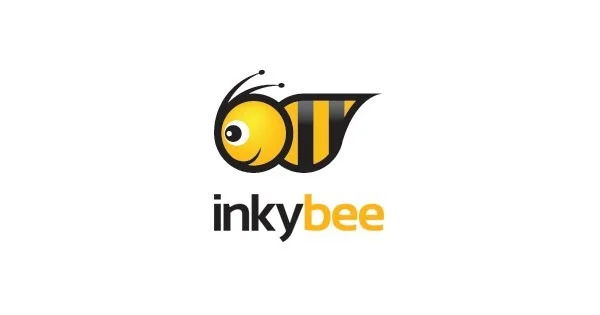 Inkybee assists you with a high level of service when you try to reach your niche-related influencers or dig up any contact information.
Most of the features of this software are quite similar to the mentioned tools but its "ongoing blog discovery feature" makes it unique from them. With this blog scanning feature, it provides more influencer opportunities to the user.
Ninja Outreach

Ninja Outreach facilitates some astonishing features that keep it stand out from the crowd. Those include personalization of templates, track email stats, auto-email outreach, etc.
It combines the features of three required tools i.e., a prospecting tool for target websites, email finding tools for searching email addresses, auto responder tool for sending multiple emails at a time.
What are the main benefits of Guest Blogging?
---
To win the trust of your target audience and wide-spread your brand awareness, making theGuest blogging strategy would make great sense.Contributing high-quality content to the other websites would benefit you in several ways. Some of these benefits are:
You can get instant traffic exposure to your website.

You would get an opportunity to leverage your authorship and collaborate with others for processing co-authored posts.

You can increase contacts with great influencers, and possibly interact with them for the best ideas for back-linking strategies.

Through guest blogging, one will have a chance to increase social media followers as well.

By the way of content contribution to other authoritative blogs, probably you could convert your viewers into loyal subscribers.

It benefits the SEO of your website through do-follow or No-follow backlinks added in your guest posts.

In addition to brand awareness, Guest blogging would help you in generating leads.

Sales cycle would be decreased for your product and services and many more.
Common Guest Blogging Mistakes
---
Mistake 1: Focusing on quantity over quality
A mistake that many digital marketers make with guest blogging is focusing on quantity over quality. A successful guest post that will provide authority to your links needs to be niche relevant.
Solution: Avoid posting your guest post on general sites. If the other articles on the blog are relevant to your niche, you'll have much greater success. Also, don't oversaturate your guest post with links. one or two links is enough. And, even though the guest post exists primarily for the links it provides, it should still be great content.
- Josh Imhoff, Owner of Always Relevant Digital
Mistake 2: Not checking the authority or SEO of the Guest Post website
The biggest mistake I see digital marketers make when guest blogging is not thoroughly checking the authority or SEO of the Guest Post´s website. Why take the time to write a guest post for a site that doesn´t provide you value?
Solution:First to check the domain rating/authority of the website then check the backlink structure of the site. Also, check how many guest blog posts the site puts out in a day. If the number is over 10 then forget about it. If the site looks good then write a post that is valuable, has original content, and is within the guidelines.
- Caleb Riutta from Dusk Digital
Mistake 3: "One and Done", seeing guest blog as a link and only a link
The biggest mistake I see in guest blogs is what I call the "one and done". Too many people see a guest blog in terms of a link and only a link, so they churn out the content, read it over once, and then email it into the ether and move on to the next one.
The problem is you've created a blog that does nothing for anyone. It's not SEO optimized, so it won't get any traffic or internal links, and now your link is weak. It's likely not strong enough to use as an example for outreach. Also if you're not promoting it you're not opening yourself up to other opportunities on sites that are run by the host of the blog.
Solution : Every guest post should be treated just as you would a post on your own site. Make it as strong as possible. Share it on your social media. Make it something that will drive organic traffic.
- Brian Kelleher, Director Of Content of KillerGuitarRigs
Mistake 4: 'write for us' page in guest post site and submit the content
Guest posting is one of the most popular link building tactics. Most people just scrap websites that have a 'write for us' page and submit their content… but therein lies the problem. It's what everyone else is doing too. There is no clearer sign that a website is a spammy guest post farm when they have a 'write for us' page or similar and links from these types of site are not going to do you any good whatsoever, you are completely wasting your time and doing more damage than good.
There are of course a few exceptions to the rule, so if a site is well established and has a high level of authority but does have a write for us page you can be sure that they are extremely picky about any content they publish and keep it relevant.
Solution: But as a general rule, you need to stay away from websites that have pages like- 'Write for us', 'Content contribution', 'Guest post'As they only build links that are very obviously manipulated and not built naturally.
- Heather Richardson from Matthew Woodward
Mistake 5: Ignoring the Right Audience of the Website
One of the most common mistakes writers make is ignoring theaudience of the website. Many times digital marketers seek guest bloggingopportunities to help spread their message and promote their business, but yourbusiness shouldn't be the focus of these articles.
Solution: The purpose of guestblogging is to inform and engage with a new audience, so focus on them. Whatare the interests or desires of that audience? How can your article help themsolve a problem or inform them about a new topic? Always keep the audience topof mind when writing and your guest blog post will be remembered – and so willyour business.
- Beth Adan, Director of Marketing at Rapidlearningcycles.com
Mistake: One of the most common mistakes guest made with guest bloggers is the missed understanding that they could be writing for a different audience.
Solution: It is important that guest bloggers take the time to learn about how the audience communicate with brands and vice versa, in order to successfully manage to engage the audience and in turn, hopefully create some successful back linking to their own website. While it's important not to lose your personal voice with the post, somethings are important to edit slightly so that the audience interact with you.
- Daniel Foley, Director of Daniel Foley
Mistake: The biggest mistake digital marketers make when guest blogging is forgetting to optimize their content for SEO and social media. Bloggers usually optimize their own content, but when guest blogging it can often get overlooked.
Solution: It's important to always optimize your content to increase traffic to the guest site and bac to your own.
- Aaron McWilliams, Director of Marketing at 1Dental
Mistake: While creating content for your own blog, website, social media platforms, etc., it is important that you focus on a specific target audience so that your money and time don't go to waste. If your audience is too broad, then you will waste time marketing to an audience that has no interest in your company.
Solution: The same idea follows when writing a guest post. It is important that you learn that blogs audience to understand the type of content you should be writing. If you don't target their audience, then your post will be of no use to them. This will not only waste their time, but your own as well.
- Andrew Ruditser, Co-Founder & Lead Technology Coordinator at MAXBURST, Inc.
Mistake 6: Including too many links in a single guest post
I think the most common mistake companies usually commit when guest blogging is including too many links in a single guest post.
Solution:After the penguin update, Google bots are intelligent enough to validate either the links are natural or you used one of the shady backlinking strategies that aren't approved by Google
- Mark Condon, CEO, and Founder of Shotkit
Mistake:Similar to the infamous, "wall of text", in the guest blogging world there is such a thing as too many links. Although it's necessary to plant key links for SEO purposes and some to verify the source of your information, there is such a thing as too many links.
Solution: It's a mistake made by many guest bloggers as they seek to stuff the post with links and get greedy. It takes time to learn the intricacies of guest blogging and getting the right amount of links without overdoing it is a delicate balance that takes time to master.
- Sharon Van Donkelaar, Chief Marketing Officer at Expandi
Mistake 7: Overselling brand/business & wrecking reputation of competitors
One of the common mistakes digital marketers do when guest blogging is overselling their brand or business.Another common mistake that digital marketers do when guest blogging is discrediting or wrecking the reputation of their competitors.
Solution: While it is okay to be enthusiastic about your company, you should not go overboard in promoting it. Do not stray away from the facts or exaggerate them to gain more attention. People get weary of marketers that blow things out of proportion because they immediately seem unreliable.Business rivalry is common and acceptable. However, you should never insult another company to make yours look more superior. The results are often opposite of this and you may end up losing a lot of customers and investors. Market your company in the post all you want but do not attack another business while at it.
- Jay Scott, Chief Marketing Officer at Pugsquest
Mistake:A very common guest blogging mistake is being too salesy when promoting products.
Solution: Users have already clicked to read the article, so there's no need to constantly state that your product is the BEST THING EVER! They are clearly interested or intrigued already, so you can just clearly state the benefits that your product brings without going over-the-top. It's also natural to touch upon any slight weaknesses to give the full picture, so the blog post resembles more of a review.
- Adam Lumb, Site Manager at Cashcow Ltd
Mistake: Perhaps the most common mistake digital marketers make when it comes to guest blogging is taking too much of a direct sales approach, and making the content itself designed wholly or mainly to sell, integrating calls to action and more than one product tie-in or link, which are often poorly placed and overly sales-y.
Solution: Blog posts aren't the same as adverts; or rather, guest blog posts support brand-led marketing but only peripherally support direct sales, and a very soft and subtle approach needs to be taken to the latter. Guest blogging is far more effective if the post raises brand awareness, generates interest, makes prospects think or feel something, and establishes the brand as an authority; this holds value long-term and means that prospects will think of and seek out the brand when they need them in future. However, overly sales-oriented guest posts are unlikely to achieve a high yield, and may even alienate the blog's audience.
- Polly Kay, Senior Marketing Manager at English Blinds
Mistake 8: Don't Waste Time with Proposing Irrelevant Content
Don't waste your time, or that of the blog owners by proposing irrelevant content. What might seem like a super topical and important piece to you, may not fit in with the blog at all.
Solution: Take time to research the ethos, method and subjects of the blog, and only submit content that you think will actually fit in with what is being shared, otherwise you are likely submitting for no reason and will be turned down. There is no reason you can't search around for a more relevant blog for that piece, but stick to what is appropriate for each blog.
- Chans Weber, Founder & CEO of LeapClixx
Mistake 9: Don't know Proper Use of Content with the use of Keywords
If you don't know the proper keywords to implement, and you're producing low-quality content, it will be very difficult to rank for anything.
High-quality content plus in-depth keyword research is extremely important. If you do the leg work and use keyword research tools like SEMRush or Ahrefs, you can identify hidden opportunities and then capitalize on those opportunities by creating high-quality, keyword-informed content.
Solution:We frequently use original research and data in our content. The data is fact-based and usually displayed in visual charts that tell a story. This makes it easy to convey the findings and it is differentiated from normal text. The uniqueness is the key and it must add distinct value. The key to great content, regardless of whether the goal is marketing or entertainment, is to understand your narrative. How should the consumption of your content marketing make your targets feel? What actions should the assets inspire? Knowing, ideally with data, how different groups of people react to your brand, learn your value proposition, and are motivated to take action is the best lesson I've learned.
- Kevin Miller, Founder and CEO of The Word Counter
Mistake 10: Setting Websites with Incredibly High Domain Authoriti
I think one of the most common mistakes that digital marketers make in regards to guest blogging is setting their sites only on websites with incredibly high domain authorities (DA)—especially when they are just starting. Having a guest post on a website with a DA score between 20 and 60 can still greatly benefit many sites.
However, many digital marketers start to discredit websites that don't have a DA of at least 60 right from the start. We tend to work under the assumption that you need to work your way up to the really high authority websites.
Solution: Let's start at the beginning; we never target any website with a DA of less than 20, because these websites tend to either be inactive or spammy. But anything over 20 is considered fair game. When a website hasn't been doing any outreach, we start by pitching to websites that have around a 40 DA score, which is a great middle-ground. These websites are more likely to say yes when we approach them even though we don't have many articles floating around online at this point. We want to have a handful of articles published at this level before we start to target websites with higher DA scores. Eventually, we will have enough guest posts around the internet to set our targets on websites with much higher DA scores—think over 70. Now, we are more likely to land guest posts on these high authority websites because we put in the time to reach out to slightly less authoritative websites and got published.
- Chelsea Roller, Content Manager at Rank Fuse Digital Marketing
Mistake 11: Make sure Guest Blogging is Accompanied by Your Digital Editors
Make sure that guest blogging is still accompanied by a review by your digital editors. Especially in the social impact world, it is imperative to make sure that misinformation or potentially triggering information does not affect the impact you have built your brand to create.
Solution:A social consciousness for all brand directors, to remember, that by extension the guest blogger is representing the brand and being invited to the doorsteps of your readers. A lack of protocol and moderation can lead to unnecessary and potentially harmful outcomes.
- Addison Brasil from Tethr for Men Inc.
Mistake 12: Not including an author bio
A common mistake is not including an author bio with a draft of the post. It's a small thing, but adds in extra work for the editor.
Solution:To avoid this, create a short checklist of everything that you need for submitting a piece. Keep it in an easily accessible place so you can reference it whenever needed.
- Annabel Maw, Director of Communications of JotForm
Mistake 13: Not Enough Research
Guest blogging can be incredibly beneficial for all parties involved, but there are several common mistakes guest bloggers make that can make their posts unappealing. Many guest bloggers are overly promotional in their posts, which can make readers feel as if the post is disingenuous and too sales-y. This can ultimately harm a brand and cause distrust between the consumers and the company. Additionally, many guest bloggers don't do their research—or not enough of it—before publishing their post.
Solution: This is obvious to readers, and while guest bloggers can certainly write outside of their niche, posts should be researched thoroughly. Otherwise, poorly researched posts end up making consumers feel bored or annoyed, and this, too, can harm a brand. Please let me know if you need any additional information.
- Emily Deaton, Financial Journalist at LetMeBank
Mistake 14: Taking wrong shortcuts & Not paying attention to the email copy
Shortcuts are good they can save you a lot of time. But not all shortcuts are created equal some can cost you higher than the rewards. Another biggest mistake guest blogger makes when crafting an email pitch is trying to cram too much into one email. I get that you want these big publications to give you a chance, so you want to tell them what all you have to offer. But, no, you really have to restrain yourself.
Solution:
For Shortcuts: Pitching guest post without researching the publication. Remember you never get a second chance to make the first impression. Using the same guest post pitch for every publication. One-size doesn't fit all; the key is to personalize your message and show the editor that you have done your homework.
For E-mail Copy: It's vital that you keep your email copy short and crisp. People don't like email with lots of copy and these publications editors are no exception. Don't be surprised if you find your long emails are getting ignored.
- ReshuRathi, Digital Marketing Manager at Lambdatest
Mistake 15: Looking only for backlink & not being very personable when pitching potential guest posts
One of the biggest mistakes I've seen is searching for every and any guest post under the sun in hopes of getting a link. I think it's a far better approach to do a little background research on potential sites you want to guest post for and then make a pitch from there. This is a quantity over quality mistake that can end up hurting your domain ranking if you have a bunch of weak links.
Another mistake that happens with guest blogging is not being very personable when pitching potential guest posts. You don't want to come across as stuffy or full of yourself.
Solution:I would suggest addressing whoever you are pitching the guest post to in a very friendly manner - almost as if you just met them on the street or at a party. Sure, you want to secure a link but it always pays to be yourself and try to develop a genuine connection. If you do that, it could lead to other opportunities to work together down the road.
- Christine Wang, Founder of The Ski Girl
Mistake 16: Failing to Meet Guidelines
One of the most common mistakes guest bloggers make that almost automatically makes their pitch less likely of producing results is the failure to adhere to the webmasters guest blogging guidelines which can often be very specific.
Solution:Be sure to carefully review the website's guest blogging guidelines so you have the best chance to land your post on their site and also take the time to call out some specifics from their website and current posts that demonstrate why your guest blog is a good fit.
- David Adler, Founder and CEO of The Travel Secret
Mistake:The biggest mistake in guest blogging is not following the blog's guest post guidelines. Guest bloggers can also tend to become over self-promotional. When that happens, the post is more annoying than helpful.
Solution: Guest posts mutually help both parties, but the blog owner is responsible for the overall picture their blog presents, and they make guidelines for a reason. It's inconsiderate to ignore their wishes. Along with this, you should promote yourself, but it's important that it fits into the article organically.
- Melanie Musson, Marketer of AutoInsurance.org
Mistake 17: Article must be informative and provide detailed information
One important thing that content writers need to keep in mind when writing a guest blog post for another site is that the information in the article must be informative and provide detailed information.
Solution: Too many times, a guest blogger will write a post filled with shameless self promotion that provides very little benefit to the reader. Appreciate the backlink that you will more than likely receive for your post, and provide a high-quality piece that the blog will be proud to feature.
- Blake Sutton, Digital Marketing Manager at Electrical Knowledge
Mistake 18: Not Targeting Niche Sites for the Traffic
1) Not Targeting Relevant Sites with Traffic
A lot of guest bloggers (including me) wants to guest post for the sake of generating backlinks. But they forgot about what referral traffic can do, is to bring relevant traffic to your website.
This referral traffic can help bring in sales, leads, or even opt into your email list, where you can communicate with them in the long run.
2) Write Your Best with the Intention to Rank on Google
Not all guest blogging articles will get to rank and generate search traffic. Because most (me included) write regurgitated articles that are already on the net.
3) Build Relationship with Site Owners
All websites are taken care of by someone, who is a human. When you help that person generate more traffic or improve rankings, it will make it easy for them to let you guest post again. And this time, you can link to your important money-making pages easily as you already build that relationship.
Solution:
The referral traffic can help bring in sales, leads, or even opt into your email list, where you can communicate with them in the long run.
What Google wants is a fresh unique perspective type of content. So do your best to research or even share your insights only a few or only you know it on the article, then will your guest post be rank and generate traffic.
Other ways to build relationships with site owners; Advise them on SEO tips for their site, inform them of malware or web page not working properly, link to them first, then ask them to link back to your site.
- Cyrus Yung, Director of AsceladePte Ltd
Mistake: A big mistake people new to the guest blogging make is not being selective. The key is to choose sights that are relevant to your niche and that will ultimately drive customers to your own site.
Solution: Each blog identifies with a different audience who attracted because of, in some part, the language or tone used. Not asking advice from the blog owner on the level of technicality, areas of interest, or language used would mean the post loses value.
- Meg Marrs from Safer Senior Care
Mistake: Publishing a guest post that's not related to their industry at all. If you work for an airline and you write an article about football, readers will get confused. But if you manage to find a connection, for example 'how to travel to attend your favorite football team's away games", then you're good to go.
Solution:Writing overly complicated guest posts is big no that's why you should keep things simple and write content that a 5th grader could read. Another thing you need to careful about not to trying to sell your product. Not only will most websites refuse your article, but even if you end up getting published, your readers won't like to feel like you're trying to push your brand down their throat. A better idea is to write a guest post that's helpful and that people want to share. As you've signed your article with your name, brand name and link to your website, this will naturally increase your brand authority and send more customers to your website.
- Gregory Golinski, Head of Digital Marketing at YourParkingSpace
Mistake: Guest blogging is a great strategy to reach a wider audience and build domain authority on your site. However, a huge mistake that guest bloggers often make is targeting the wrong blogs. It is extremely important that you are writing content for blogs that have some commonality with your site. Otherwise, your content will seem disingenuous to readers, you will be targeting the incorrect market, and it will not help your SEO efforts if your link does not relate to the blog it is posted on.
Solution:If you pitch your guest posting services to a blog in your same target market, however, it will be much more successful for your SEO, audience, and engagement.
- Nina Jensen, Community Outreach Manager at 8x8
Mistake 19: Treating it purely as a means to boost SEO performance
The most common mistake I see with people's approach to guest blogging is treating it purely as a means to boost SEO performance through the acquisition of backlinks. In my opinion, the first aim of guest blogging should be to increase your brand awareness and drive relevant referral traffic.
The problem with a purely SEO focussed approach is that it leads people to take a rigid, almost mathematical approach. Concentrating primarily on backlinks leads to marketers focussing on the domain authority (DA)of target sites, rather than the how relevant that site may be to their brand's target audiences.
Solution: When identifying target blogs for placements, your first thought should be 'is this a site that my target audience are likely to visit and engage with content on'. If the answer is yes, then it becomes a potential target for a guest blog post.
If a site or a blog is highly relevant to your niche, then the DA of that site becomes much less relevant. Who is to say that this year's new blogger with a DA of 10 won't be next year's big influencer in your space.
A lot of brand marketers also lose sight of the fact that high authority sites tend to also be the most difficult to obtain placements on. Focussing on second or even 3rd tier sites within your space can often be much more productive and lead to higher success rates.
Basically, think traffic not SEO. If you're acquiring placements that are driving relevant traffic to your website, then. As a side effect your organic search performance will also improve, probably much more than it would with a purely SEO focussed approach.
- Katherine Radeka from Rapidlearningcycles.com
Mistake 20: Not doing research, Pitching poor-quality content & Forgetting byline
Guest Blogging will help you in connecting to new audiences, improving your search ranking, and generating more qualified leads. But, guest blogging will only be helpful when it's done right. Some common mistakes to avoid to get the most out of guest blogging are:Not doing research, Pitching poor-quality content&Forgetting your byline
Solution: Before writing a guest post, make sure that you know what the blog is about and who the blog audiences are. This will help you create a blog post that's helpful and relevant.
Your guest posts should just be as good as your own posts. Because a poorly written guest post can do great damage to your brand image.
Readers will have a hard time finding your website if you don't include a short description about you or a link to your website.
- Scot J Chrisman, Founder and CEO at THE MEDIA HOUSE
Mistake 21: Not reading the blog that you're pitching
The worst mistake you could make is to not read the blog you're pitching. You can't blindly email bloggers and expect your outreach to work. To put it bluntly, marketers just aren't paying attention.
Solution: Bloggers get dozens of guest post emails every week; they can tell that you haven't even visited their website before, so don't lie. Read the blogs, leave a few comments, and then send a pitch.
- Kenzi Wood from Kenzi Writes
Mistake:One of the biggest mistakes that digital marketers make when guest blogging is to treat all blogs equally and not realize their individual traits.
Solution:To be successful in this endeavor you have to take a few minutes to understand the tone and style of the blog you're pitching, and adapt your content to fit it.
Show interest in their unique voice by offering to write on a variety of topics, and show flexibility when discussing their editorial calendar. That is especially important because blogs can't always rely on guest writers for their content, so their editorial calendar is planned ahead. If you show adaptability, you're way more likely to succeed.
- MihaelaBuzec, Writer at RENTCafe.com
Mistake 22: Don't research the person/organization they are pitching to
One of the biggest guest blogging mistakes that I see people making is that they don't research the person they are pitching to. Usually, it's pretty easy to guess the person to pitch in a company - it's the chief editor, content manager, chief marketing officer or someone else. We get so many emails to our CEO's email, our contact email, customer support email, etc. Usually we forward these to the right person but most people don't bother because they'll see the guest blogging pitch as just spam.
Solution:Do your research and find the person to send your pitch to, because otherwise, it's just going to go to spam.
- Jane Kovalkova, CMO of Chanty
Mistake:While there are many things that digital marketers tend to do wrong in guest blogs, one of the biggest mistakes is not researching the organization they're pitching articles to.
Solution: Take the time to research the company and read the content that they've published on their blog. This way, you can learn who they are, learn about the audience they're trying to reach, and make sure that your content aligns with theirs. After all, you don't want to pitch an article about travel tips to a blog that focuses on cooking tips or cybersecurity.
Along with this, if you want someone to consider publishing your guest blog, make sure that your article is going to create value for their readers. Cover topics that are in their wheelhouse but maybe focus on a topic or an angle that they haven't covered yet in their publication.
Additionally, take the time to research current, industry-specific statistics and data that would be of interest to their audience.
- Casey Crane, SEO Content Manager at The SSL Store
Mistake:We receive a lot of guest blogger/writer requests and aside from them often appearing far too generic and often badly worded, almost none of them follow up their initial request with a second email.
Solution:A follow up email says a lot about the persons and/or company's legitimacy and genuine interest in writing for you, and above all else helps to make your pitch standout.
- Chris Michael, Architect & Founder of Archisoup
Mistake 23: Guest posting infrequently
GUEST POSTING INFREQUENTLY: The whole point of posting or blogging is "branding". The more exposure people will have to your name and brand, the more they will trust and buy from you. This is the reason you need to guest post on your target blogs more than once.
NOT STAND OUT: Getting featured on a blog is not enough, you need the readers to like your content so that they can subscribe to "your" blog.
NOT SELLING YOURSELF: You are a digital marketer and your purpose is fulfilled when you are able to get more audience.
Solution:
When people will see your name repeatedly only then they will get familiar with you and start reading and subscribing. If you will post once and then maybe post after a year, you will not be able to build that trust or your name. So guest posting multiple times will often get you better results than just guest posting once.
Usually, marketers will just write content and post it but make sure your content stands out. You can do that by adding images, supporting data, or your own unique insights to differentiate your content from everyone else's.
So only guest posting on popular blogs will not work, you need to promote yourselves.
Remember, when guest posting, the goal is to get the reader to subscribe to your blog or visit your website. You can set an incentive for people to subscribe to your blog.
- AzzaShahid, Marketing Consultant at GigWorker
Mistake 24: Irrelevant pitches
One of the biggest mistakes I see is irrelevant pitches. I realize that a lot of writers have to pitch hundreds of blogs every week, but it's very counterproductive if you offer to write a topic that our blog has never covered. For example, offering to write about project management or software development, when our blog is clearly about sales and entrepreneurship
Solution: It literally takes 5 minutes to research a target blog before pitching, but sadly, most people who pitch us don't do this.
- Petra Odak, Chief Marketing Officer at Better Proposals
Mistake 25: Not creating long & sufficient content
Oneof the more common mistakes made when guest blogging is not creating contentthat is long enough and sufficiently high quality.
Solution: An acceptable word countshould be in the 1500 to 2000 range, with a focus on relevancy and alignmentwith user intent. Anything less will not only amount to wasted effort on thepart of the writer, but short, low quality pieces aimed at backlinking to just anysite regardless of domain authority is a sure recipe for ranking penalties.
- HarisBacic, Co-founder of Pricelisto
Mistake 26: Embarrassing author bio & rude email tone
I have seen digital marketers are doing common guest post mistakes such as
Embarrassing Author Bio: The poorly written "about the author" section of the guest blog post is one of the biggest guest blogging mistakes that prevents you from succeeding.
Lying, Lying & Lying: I have observed guest bloggers mention that he is an avid and veteran reader of his blog. Stop these kinds of lying prayers.
Email Tone is Rude: Having an insincere or rude tone in your speech would definitely deter editors from even considering your speech.
Solution:
I'm not telling you here to write statements like "I'm a guest blogger and visit my blog to read more about me." But your bio should provide a solid reason for clicking your links. Add up your basic skills and experience in the niche and then let readers know how awesome your blog has to them and how they can make a profit by visiting your blog or website. Keep the "about the author" section concise and engaging as well to boost your own blog's reader base.
If you haven't read the latest posts, don't check them out; the site owner will notice that something is wrong. And don't claim you saw guest posts on the site if there aren't any. If you're pitching to a site that hasn't previously published guest posts, they'll instantly know you're lying. And they'll probably laugh or roll their eyes when they click delete or spam.
Tone is important when it comes to pitching anything, and it definitely pays to be nice and sincere.
- SimonasSteponaitis, Marketing Manager at Hosting Wiki
Mistake 27: Forgetting to build a relationship with the publication
I think the biggest mistake that digital marketers make after successfully guest posting is forgetting to build a relationship with the publication that featured you.
Solution: Breaking into guest posting is hard, and oftentimes, getting that first backlink from a reputable publication is the hardest part. It makes no sense to abandon a potential partnership with a brand or blog after being featured. These relationships should be nurtured, especially when both parties are working in the same space.
- Lydia Andresen, SEO analyst at Augurian
Mistake 28: Aimlessness, Quality & Planning
There are some things that you should keep in mind if you want to be an effective guest blogger. Aimlessness, quality & planning.
Solution:
Aimlessness: If you want your marketing to work, you have to have a clear goal in mind.
Quality: A poor guest post can do more damage to your brand image than one on your own blog.
Planning: Your guest blog will generate traffic so make sure you're ready to capitalize on it.
- Todd Ramlin, Manager of Cable Compare
Mistake 29: You must found online
You do not exist today if you cannot be found online. Blogging is a great way to be found but I prefer to contribute to other well trafficked blogs versus having my own.
Solution:The key is to find likeminded organizations reaching the same target audience as you. Make sure you put your URL or contact info on it so they can easily find you and follow up. When your posts become available online, make sure to send them out via social media to all your friends, followers and contacts. Don't let social media drive you crazy, you do not need to be everywhere, it does not matter which platform you choose just pick one or 2 that are authentic to you. It should look and sound like you and the brand you have built. Whether yours is polished or more informal, chatty or academic, humorous or snarky, it is a way for your personality to come through.
Everyone is not going to like you or hire you but for the ones who would be a great fit for you make sure they feel and keep a connection and give them a reason to remember you so that when they need your help they think of you first. To make content more attractive and drive conversion it is important to understand not just what or how to purchase a product, experience or service but you must also be able to inspire audiences by identifying the underlying motivation.
The key to becoming influential is when you can answer why they do what they do and connect with people on an emotional level. Guest blogging gives you a lot more bang for the buck by making smart comments on popular blogs and then including a link back to your site so they can earn more about you if they are interested.
- Paige Arnof-Fenn, Founder & CEO of Mavens & Moguls
Conclusion
---
In this blog, we have covered almost every essential aspect of Guest blogging and its importance. After understanding the views of this blog, you would certainly spread your wings and push yourself to start pitching for other websites. Through this, you get to increase your blogging opportunities, brand awareness,and strengthen your industry-relationships as well.