The advent of ecommerce has completely transformed the way of doing business. Consumers may buy goods and services across the world with just a mouse click, while entrepreneurs can set up their online businesses in a matter of hours. Despite having the potential for commercial success, many e-commerce businesses fail.
In a recent survey, it was found that up to 80% of e-commerce development companies fail within the first 18 months. So, what is it that causes so many e-commerce enterprises to fail? While there are numerous factors at work, several major reasons can be identified.
Let's look at the top reasons why e-commerce firms fail, from bad planning to insufficient marketing, and what you can do to prevent these typical errors.
"The E-commerce industry is one of the most rapid-growing industries. E-commerce infers the buying and selling of goods and essentials utilizing the internet. However, with such popularity still, it is estimated that around 70% of the eCommerce project fails.
Let's check out the reasons! There are numerous reasons for its failure.
90% of E-commerce businesses fail because -
Not picking the right strategy The business owners don't pick up the right strategy, or sometimes the plan is not clear enough to result in failures.
Lack of communication strategies Sometimes there was a lack of communication strategies or planning. Most of the time, there is an apparent lack of connecting with people. This may happen due to a lack of listing optimization or sometimes the blackness from the store chat managers.
Selection of technology The team of executives is not known with recent changes in the market industry. The wrong selection of technology may also cause you the failure in eCommerce. Or even sometimes, you might get connected with the wrong partner.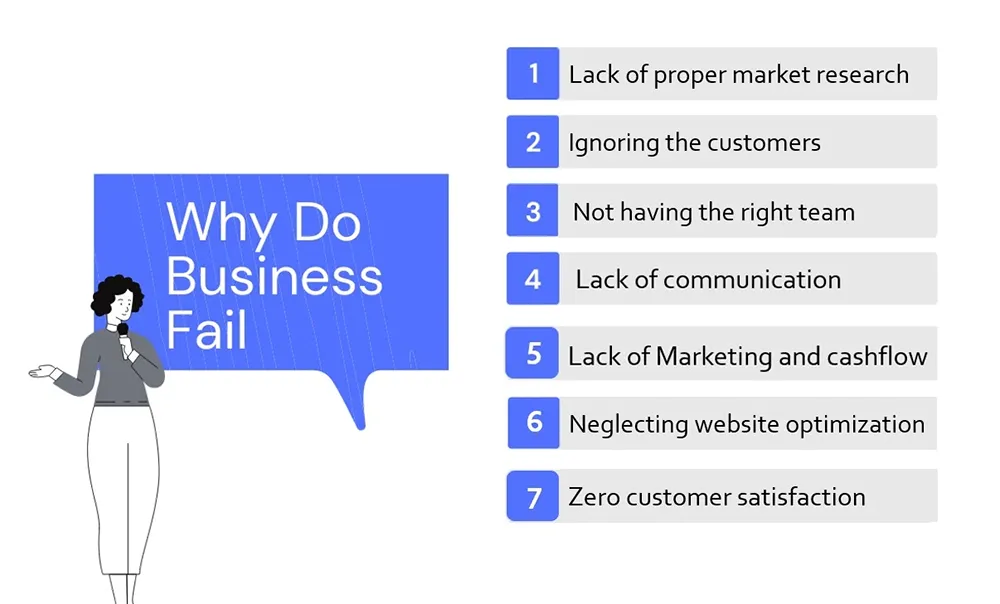 The lack of management The eCommerce business is a vast field that is mainly required to be in the proper record. Lack of control of data may cause you a failure.
Not having a quality website The lousy quality website experience is another reason for losing customers. You mainly launched your products on the eCommerce platforms. However, you also need to have a great quality website. As a website builds customers' trust, the poor one may build up the bad impact. There are many more aspects that may cause you the failure. However, these are some of the most common mistakes the entrepreneurs do"