Picture this: You're sitting at home, feeling inspired to try out a new recipe for a dinner party you're hosting over the weekend. As you start searching for ingredients and recipe ideas on your favorite social media platform, you stumble upon a captivating video of a chef effortlessly creating a mouthwatering dish.
The video is not only visually appealing but also conveniently includes a link to purchase the exact ingredients and kitchen tools used in the recipe. Intrigued by the seamless integration of shopping and content, you decide to give it a try.
With a few simple taps, you add the ingredients to your virtual cart and complete the purchase without ever leaving the social media app. This, my friend, is the power of social commerce - a revolution that is changing the way we shop, transforming social media platforms into vibrant marketplaces.
What is social commerce?
---
In this new era of digital commerce, social media platforms have evolved from being mere channels for communication and content sharing to becoming vibrant marketplaces where businesses can directly connect with consumers and sell their products or services.
Social commerce refers to the integration of social media and e-commerce, where the convenience of online shopping is seamlessly embedded within social media platforms to create a dynamic and interactive shopping environment for users.
In simple terms, social commerce enables users to discover, explore, and purchase products directly through social media channels, eliminating the need to visit separate e-commerce websites or apps.
The growth of social commerce has been nothing short of remarkable. In 2022, the worldwide revenue generated through social commerce reached a staggering 724 billion U.S. dollars, showcasing its immense potential and popularity among consumers. However, this is just the beginning. According to forecasts, social commerce is expected to skyrocket, surpassing six trillion U.S. dollars by the year 2030. These statistics highlight the immense impact and transformative power of social commerce on the global economy.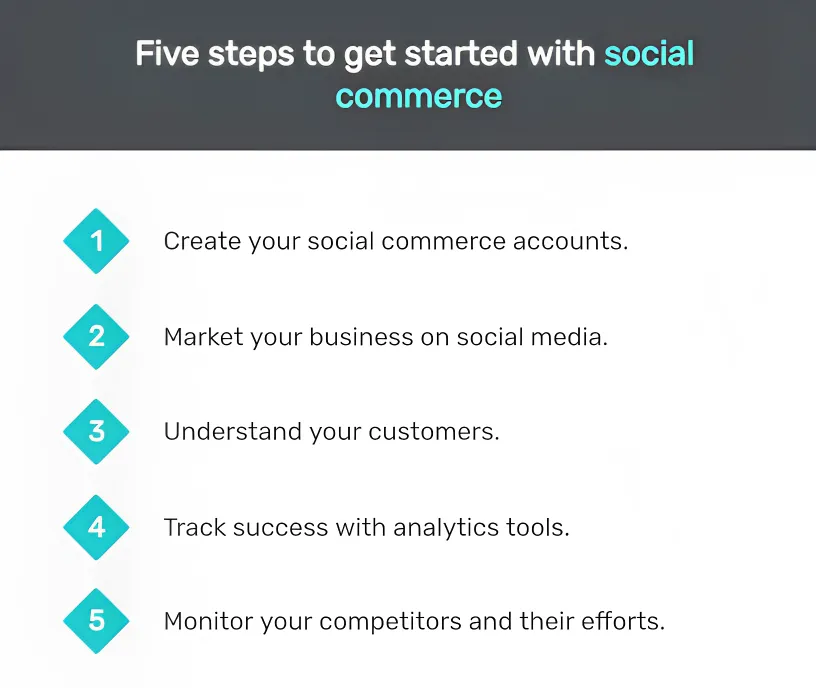 eCommerce V/S Social Commerce
---
eCommerce: The Traditional Way of Online Shopping
eCommerce (electronic commerce) refers to the purchasing and selling of goods and services over the Internet. It has been a dominant force in the retail industry for many years, offering consumers the convenience of shopping from the comfort of their homes and businesses and the opportunity to reach a wider customer base.
Platform Dependency
In traditional eCommerce, businesses typically have their own dedicated websites or mobile apps where customers can browse products, make purchases, and complete transactions. The success of eCommerce relies heavily on driving traffic to these dedicated platforms through various marketing and advertising efforts.
Search-based Shopping
In eCommerce, customers usually rely on search engines or online marketplaces to discover products. They actively search for specific items or browse through categories to find what they need. While eCommerce platforms may employ recommendation algorithms to suggest products based on user preferences, the discovery process is primarily driven by search queries.
Social Commerce: The Power of Social Media
Social commerce, on the other hand, leverages the power of social media platforms to create a more interactive and engaging shopping experience. Here are some key aspects of social commerce:
Shoppable Content
Shoppable content refers to posts, videos, or images on social media platforms that are directly linked to product pages or online stores, allowing users to make purchases with a simple tap or click.
Platforms like Instagram and Pinterest have introduced features like shoppable tags and pins, enabling businesses to tag products directly in their posts. When users come across these tags or pins, they can view additional product information and proceed to purchase without leaving the platform. This seamless integration of shopping and content consumption has revolutionized the way consumers discover and buy products.
Seamless Integration
Social commerce integrates the shopping experience seamlessly within the social media platform. Users can discover products while scrolling through their social feeds, interacting with posts, or watching videos. They can view product details, read reviews, and make purchases directly within the platform, eliminating the need to navigate to external websites or apps.
Influencer Marketing
Social commerce often thrives on influencer marketing, where popular social media influencers collaborate with brands to promote products. Influencers create engaging content, showcasing products and providing genuine reviews or recommendations. This approach builds trust and authenticity, influencing the purchase decisions of their followers.
User-generated Content
Social commerce heavily relies on user-generated content (UGC). Users share their experiences, post reviews, and even create content featuring products they have purchased. This UGC serves as social proof and encourages others to make informed purchasing decisions. Social media platforms provide a fertile ground for UGC to flourish.
The Synergy between eCommerce and Social Commerce
While social commerce is transforming the way we shop, it does not necessarily replace traditional eCommerce. There is a synergy between the two that can be harnessed for even greater success. Many eCommerce organizations now incorporate social commerce strategies to expand their reach and engage with customers more effectively.
Omni-channel Approach
Retailers are adopting an omnichannel approach, where they integrate social commerce features into their existing eCommerce platforms. Some agencies help you streamline the process of integration. This allows customers to discover products through social media channels and seamlessly transition to the retailer's website or app for a complete shopping experience.
Social Media Advertising
eCommerce businesses are leveraging the advertising capabilities of social media platforms to target specific audiences and drive traffic to their websites or apps. Social media ads can be highly targeted, based on user demographics, interests, and behaviors, maximizing the chances of reaching potential customers.
Enhanced Customer Engagement
Social commerce enhances customer engagement by providing a platform for real-time interactions, instant feedback, and personalized recommendations. Businesses can leverage social media analytics to gain insights into customer preferences and tailor their offerings accordingly.
The Benefits of Social Commerce
---
Social commerce offers several benefits for both businesses and consumers. Let's explore some of these advantages:
Enhanced Shopping Experience: Social commerce provides a more interactive and engaging shopping experience compared to traditional e-commerce. Users can discover products while browsing their social media feeds and make purchases without leaving the platform. The seamless integration of shopping and content consumption makes the entire process convenient and enjoyable.
Personalization and targeting: Social media platforms have access to vast amounts of user data, allowing businesses to target their products to specific audiences. Businesses can create personalized shopping experiences tailored to individual users' preferences and interests by leveraging demographic, interest, and behavioral data.
Increased Trust and Social Proof: Social commerce harnesses the power of social proof, where consumers are more likely to trust and make purchasing decisions based on recommendations from friends, influencers, and user-generated content. When users see their peers endorsing a product or sharing positive experiences, it builds trust and confidence in the brand.
Seamless Integration with Social Media: Since social commerce takes place directly within social media platforms, users don't need to navigate away to complete their purchases. This integration streamlines the shopping process, eliminating friction and reducing the chances of users abandoning their carts.
Improved Analytics and Insights: Social commerce provides businesses with valuable data and insights into consumer behavior. By analyzing user engagement, purchase patterns, and demographic information, businesses can gain a deeper understanding of their target audience, refine their marketing strategies, and optimize their product offerings.
Top Social Commerce Platforms
---
Social commerce has gained immense popularity in recent years, with numerous social media platforms incorporating shopping features to create a seamless buying experience for users. Let's explore some of the top social commerce platforms and how they are transforming the way we shop.
Facebook
With over 2.8 billion monthly active users, Facebook has become a powerhouse in the social commerce landscape. The platform offers various shopping features, such as Facebook Marketplace, where individuals and businesses can buy and sell products locally. Additionally, Facebook Shops allow businesses to create customized online storefronts, enabling users to browse and purchase products directly from the platform. Facebook also provides robust advertising tools that help businesses target specific audiences and drive traffic to their online stores.
Instagram
Instagram, owned by Facebook, has emerged as a leading social commerce platform, particularly for visually-driven products such as fashion, beauty, and lifestyle items. The platform's integration of shopping tags and stickers allows businesses to tag their products in posts and stories, providing users with direct access to product information and purchasing options. Instagram Checkout takes the shopping experience a step further, enabling users to complete transactions without leaving the app. Influencer marketing plays a significant role on Instagram, with influencers showcasing products in their posts and stories, driving engagement and conversions.
Pinterest
Pinterest is known for its visual discovery and inspiration capabilities, making it a prime platform for social commerce. Users can create boards and pin products, recipes, and other items of interest. Pinterest's shopping features include product pins, which display pricing and availability information, and shopping ads that enable businesses to promote their products to relevant audiences. Pinterest's "buyable pins" allow users to purchase products directly from the platform, making it a valuable channel for businesses looking to reach and convert highly engaged consumers.
TikTok
TikTok, the rapidly growing short-form video platform, has also entered the social commerce arena. It offers various shopping features, including in-video shopping links and the ability to add product information to posts. TikTok's partnership with Shopify allows businesses to create a seamless shopping experience by connecting their product catalogs and enabling in-app purchases. Influencers on TikTok have a significant impact on product discovery and promotion, with viral videos often leading to surges in sales.
These platforms represent just a fraction of the social commerce landscape, but they showcase the diverse ways in which social media platforms are integrating shopping features to facilitate online transactions. As social commerce continues to evolve, we can expect more platforms to embrace this trend, offering innovative solutions that merge the realms of social media and online shopping.
The Benefits of Social Commerce
---
While social commerce presents numerous opportunities, it also comes with its fair share of challenges. Here are a few key areas that businesses and platforms need to address:
Security and Privacy Concerns: SWith the integration of e-commerce functionalities into social media platforms, security, and privacy concerns have become more critical. Businesses need to prioritize secure payment gateways and protect users' personal information.
Competition and Platform Saturation: As social commerce continues to grow, the competition among businesses vying for users' attention and purchases intensifies. Brands need to find creative ways to stand out and deliver unique value propositions to their target audience.
Balancing Content and Commerce: Maintaining a delicate balance between content and commerce is crucial. While businesses aim to drive sales, they must also focus on creating valuable and engaging content that resonates with their audience. Striking this balance ensures that users don't feel overwhelmed with promotional content.
Looking ahead, several trends are expected to shape the future of social commerce:
Live Commerce: Live streaming has gained popularity in recent years, and it is now being integrated into social commerce. Live commerce allows businesses to showcase products in real-time, engage with customers, answer questions, and encourage immediate purchases. This interactive and immersive experience adds an element of excitement and urgency, driving higher conversion rates.

CRO Agency to Enhance Social Commerce Success: Partnering with a CRO agency can significantly amplify success in social commerce. These agencies specialize in optimizing conversion rates, leveraging techniques such as A/B testing, user experience improvements, and persuasive copywriting. Through data-driven insights and targeted strategies, CRO agencies help businesses create a seamless and engaging shopping experience, ultimately boosting their overall success in the realm of social commerce.

Augmented Reality (AR) and Virtual Reality (VR): AR and VR technologies offer immersive shopping experiences by allowing users to visualize products in their real-world environment or virtually try them on. These technologies bridge the gap between online and offline shopping, enhancing the overall customer experience.
Social Shopping Communities: Social commerce is evolving beyond individual purchases. Social shopping communities are emerging, where users can engage with like-minded individuals, share product recommendations, and participate in group buying or bulk purchasing, resulting in discounted prices.
Integration of Voice Commerce: Voice assistants like Amazon's Alexa and Apple's Siri are becoming increasingly popular. The integration of voice commerce with social media platforms allows users to make purchases using voice commands, further simplifying the shopping experience.
The Bottom Line
Social commerce has emerged as a powerful force in the retail industry, and its transformative impact on the global economy is undeniable. As social media platforms continue to evolve and new technologies are introduced, the boundaries between social media and online shopping will continue to blur, creating exciting opportunities for businesses and consumers alike.