In today's digital world, offering a good user experience is critical as it unlocks various opportunities and decides the fate of your business. User experience acts as a bridge between technology and human interaction and holds immense power in reshaping your business. Therefore, one must keep it as a long-term goal and strive to improve it steadily.
Optimizing UX for mobile devices can positively impact user commitment and retention. It helps you reduce abandon rates and streamline your sales.
According to Google, 61% of consumers do not wish to visit a mobile site again if they have access issues, while 40% will move to the competitor's website. Thus, User experience has become a norm and should be kept as a long-term goal to make your brand stand out in the competition.
In this article, we will dig into the fascinating world of user experience in custom software development and explore why it serves as a key to achieving outstanding levels of effectiveness, client bliss, and success.
Let's quickly start with the basics to understand how technology complements human connection.
What is Custom software development?
---
Custom software development is the process of creating, implementing, and maintaining software that is designed specifically for businesses, user groups, tasks, or maybe trades. Unlike commercial off-the-shelf (COTS) software, it is centered on fulfilling individual business requirements.
Custom software is developed using the following process:
Walkthrough meeting to understand business.
Gathering custom requirements
Design and Development
Software Testing
Deployment
Support and maintenance
Rapid application development, Agile, DevOps, CI/CD, and waterfall are a few of the common development methodologies. Depending on the needs of the customer, one will be chosen.
What is User Experience?
---
The term "user experience" describes how a product, application, system, or service feels to a user. It's a general term that refers to everything from how easy it is for a user to navigate through your product, to the ease of use, and the relevance of the content you see.
User experience (UX) aims to give customers engaging interactions while keeping software development and deployment expenses within specified margins.
Software development based on user experience.
The success of a software product platform or application is determined by the user's experience. Companies that invest in user experience benefit from reduced client acquisition costs, lower support costs, greater customer retention rates, and larger market shares. Thus, they tend to hire Angular developers for UI development.

Employing UI solutions that are based on the present generation's perceptions is one method businesses go about doing this while keeping the emphasis on the custom requirements is another way.
Why is User Experience so important?
---
User experience serves as a foundation for lead generation and customer conversion and acts as the company's calling card.
According to IBM's new Design thinking analysis, prioritizing UX during the SDLC is far better and produces more results than improving it after the product or website release. Thus, the significance of User experience cannot be overstated.
Immersive designs that grab the user's attention and intuitive interfaces that readily direct users to the key services are two ways to build a strong UX experience.
A well-crafted UX not only enhances user satisfaction but also drives efficiency, productivity, and ultimately, the success of the software.
Moreover, it empowers users to effortlessly navigate the product or software, unlocking their full potential and fostering a sense of trust and loyalty.
Check out the facts below, provided by leading professionals.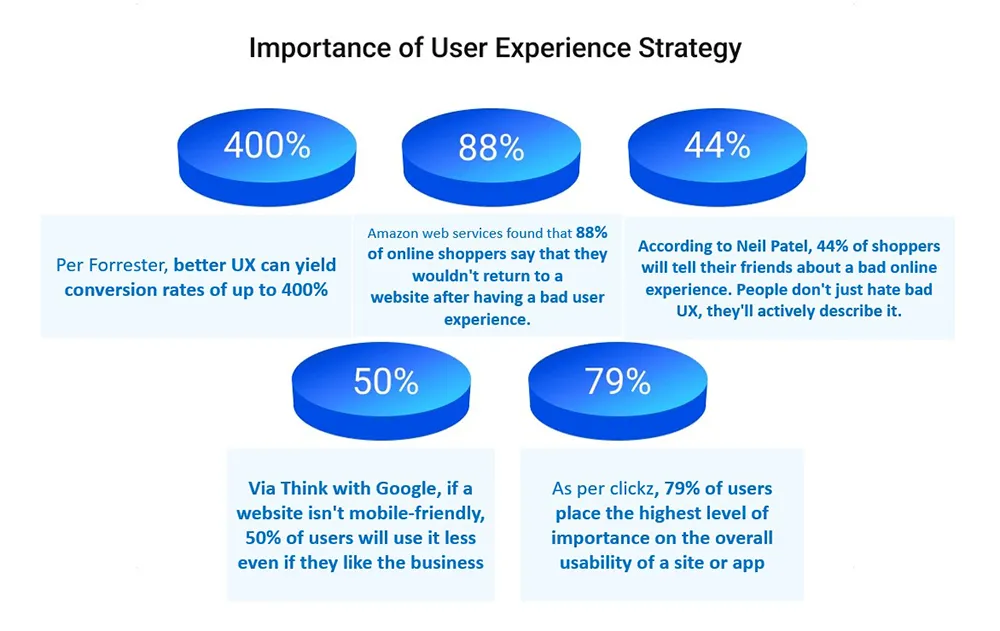 Developers might generate good software without the involvement of UX designers, but they would likely neglect user needs and be unable to care for the whole experience. That's why it's crucial to hire .NET developers who not only possess strong coding skills but also understand the significance of user experience.
With the right software developer and UX designer on board, the development team as a whole can stay focused on users' demands, ensuring that the software meets their requirements and delivers a seamless user experience.
Working with an Angular or React.js developer that closely coordinates with UX designers can help the team better understand the goals, requirements, and pain points of users, resulting in a user-centric and highly functioning application.
The Role of User Experience (UX) in Lead Generation Strategy
---
Businesses are constantly seeking strategies to improve conversion rates. However, the majority unfortunately use ineffective methods and approaches. Certain strategies that marketers believe will increase their conversion rate have the opposite effect.
The "information age" has produced customers who are better informed. Information is more readily available to decision-makers and influencers than ever before. While publishing material to address consumer inquiries is crucial, your lead generation plan should also focus on enhancing the client experience.
Writing in simple, conversational terms
It will be simpler for your website visitor to receive and comprehend the material the more straightforward the language and arrangement. This can be challenging for very intelligent authors, such as those in highly technical B2B sectors because they feel as though they are dumbing things down.
A writing pro advice is to keep in mind that you are not writing for your peers unless you are selling to them. A manufacturing corporation, for instance, might feel the need to develop extremely technical documentation. However, a plant maintenance professional might not understand the highly technical text as the intended audience.
Get to the important parts first.
Research indicates that users are more engaged when the "good stuff" is introduced early, even though it is typical to practice utilizing a "buildup" style of writing in which items gain value and excitement as the piece goes on.
The truth is that only around half of readers will continue reading this blog article to this point. People scan headlines, read the first few words, and then scroll past.
Pro tip: Write your text in the "inverted pyramid" format, just like a journalist, to convey your message swiftly.
A lot of individuals are easily distracted by flashy animations, slide-ins, and pop-ups, and some find them so annoying that they immediately quit your website when they see one. Others will have a hard time understanding what they are reading. The impact of the article's coherence can be destroyed by this diversion.
Ideas to improve the user experience (UX)
---
#1 Focus on responsive web design
Design that provides the best viewing experience possible (easy reading and navigating with the least amount of resizing, panning, and scrolling) and makes reading and navigation easier on a wide range of devices (from desktop computer monitors to mobile phones).
#2 Try educating consumers.
Spending time and energy on consumer education aid in the study of user behavior. Make sure the user is aware of the advantages the product will provide. Give a fundamental understanding of how things work, along with best practices to use.
#3 Testing and monitoring
Keep an eye on how users interact with our website in real-time, pay attention to their comments, and monitor the site's stats. These techniques enable us to comprehend the locations of the issue users, their opinions of the website, and their statistical performance.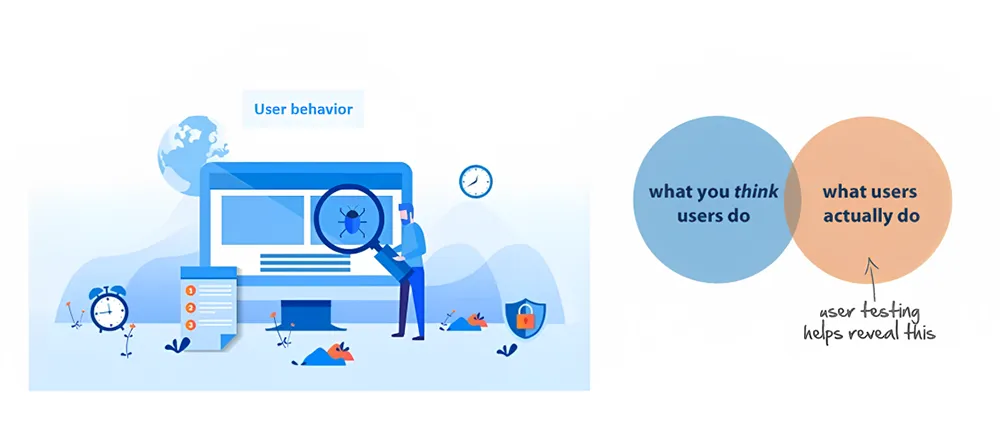 #4 Conduct customer surveys
When you want to learn more about users and their demands, surveys are the greatest option. A UX survey has the largest advantage in that it lets you ask actual visitors questions as they navigate the site. By adding a survey to your product, you can discover a lot about the kind of clients you have and their motivations.
#5 Conduct user interviews
One of the most adaptable approaches, user interviews is helpful for seeing new opportunities and sparking ideas during the research phase. These discussions assist firms in classifying their customers and evaluating the value they derive from the service.
Essential components of the user experience
---
The most crucial element that determines whether a product succeeds or fails in the market is the user experience. In today's digital world, a website or app's speed is of utmost importance.
The user won't want to wait for your website or even the operating system to load for more than 8 seconds. If your loading time is longer than 8 seconds, your user will probably get impatient and leave. Even Google and Microsoft value speed for their websites and operating systems, respectively.
The following elements, in addition to speed, are crucial:
Search information
Information found through a search engine will motivate users to engage with your websites, programs, or apps more. You tell it what you're looking for, and it gives it to you, much like when you're chatting with a friend.
Refreshed content
Frequently updating the information to keep readers or viewers interested. People are less likely to return to your website if they see the same thing there; however, if they find new products or information, they will.
Navigation
People typically use navigation rather than search since it is quicker and easier to click on links. In recent years, people have become more and more dependent on navigation to help them find what they are looking for. Even though most websites lack navigation, most users have trouble finding the information they're looking for.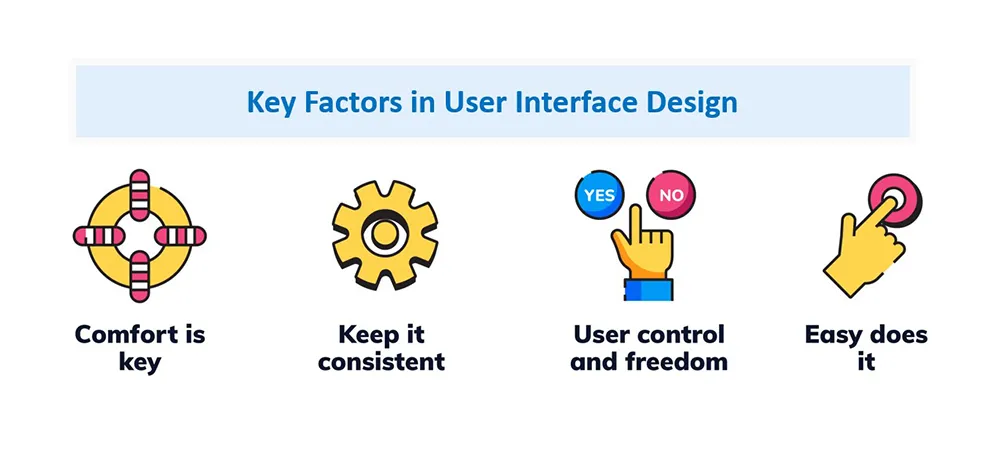 Options that are intuitive
The user appreciates the comfort and convenience of obtaining more information with fewer clicks, which enables them to reach quick conclusions. Prior to mastering this one, you cannot consider any other visitor retention tactics.
Recurring visits
The first visit evaluates credibility, whereas future visits could involve more complicated exchanges and, in some situations, conversion events that might not happen for weeks or months after the initial visit. The best way to prosper and flourish online is to drive more people to the website.
Lead generation best practices with custom software development
---
Creating a steady stream of leads is essential for all business types, but it is challenging for producing returns. The stiff competition in the technology sector gives potential customers a wide array of options, making it much harder to learn how to generate leads for software development services.
Proven tactics that help you generate high-quality leads with your customized business software.
Identify your target audience.
Build a compelling landing page.
Implement lead capture forms.
Personalize user experiences.
Implement lead scoring and nurturing.
Integrate CRM and marketing automation tools.
Leverage analytics and reporting
Optimize for mobile.
A/B testing and optimization
Regularly update and maintain your software.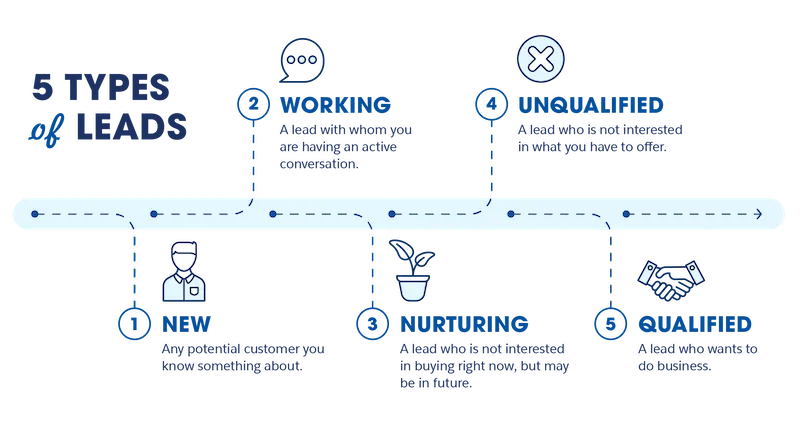 It is a fact that to keep your business and professionals engaged, you will need a minimum number of projects. These projects serve as the cornerstone of your software development company and an effective engine that drive your business growth.
Thus, keeping a keen eye on lead-generation tactics is essential.
You should think about accelerating your B2B marketing elements that validate a reliable project pipeline in order to generate more project leads.
The top clients will approach you when they are lined up with the solutions you provide. These are people and groups that are keeping an eye out for suggestions, ideas, and obviously, relevant experience with the precise data.
This indicates that companies that create tailor-made software should provide crucial information to meet these needs. Therefore, expanding your search is essential, and in order to do so and build your permeability, you should create material that benefits your audience.
Conclusion
---
Giving customers a good experience has become standard practice for almost all businesses. This is essential to create long-lasting relationships with customers and clients.
In this blog, we have learned the best practices of software development based on user experience. We have also gone through the significance of User experience, and how it serves as a foundation for lead generation and customer conversion.
We also discussed the key elements of the user experience and the best ways to enhance it. Finally, we ended up with Lead generation best practices with bespoke software development .
For more such informative blogs, visit our website.