There is no denying that custom software development is changing the face of businesses and helping industries to evolve rapidly. With the rise of digital transformation and the increasing demand for personalized solutions, custom software development is enabling companies to streamline their processes, improve client experiences, and gain a competitive edge.
In this blog, we will delve into the tips, trends, and insights surrounding custom software development in 2023 and explore how businesses can leverage their power to drive growth and success.
Tips for effective software and web development
---
Explore different approaches
---
Rather than trying to do everything the same way as you always do (or as everyone does it), try to explore different approaches to solving a problem or completing a particular project. You could end up discovering unusual ways to solve something you are familiar with. On the contrary, you could find a new way to solve a problem you have been struggling with.
Because web and software development is changing over time, you can't do the same thing you did several years ago and expect it to work the same way. You need to be open to new methods and practices while also looking for new approaches yourself as well.
The following are some new project management methodologies to be aware of.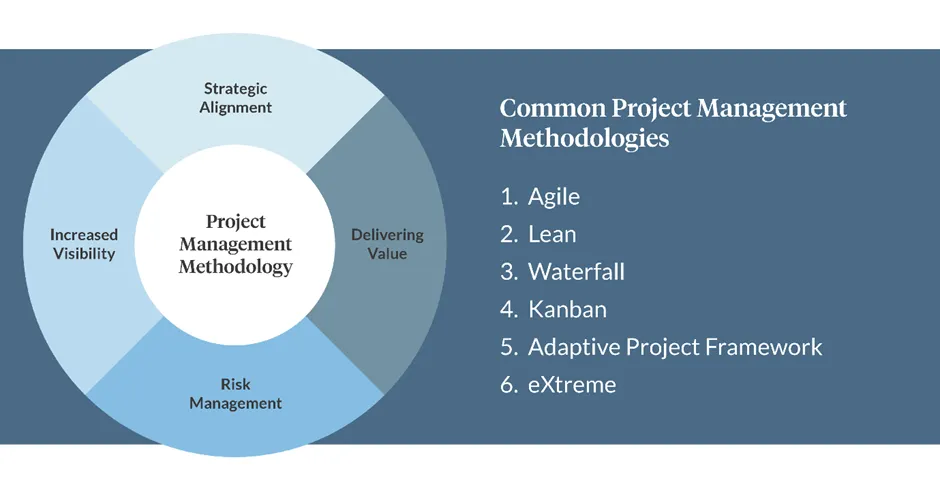 Communicate with other developers
---
Being a web or software developer can be a very individualistic job, though a lot of developers actually work in teams with other developers and specialists. Whatever the case is for you, you should never try to lead a completely secluded lifestyle where you don't talk to anyone. Instead, seek out opportunities to communicate with other developers.
By talking to other specialists in your field, you can get a wider variety of opinions on the topics you thought you knew everything about. Moreover, you can even develop your communication skills and become a better team player during group projects.
Find an exciting problem or project
---
Software and web development may seem like something extremely technical, but the field of development is actually quite creative at its core. That's why you should always look for projects or problems that excite you and make you want to work on them as soon as possible.
If you come across an exciting problem or project that intrigues you, you will be more motivated to do your job well. Besides, you won't feel so bored by your job or end up feeling burnt out just because you are doing something you don't enjoy or aren't interested in.
Practice your skills consistently
---
Being a good developer requires you to be open to new approaches and experienced in what you do. However, it also requires you to hone your skills and keep improving them consistently through practice.
By practicing your skills, you can turn your weaknesses into strengths while making your strengths even more significant. Look for opportunities to upgrade your skills and maybe even master completely new ones that could be useful for your job (e.g. learn a new programming language).
Think about what you want
---
Above all else, you need to think about what you want. What do you want to do as a web or software developer? What do you want to achieve? What are your specific interests? If you have any kind of dream project you want to work on, strive to achieve that. By setting actual goals and achieving them, you will start feeling more satisfied and accomplished.
Trends in software and web development
---
Voice search optimization
---
One of the biggest trends in the digital world today is voice search optimization. According to research, 50% of the US population uses voice search features on a daily basis. It's quite likely that even more people worldwide will be using voice search frequently in the nearest future, so marketers and developers alike need to take this into account.
By optimizing websites to voice search, it's easier to get more exposure and reach a much wider audience. If you are working in a team with digital marketers, it's definitely something you should consider when designing a website.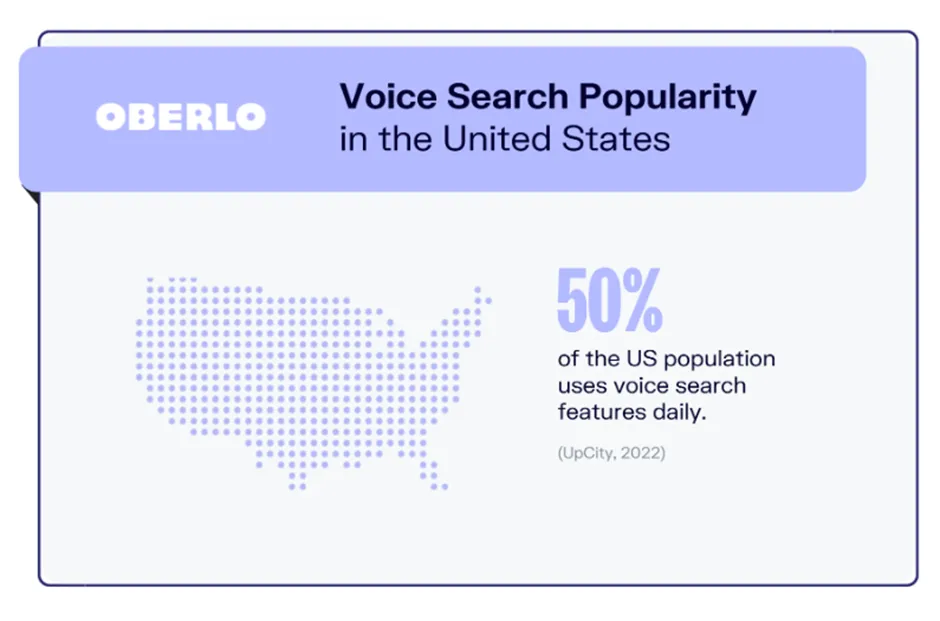 Responsive site design
---
Speaking of web design, responsive websites are becoming the norm nowadays. Responsiveness is all about adapting to the needs of the end users, so developers need to be up to date with what consumers want and should find ways to deliver this to them.
Moreover, responsiveness usually goes hand in hand with mobile friendliness. Apps are always designed with mobile devices in mind, but not all websites work well on such devices which causes issues for many businesses.
Ai-powered chatbots
---
Customer support is a priority for many companies, so it is logical that more and more brands are installing AI-powered chatbots on their websites. Developers need to work with relevant specialists to ensure that such chatbots work properly.
For instance, businesses can hire experienced writers from the writing agency Trust My Paper to work alongside developers and create a detailed chatbot that will respond to customers automatically.
Dark mode standardization
---
Dark mode has become so popular in recent years that more and more websites started introducing the feature. Users love switching to dark mode when using social media, but even regular websites can benefit from introducing dark mode as an option. This kind of standardization has ultimately led to the rise of websites with dark themes that are accepted by users just as regular light-themed websites are.
Focus on Cybersecurity
---
Cybersecurity has always been a major concern for web and software developers, so it is natural that the focus on it is still present. Website and app owners want to be certain that the chances of their website or app being hijacked are low, so they invest in developers who are able to make websites and apps that are secure and protected . It's critical in the current environment where cybercriminals are constantly finding new ways to launch malicious cyberattacks.
Insights in software and web development
---
Dark mode standardization
---
According to statistics, the average software developer is around 25-34 years old. This shows just how young developers generally are. There are already many young people studying to become developers, but even now the industry is mostly made up of professionals in their twenties and thirties. This doesn't mean that there are no older specialists working in web and software development, but it simply highlights just how young most professionals are.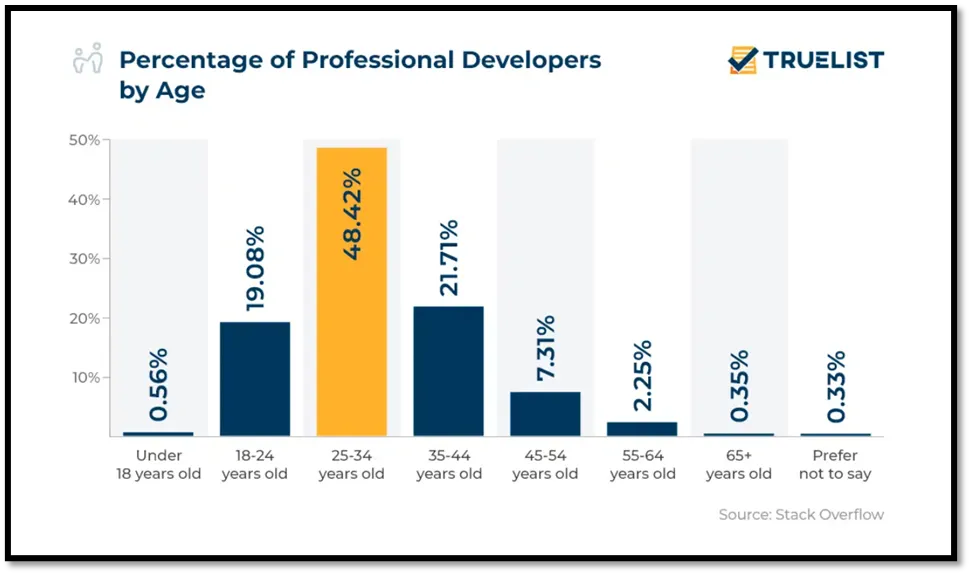 Conclusion
---
In the rapidly evolving field of software and web development, staying up-to-date with the latest trends and best practices is crucial for developers and experts. As technology continues to advance at a rapid pace, it is essential to keep track of the latest research and insights to stay ahead of the curve. By doing so, developers can improve their skills and keep their knowledge current, which can enable them to create innovative and cutting-edge solutions that meet the needs of their clients.
In short, embracing a culture of continuous learning and improvement is key to staying relevant and thriving in the ever-changing landscape of software and web development.
We hope this blog has helped you discover what you were looking for. For more useful articles like this, visit our insights.