Customer engagement is a central part of any business's success. Companies must have long-lasting customer relationships to enhance brand image, promote customer loyalty and generate revenue. Do you feel there aren't enough hours in the day to complete your marketing tasks and boost customer engagement? Engaging with customers can be complex, especially with the number of channels and platforms available today. This is where a solution like Dynamics 365 Customer Engagement comes in to streamline the process and make customer engagement more effective and efficient.
Businesses need to do more than make a good product to succeed. Customer experience is everything, and with the help of the right technology, companies can interact with their clients in a more effective and relevant way.
Marketers who comprehend the importance of customer experience can integrate it across their business and use the right technological solution to accelerate, simplify and improve every aspect of the buyer's journey.
How to improve customer engagement by leveraging marketing software?
---
By improving the customer experience, marketers can drive better engagement, produce favorable reviews and, as a result, generate more profits. The right custom software development can make all that possible. Following are a few ways how businesses can leverage technological solutions to boost customer engagement:
Automate marketing tasks
---
One of the primary benefits of using marketing software for customer engagement is automation. With marketing automation, businesses can set up automated campaigns that trigger specific actions based on customer behavior or predefined rules. For example, a business can set up an automated email campaign that sends a welcome message to new subscribers or a follow-up email to customers who abandoned their shopping carts.
Once mundane tasks like these are automated, your marketing team can focus on strategic tasks that demand more attention.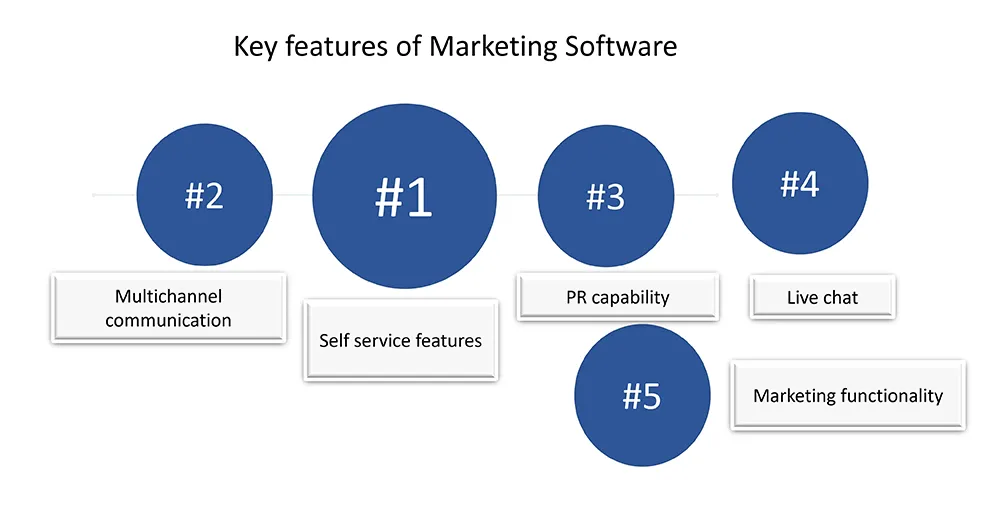 Understand your customer better
---
In today's highly competitive market, businesses must strive to understand their customers better than ever before. This means gaining insight into their wants and needs, predicting their preferences, and anticipating their expectations.
Achieving this level of customer understanding is a key priority for the most successful brands, and it requires leveraging technology to track and analyze customer behavior.
Technology has made monitoring and measuring customers' online footprints easier than ever. With the vast amount of data available from social media, website traffic, and online sales, businesses can collect valuable insights into their customers' preferences, purchasing habits, and interests.
By analyzing this data, companies can better understand their customers and create more targeted marketing campaigns and personalized experiences.
Offer personalized experiences to boost engagement
---
Nowadays, customers have access to many options for their shopping needs. As a result, businesses constantly strive to stand out and offer unique and personalized experiences to retain their customers.
Personalization has become a prevalent trend in the market, and customers willingly provide their data to companies in exchange for a tailored and more relevant experience.
Personalization can create a deeper connection between your customers and your brand, translating into greater customer loyalty and long-term relationships. Moreover, speaking to customers personally fosters a bond with them and boosts customer engagement.
Companies can efficiently reach their customers with personalized communication by gathering, segmenting, and analyzing customer data using a CRM. As a result, they can offer better experiences and engage with their customers more effectively.
Improve engagement via Artificial Intelligence and chatbots
---
Providing swift and timely responses is a critical component of effectively engaging customers. Instant responses save customers valuable time and alleviate frustration from interacting with support teams.
A great way to do this is by leveraging software that offers AI capabilities and implementing Chatbots. Chatbots have become a popular tool for businesses to provide instant customer support. Chatbots can easily answer frequently asked questions and automate routine tasks, allowing human agents to handle more complex issues and deliver better customer service.
Moreover, they can also answer complex queries and deliver personalized responses. As a result, you can enhance your query resolution process and allow customers to engage better with your products.
Enhance cybersecurity to gain customer trust
---
The success of a business is significantly reliant on the trust of its customers, and a breach of security or data loss can obliterate years' worth of gained confidence in a matter of seconds. In addition, customer data is an essential marketing component, as it allows businesses to understand their customers' needs and customize their products and services accordingly.
Nevertheless, cybersecurity threats such as hacking, and data loss can expose this sensitive information to risk. When such threats occur, they can disrupt business operations, and the company's reputation may suffer, resulting in negative perceptions among the public and existing customers.
By utilizing the right software, businesses can securely store and manage customer data while ensuring that the data remains confidential and protected. This can help build trust with customers and create a positive image of the business, leading to increased customer engagement and improved sales.
Adopt an omnichannel engagement strategy
---
In the digital age, customers expect to choose their medium when engaging with brands. This is why businesses must embrace an omnichannel approach to engage with customers effectively to succeed in today's competitive retail landscape.
Companies can create a consistent and cohesive brand experience that resonates with customers across all touchpoints using digital and traditional communication channels. This includes using social media to engage with customers, offering live chat support on the website, providing self-service options through mobile apps, and more.
As a result, businesses can effectively increase their customer engagement across various platforms and reach more people.
Perform accurate customer sentiment analysis
---
Sentiment analysis has become increasingly popular because it provides insights into customer emotions towards products, services, and brands. It can accurately detect and classify customer opinions, attitudes, and sentiments expressed in social media, online reviews, and other channels.
Product managers can use sentiment analysis to gauge customer satisfaction with their products, identify pain points, and make informed decisions on improving their offerings. They can also use the insights gathered from sentiment analysis to create effective marketing campaigns that resonate with their target audience.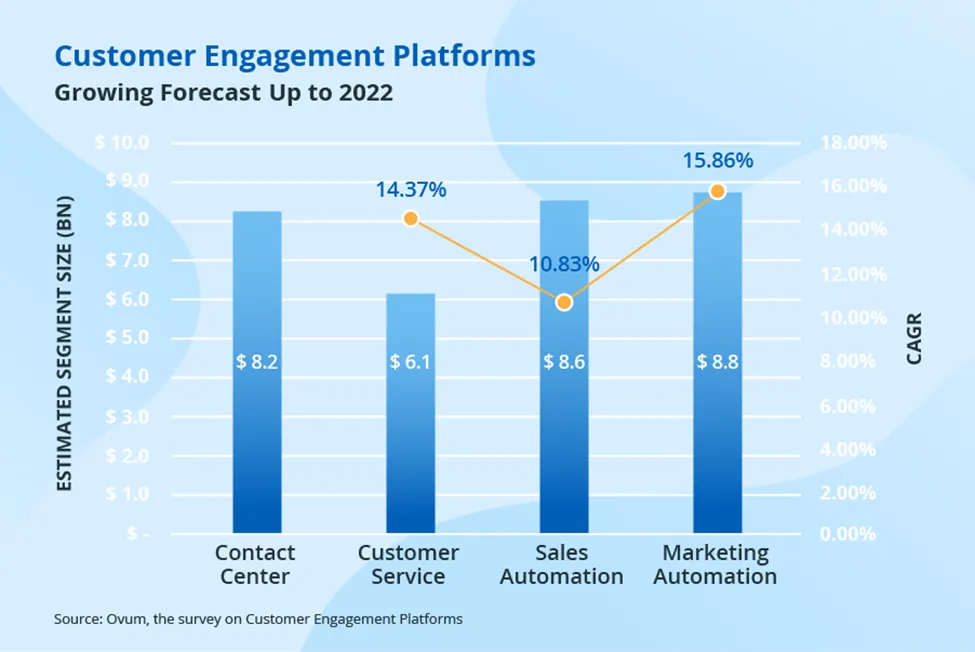 With the right technological tools, marketing teams can expertly perform sentiment analysis and identify bugs and product areas that need improvement. Moreover, they can know about new features customers may need and take steps accordingly.
As a result, when companies show that they care about their customers, it increases engagement across platforms and elevates brand image.
Offer real-time support to customers
---
Real-time customer engagement is a powerful tool for businesses looking to optimize their marketing efforts and improve customer relationships. Companies can build a strong brand reputation and foster lasting customer loyalty by prioritizing customer communication and investing in technology that enables real-time interactions.
Companies can gain valuable insights into customer preferences and expectations by establishing direct communication and building trust. Moreover, they can use this information to tailor marketing campaigns to meet customer needs better, resulting in higher conversion rates.
In addition to improving marketing efficiency, real-time customer engagement can help companies establish a reputation for being responsive, accessible, and empathetic.
When customers feel heard and understood, they are more likely to develop a positive impression of a company, leading to increased loyalty and repeat business.
Simplify your operations with self-service portals
---
New technologies are being developed daily to streamline complex functions and make them easier to use. In addition, customer service agents can greatly benefit from tools that help automate processes.
For example, implementing self-service portals can significantly boost customer engagement. It is available 24/7, every day of every week, for the customer to access whenever and wherever needed.
In addition, with fewer phone calls and support tickets, customer service representatives can devote more time to customers who don't use the self-service portal. This leads to increased productivity and an opportunity to provide better care and attention for each customer call or email.
By leveraging these advanced technologies, businesses can enhance customer experience and drive greater customer loyalty. Moreover, self-service portals can serve hundreds of users simultaneously, making customer engagement easier and more efficient.
Conclusion
---
In conclusion, customer engagement is a crucial aspect of any business, and in today's digital age, it is even more critical to creating long-lasting customer relationships. By leveraging the right technological tools, companies can better understand their customers, offer personalized experiences, provide instant support, ensure data security, and adopt an omnichannel approach to engage with customers across all touchpoints.
Through technologies like CRM, AI, Chatbots, self-service portals, and sentiment analysis tools, companies can streamline their processes and deliver tailor-made experiences to their customers, thus driving better engagement, loyalty, and profits.
In the end, the success of a business relies heavily on how well it can connect with its customers. Using technology to improve customer engagement, companies can foster stronger relationships, create a positive brand image, and generate more revenue. Therefore, businesses prioritizing customer engagement and investing in the right technology can achieve a competitive edge in today's market and succeed in the long run.
With the right marketing software solutions in place, businesses can improve customer experience, increase customer loyalty, and drive revenue growth.