Easy to transform into digital and meet customer expectations
---
In the past, software development was a costly and time-consuming process that remained in the hands of IT professionals. In today's digital world, this mode of operation is not sustainable for many businesses. It is especially a problem for businesses trying to develop digital transformation strategies or struggling to meet customer expectations.
This is why many IT leaders are turning to low-code development platforms, which help them create apps quickly and efficiently without coding. These platforms often include intuitive graphical user interfaces (GUI) or drag-and-drop tools that make it easy for non-technical people to create applications.
What makes Low code development more reliable?
A low-code platform connects reusable components and third-party application program interfaces (APIs) to build business apps. The platform allows you to use a visual IDE or drag-and-drop tool to combine pre-built building blocks with your data and business rules. These reusable components can be used in multiple ways for various processes, which can help you save time and money. Some platforms also have API adapters, which let you build connections to other systems.
v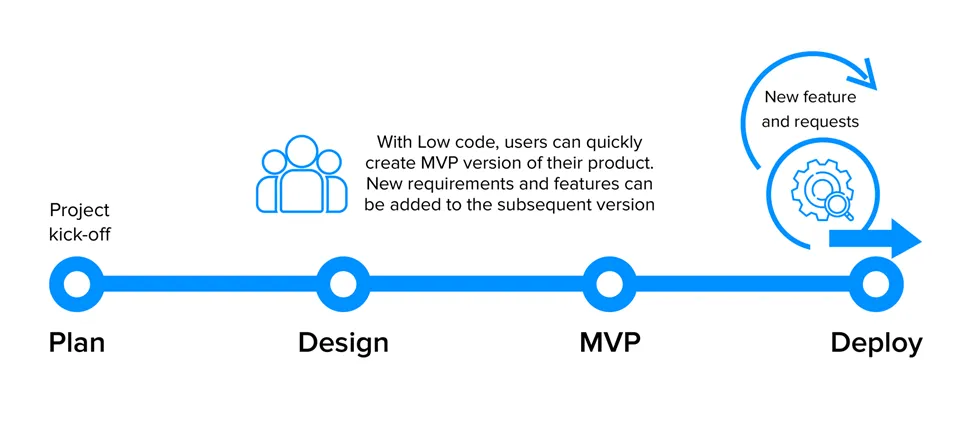 The best of the Low code development industry
A large number of top-tier software companies have recognized the growing need for applications to support business innovation. This has led to the rise of citizen developers outside IT who can build these apps by themselves. This new wave of talent has triggered the growth of low-code development. In fact, Gartner believes that more than half of the total custom software development is now done by citizen developers outside IT.
Standardization is another key benefit of low code because well-designed platforms often include a set of standardized components and a common development process. This can help IT teams consistently maintain the software. This can also make it easier to implement changes and maintenance.