Top Reasons Why E-commerce Businesses Fail
---
"I used to run a beauty product eCommerce store and it failed. Judging from my past experience, I would say these are the main reasons for eCommerce projects' failure.
Poor choice of platform or software tools that don't work well with the store's technology stack or existing systems.
Poor initial estimate of cost and timeline for development.
Strong competition in the marketplace which leaves no room for innovation.
Lack of understanding of how to listen to customers' needs and their buying habits, which leads to a product being poor in quality or being difficult to sell.For example, beauty products are not always easy for customers to test out in stores before they purchase them. This makes it hard for stores to sell these types of products online.
Lack of knowledge about technological standards for eCommerce"
"1. Lack of understanding of the proper role of e-commerce
---
As the owner of an e-commerce development company you may have heard the saying: The business is not B2B or B2C, but H2H (person-to-person). In any business, there are five types of people with their own unique goals: customers, partners, employees, investors, and potential customers. In addition, many internal and external systems may need to be integrated to facilitate easy access to information across departments and your partners.
2. Lack of planning
---
Any successful effort requires careful planning, and the same is valid for e-commerce projects. A typical e-commerce project should start with a discovery call. A good, comprehensive discovery call should include discussions focusing on the following.
The short-term and long-term goals of the company. Pain points and wish list
Customers
Stakeholders or store operators
Partners
System (external and internal)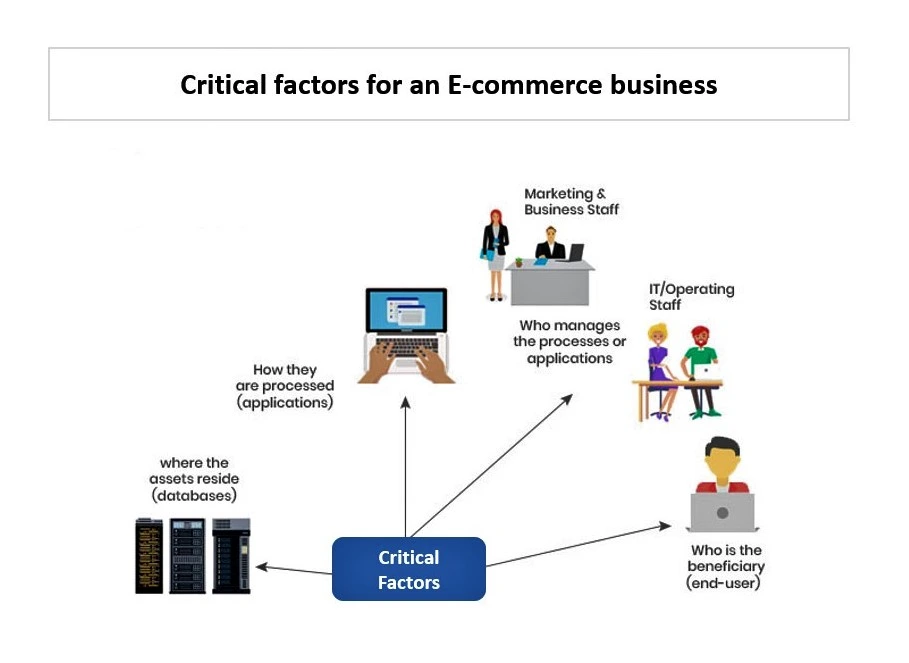 Overall discovery
The output of this discovery call and the insight of the market or competitors should become the core input of the e-commerce strategy in the e-commerce planning stage. Some of the activities and deliverables in the planning phase include surveys, digital roadmaps, requirements specifications, and wireframes.
Lack of planning is often the failure of many e-commerce companies. Many people who want to become entrepreneurs rush into the e-commerce field with the attitude of crossing that bridge when you get there. But they were so wrong. Although e-commerce is a straightforward business model, it involves many intricate issues, and those with less information tend to ignore these issues.
You need to research e-commerce and understand it better before you can get your business online. The website is often set on the best platform recommended by Google or an e-commerce company. Neither situation takes into account your business or its unique needs.
Result? You may end up with an e-commerce store that cannot adapt to the unique needs of your business. You may not be able to add functions. You want to your online store because of the restrictions of the platform. Due to platform limitations, you may not be able to add cool features to your store. Your website may not support a lot of content, even though your business needs it. The problems you may face due to a lack of planning can be severe.
Proper planning also involves viewing your e-commerce site from the user's perspective. Because in the final analysis, the future of your e-commerce website is in the hands of the user or customer. The plan should include an outline for creating an e-commerce website. Consider how to make it easier for your customers to browse your store and browse products.
3. Lack of understanding of overall goals
---
In many cases in the planning phase, it is easy to focus only on business goals and forget the human factors in the business. A well-balanced planning phase should also consider the five types of people in your business-customers, prospects, partners, investors, and store employees.
4. Platform focus
---
Companies dangerously place platform choices before business needs time and time again. Your business needs should be the priority, not the platform. The ideal process is first to understand and define your business goals and people's needs. Then find a platform that meets these needs and goals. Choose a platform that meets your business goals, not the other way around.
Choosing the right e-commerce platform is one of the most critical steps you need to invest time in in the planning process. As I said before, every business is unique. Every business has a unique customer base, product catalog and operating methods. The most popular e-commerce platform may not be suitable for your business. It takes experience and in-depth knowledge to understand the difference.
Just another website
---
Understand this:Your e-commerce website is not just a website.If you do it correctly,it will be a creation that will bring you the best digital experience center closest to your revenue, profit,user experience goals and lifespan.Customers loyalty.
One of the most naive mistakes many companies make when doing business online is with the same name. Even shopkeepers who insisted on the old way of doing business now realize that they must have an online business. Now the first place where customers or potential employees find you is the Internet. Not being online will automatically reduce your credibility.