E-commerce marketing techniques play a crucial role in driving conversion rates (CRO) for online businesses. The success of an e-commerce store largely depends on its ability to attract and retain customers, and e-commerce marketing strategies can help accomplish this goal by promoting products and services, increasing brand awareness, and generating leads and sales. By employing effective e-commerce marketing techniques such as search engine optimization (SEO), social media marketing, email marketing, and customer relationship management (CRM), businesses can improve their website's user experience, target their audience effectively, and ultimately increase conversion rates. With the ever-growing competition in the e-commerce industry, utilizing these techniques is becoming increasingly important for businesses looking to thrive in today's digital landscape.
Besides, it is also important to understand the difference between Retail vs Wholesale E-commerce development. Because most online shoppers are bombarded with a lot of choices these days. There are virtually hundreds of products to purchase and sites to buy from. Driving people to your site is no small feat in this highly competitive landscape. You need to step up your game to boost your e-commerce conversion rates. Let's get started with the basics.
What Are E-commerce Conversion Rates?
---
These refer to the percentage of users who take action when they visit a site. Meaning it's the ratio of transactions compared to site sessions.
Purchasing is one of the best types of conversions for ecommerce sites. However, conversion rates include other types of actions as well, like completing a lead generation form, subscribing to a newsletter, contacting customer service, and engaging in another way are different types of conversions. Your conversion rates tell a lot about how shoppers behave when visiting your site.
11 Statistically Proven Marketing Techniques To Increase Your E-commerce CRO
---
Check out these ecommerce marketing techniques that help you increase your conversion rates:
1. Optimize your site for mobile
---
People spend an excessive amount of time on their mobile phones, whether it's browsing social media feeds or doing online shopping. Mobile commerce continues to skyrocket, and according to eMarketer, it accounts for up to 40% of e-commerce sales.
So, more than ever, optimizing your site is vital to reach shoppers, making it easy for them to browse, add items to their cart, and complete the checkout process.
Average CRO
Not only does a mobile-friendly site affect your search engine rankings, but it also makes it easier for your target customers to find you online.
To boost your e-commerce conversions on mobile, you should enhance your page's font size, compress images, and enhance your site's loading speed. Provide a top-notch customer experience to maintain conversions and drive consumers to your competitors.
2. Streamline Navigation
---
A site with a poor shopping experience, a slow-loading product page, and a complicated checkout process turn shoppers off. According to a Retail Systems Research survey, 52% of customers get frustrated when e-commerce sites need to be faster. 90% of shoppers leave, start shopping on your competitors' sites and never return. Making your site easy to navigate allows consumers to find what they're looking for quickly.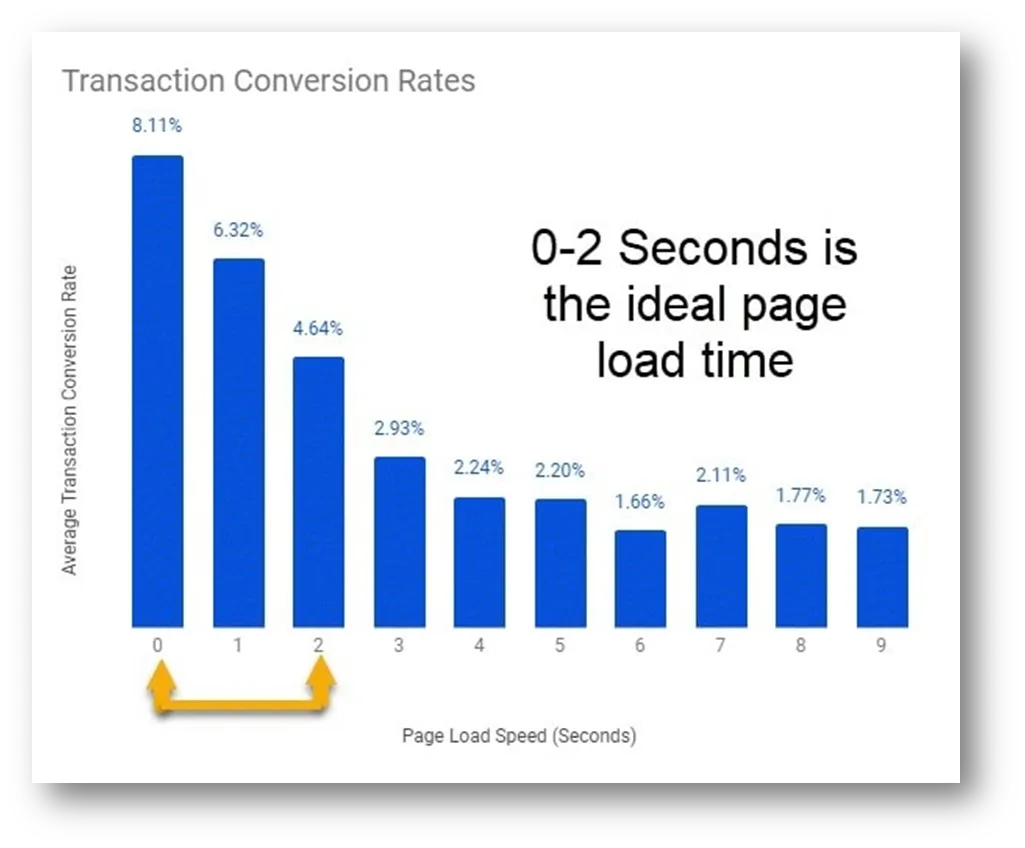 Ideal page loading time
The next step is to make it simple for shoppers to purchase what they're looking for. Ensure to decrease the number of fields the customer needs to complete during checkout. Also, accept different payment types.
3. Use calls-to-action sparingly!
---
It would help if you didn't overwhelm your visitors with too many options or CTA buttons. Use call-to-actions sparingly.
Place your CTAs in the same area and on the same page. Doing so ensures that your pages aren't too cluttered.
4. Optimize your checkout process to reduce cart abandonment
---
Imagine if a customer added an item to their cart and was just one step away from converting. According to a study , 70% of users abandon their shopping carts in ecommerce stores.
So, is the cause of cart abandonment? In most cases, it's having a long and complex checkout process that forces customers to answer lengthy forms, make an account, or click through several steps before seeing essential information like fees, shipping, and taxes.
Here are some ways you can optimize your checkout process and make it user-friendly:
Decrease the number of pages or steps in your checkout flow
Including progress, indicators to let visitors know how far they need to go
Automatically fill in customers' information
Make it easy for customers to change or edit their order
Show shipping taxes and other fees early on
Showcase payment options, shipping fees, and returns policy.
When prospects land on your site, they likely have several questions, such as:
How much is the cost of delivery?
Can you use a buy now, pay later option?
What's your return policy?
The questions provided act as a barrier to your conversions. So make sure you give the answers early in the customers' journey.
5. Add 30 Second Explainer Videos
---
It has been proved that 30 Second Explainer Videos for any product perform well in terms of lead conversion on your E-commerce platform. Nobody has the time to browse items and read through their descriptions in depth. Everyone prefers a cursory peek. Such 30 second explanatory films would be appropriate in this circumstance. Make sure your movies are engaging and informative in order to pique the user's attention.
Why 30 seconds videos?
In a matter of seconds, you will get clear and full information.
It is the new social media trend that people are interested in.
It saves time and allows you to focus on other products.
It eliminates user annoyance.
When applied effectively, it eliminates confusion for folks who have too much knowledge.
6. Use User-Generated Content
---
92% of customers trust non-paid recommendations instead of ads. That's a large percentage, forcing you to think about your current marketing strategy.
Posting user-generated content on social media featuring your products makes it relatively easy to attract customers online and give them genuine reviews and results of your product. It's also highly effective since it's organic, increasing the trust of your customers.
Moreover, it acts as social proof since it entices customers to buy your products because they can see others using them.
7. Show Recently Viewed Products
---
Looking for a product can be time-consuming if you're shopping online. As soon as the customer finds what they're looking for, it's unlikely that they'll instantly checkout. However, it also doesn't mean that they won't convert in the future.
When you feature your recently viewed items, it's easier to streamline the path to checkout and draw significant uplifts to your conversions.
For instance, you can embed your "Recently Viewed" carousel on your site to keep your customers' favorite items in mind.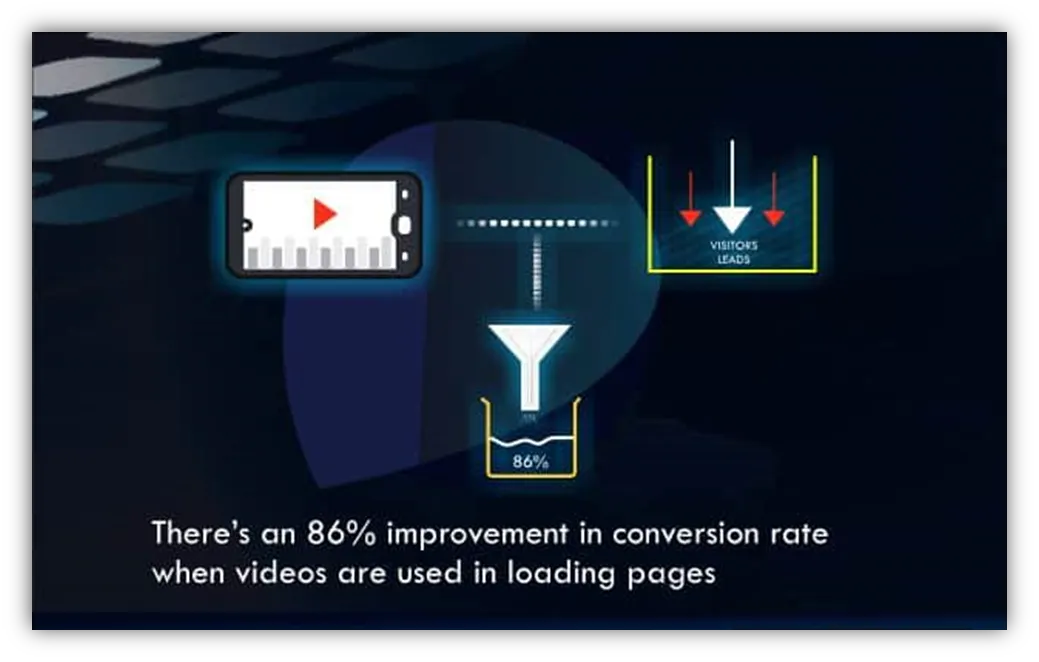 Videos in loading pages
It is also advised that you employ video content to increase your CRO. You would promote your products by displaying them on your landing page. According to statistics, including videos in loading pages improves CRO by 86%.
8. Improve Product Photography
---
Using high-quality product images often reassures visitors that they're buying the right item. This can significantly impact your ecommerce conversion rates.
In Baymard's large-scale usability testing, 56% of users have instantly started exploring product images as soon as they get to an e-commerce page. However, low-quality images and photos that couldn't be zoomed in led to increased cart abandonment rates.
9. Add More (and Better) Social Proof
---
Social proof is one of the most powerful tools to boost your ecommerce conversion rates.
Adding it boosts the confidence of prospective buyers and nudges them to complete a purchase. If you're an ecommerce brand, you can use social proof in several ways. For instance, you can use it to drive a sense of urgency, validate your customers' choices and ease their concerns.
You can also utilize these social proof strategies to enhance your site's conversion rates:
Highlight the popularity of your product
Feature stock scarcity
Show review platform ratings
10. Use Trust Badges
---
Like social proof, trust budges help ease customers' doubts about your brand or product. You can use trust badges to make your customers confident in your payment systems, returns policies, and data security and shipping.
You can also use trust badges to give critical information about your products or brand:
Accepted payment methods
Endorsement from third-party
Guaranteed safe and secure checkout badge
Money-back guarantee
Free shipping and returns
11. Provide discounts and offers
---
Discounts and offers enhance the overall shopping experience. One of the main reasons why customers abandon their online shopping carts is high shipping costs. Moreover, shoppers spend more if they're given a free shipping voucher or coupon.
To encourage purchases, you can send offers every time someone joins your email list or come up with tailored messaging for the people who shop with you regularly.
Over to You
---
Driving shoppers to your e-commerce site and enticing them to buy is essential. Providing a seamless shopping experience makes it much easier to build trust and stand out whenever a shopper wants to purchase something new.
Using these strategies we've mentioned in this post will not only help you with your marketing, but it could also bring something new and exciting that you and your team could work on.