In today's digital age, completing business operations promptly is of paramount importance. You need to focus on other critical tasks to yield positive results for your business. Isn't it? Thus, a solution that could accelerate your business operations is essential.
Office 365 Add-ins development is something that helps you extend the functionalities of your basic Microsoft platforms and supercharge your business productivity. It helps you streamline corporate tasks and effectively control the workflow.
Microsoft Word, being one of the extensively used documentation platforms, often requires customizations and additional functionalities to accomplish tasks. Thereby, clients strive to hire Word Add-in developers to fulfill their documentation needs.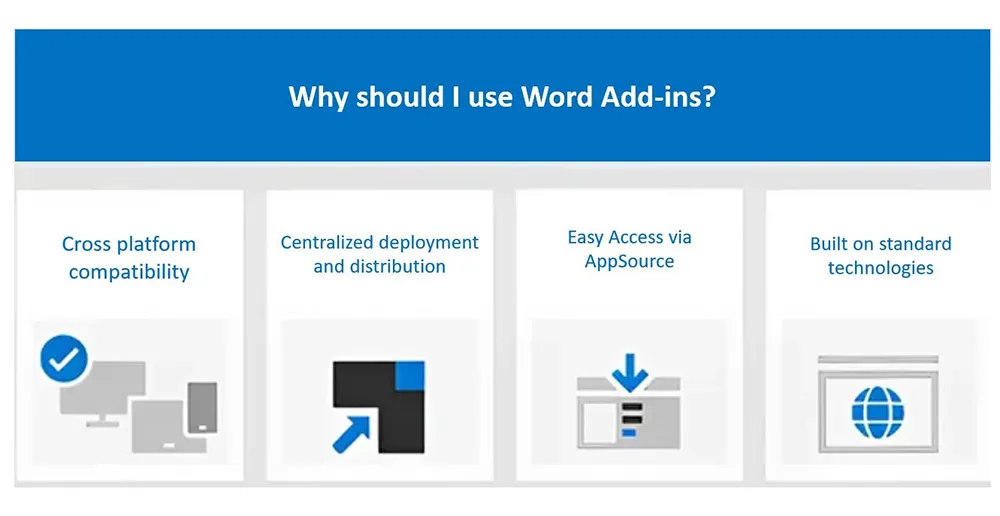 In this article, we will explore what it takes to hire a Word Add-in developer, the factors that influence development costs, the impact of developer location, and the benefits of using Word Add-in development. Let's get right to it.
What are the factors that affect Add-in's development cost?
---
To satisfy the demands of a business, Microsoft Word would require tweaks and capability additions. Developing a Word Add-in involves a range of considerations that influence the overall cost. Here are some key factors to consider:
1. Complexity of functionality
---
The impact of development costs usually depends on the specific requirements and functionalities you desire. General Add-ins have default features that can help you finish basic requirements. However, you must configure Word Add-ins for sophisticated user interfaces, extra features, and integrations, which eventually mandates development work and resources.
2. Design and user interface
---
An intuitive user interface plays a key role in a successful add-in. To do so, you might require additional UI/UX expertise to add functionalities such as custom graphics, icons, animations, and other designs, eventually impacting the Word Addins development cost.
3. Integration requirements
---
At times your business may require a Word Add-in to be integrated with third-party systems like ERP, CRM, databases, or other APIs. These Plug-in integration services might affect your Add-in development cost. It might also require additional time and effort to ensure flawless integration.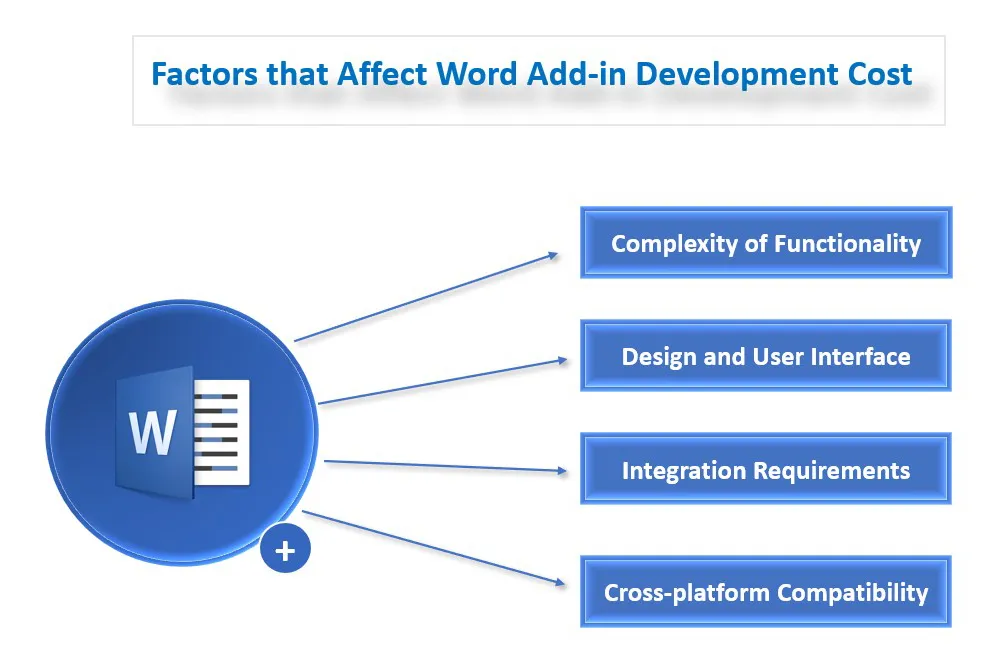 4. Cross-platform compatibility
---
You may be aware of how vital cross-platform compatibility is these days while working on commercial chores. Creating a Word Add-in that operates on many platforms, such as macOS, Windows, or web-based environments, increases complexity and may raise development costs. It may require compatibility testing and platform-specific optimizations to make it perfect.
How does the location of a developer affect Add-in development cost?
---
A developer's geographical location can significantly impact the cost of hiring a Word Add-in developer. Here are some factors to consider:
1. Labor Costs
---
Developer rates vary across different regions and countries due to differences in labor costs and living standards. Hiring developers from regions with lower labor costs may result in cost savings, while developers from higher-cost regions may charge more.
2. Availability of Skills
---
Developer availability and the level of expertise in Word Add-in development can vary by location. Regions with a larger pool of skilled developers may offer competitive rates, whereas locations with limited availability may result in higher costs.
3. Communication and Time Zone Differences
---
Hiring a developer in a similar or overlapping time zone can facilitate communication and collaboration, reducing the potential challenges associated with language barriers and time zone differences. This can positively impact the development timeline and overall cost.
Benefits of Word Add-in Development
---
Users may successfully unlock a whole new level of productivity in their organization by utilizing the customized capabilities and enhanced features of Microsoft Word.
Let's look at the advantages of using Word add-in development and how it may change the way you work with documents.
1. Tailored Functionality
---
Bespoke Word Add-ins offer amazing features which can effectively enhance your documentation. This allows you to meet your desired specifications, streamline activities, and automate content processes. Additionally, you may integrate more tools to streamline your content processing.
2. Enhanced Productivity
---
Who doesn't want to increase business efficiency, especially while working on difficult content development activities? Bespoke Word Add-ins can assist you in automating repetitive content procedures and achieving goals in a short time. Thus, the main benefit of Word Plug-in development is increased productivity.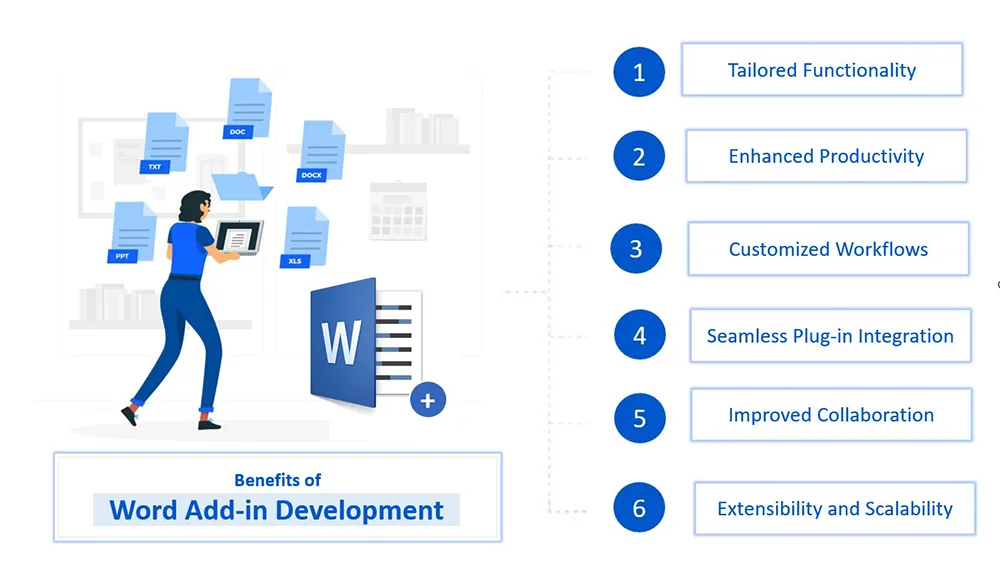 3. Customized Workflows
---
The field of content writing is diverse. Different content creation businesses have different criteria and workflow. Bespoke Word add-in development provides them with a customized MS Word that meets their requirements.
Bespoke add-ins can be designed in accordance with their company requirements, incorporate tools, and enforce formatting and style norms to ease and automate content generation. This facilitates the easy integration of Word Addins for more optimized content operations.
4. Seamless Integration with External Systems
---
Word add-ins can bridge the gap between Microsoft Word and external systems, such as databases, project management tools, and CRM-ERP platforms. The integration reduces the need for manual data entry and document switching. As a result, data flow is more frictionless, with fewer mistakes. Furthermore, this will save time and ensure data consistency across several platforms.
For example, you can develop an add-in that pulls customer data from your CRM system and automatically generates personalized documents or reports within Word. This not only saves time but also reduces the risk of errors and ensures data consistency across different systems.
5. Improved Collaboration
---
Despite being one of the most used documentation systems, MS Word frequently requires customization. In addition to improved documentation, central collaboration necessitates real-time editing, commenting, and version control.
Multiple people can work on a document at the same time, making changes and offering feedback in real-time. This improves cooperation, lowers communication costs, and ensures everyone is on the same page. Furthermore, add-ins may link with cloud storage services, allowing for simple document sharing and access from anywhere, fostering collaboration and remote work capabilities.
6. Extensibility and Scalability
---
Scalability is key in today's interconnected business. Word add-in development offers incredible extensibility and scalability. As your business grows and evolves, your document management needs may change.
With add-ins, you have the flexibility to adapt Microsoft Word to meet new requirements. You can develop additional features or modify existing ones to accommodate changing workflows, integrate with new systems, or incorporate emerging technologies. This adaptability ensures that Word remains a valuable tool for your organization, even as your needs evolve over time.
How can I hire Word Add-in developers from iFour Technolab?
---
iFour Technolab provides flexible hiring models for dedicated Word Add-in developers. These include:
Hire a dedicated team
Fixed Price model
Hourly-based model
Clients may choose the best one based on their business requirements.
Hire a dedicated team!
---
This model allows you to hire experts on a monthly basis to work on your project. The terms and conditions will be discussed during the walkthrough meeting.
Fixed Price model
---
Suppose you have a well-defined project requirement and scope, and you are looking for an Add-in developer at a fixed price, then this model is best for you.
Hourly-based model
---
With our Hourly-based hiring model, you can hire developers on an hourly basis to work on your project. Terms and conditions will be discussed while the requirements gathering and meeting.
Let's take a look at our hiring process:
1. Requirements Walkthrough Meeting
Discuss your project requirements to initiate the first step of our hiring process.
2. Resume Analysis
Carefully evaluate the qualifications of our custom Word Add-in developers.
Shortlist resumes that meet your business criteria.
3. Developer selection and interview
Finalize Add-in developers who possess the required skills matching exactly to your needs.
Conduct interviews to assess their suitability for the project.
4. Contract drafting and payment details
Prepare a comprehensive contract that outlines the terms and conditions.
Specify the payment details and mutually agreed upon compensation.
5. Team introduction and Non-technical discussions
Introduce the selected developers to the team.
Discuss non-technical aspects such as SCRUM duration, timing, meeting schedule, expectations, and work processes.
6. Work environment setup
Facilitate the installation of specific frameworks necessary to establish an optimal work environment for the project.
7. Project commencement
With all the preparations complete, initiate the project and begin the development process.
With this well-defined hiring process, we ensure that our skilled team of Add-in developers will work effectively for your project and meet your goals.
For more details, contact us via our website.
Conclusion
---
The adoption of Word add-in development can be a game-changer for businesses and individuals seeking to optimize their document management processes. From enhanced productivity and customized workflows to seamless integration and improved collaboration, the benefits are clear.
This blog has discussed the factors that influence development costs, the impact of developer location, the benefits of using Word Add-in development, and more importantly, what it takes to hire custom plugin developers.
Businesses hire Word Addin developers to customize their needs, streamline their tasks and unlock new levels of efficiency. This is essential to stay ahead in today's competitive landscape. So, embrace the possibilities and explore the world of Word add-in development to revolutionize the way you work with documents.