Every business uses technology, but why is it so important for the legal sector? Because, based on the facts, there are more than 5 crore cases waiting in India, and new cases are being added on a daily basis. Adopting technology in these circumstances is essential for restructuring legal processes and accelerating case resolution.
Today, staying current with technology is no longer an option; it's a necessity for any industry to stay within rhythm. The legal industry is one of the oldest yet critical professions where time is of huge value and being aware of these emerging technologies is essential to reshape their traditional processes. This will not only save judiciary time but also help attorneys gather evidence with perfection.
This comprehensive blog will delve into the key trends that are set to redefine legal work processes, providing you with valuable insights to adapt and thrive in the digital environment.
2024 Legal Industry Tech Trends: A Comprehensive Overview
---
For many years, legal software development has been a popular way to streamline legal procedures and eliminate traditional processes. However, as time goes on, it becomes increasingly important for attorneys to learn legal technology trends that improve overall efficacy.
Legal technology trends to check out in 2024:
Artificial Intelligence (AI) and Machine Learning
Blockchain Technology
Natural Language Processing (NLP) and Chatbots
Data Analytics and Visualization
Virtual Reality (VR) and Augmented Reality (AR)
Cloud-Based Collaboration and Document Management
Cybersecurity and Data Privacy Tools
Legal Project Management Software
Electronic Discovery (eDiscovery) Software
Legal Practice Management Systems
These technologies are becoming essential tools for tasks like legal research, contract analysis, and predictive analytics. AI can sift through vast volumes of data and identify patterns that help attorneys make more informed decisions and streamline their workload. This will ultimately improve legal efficacy and accuracy.
How do Software technologies revolutionize Legal Work?
---
Emerging software technologies can revolutionize the way legal professionals practice law. These advancements stand as a helping hand that promises to enhance efficiency, accuracy, and client satisfaction effectively.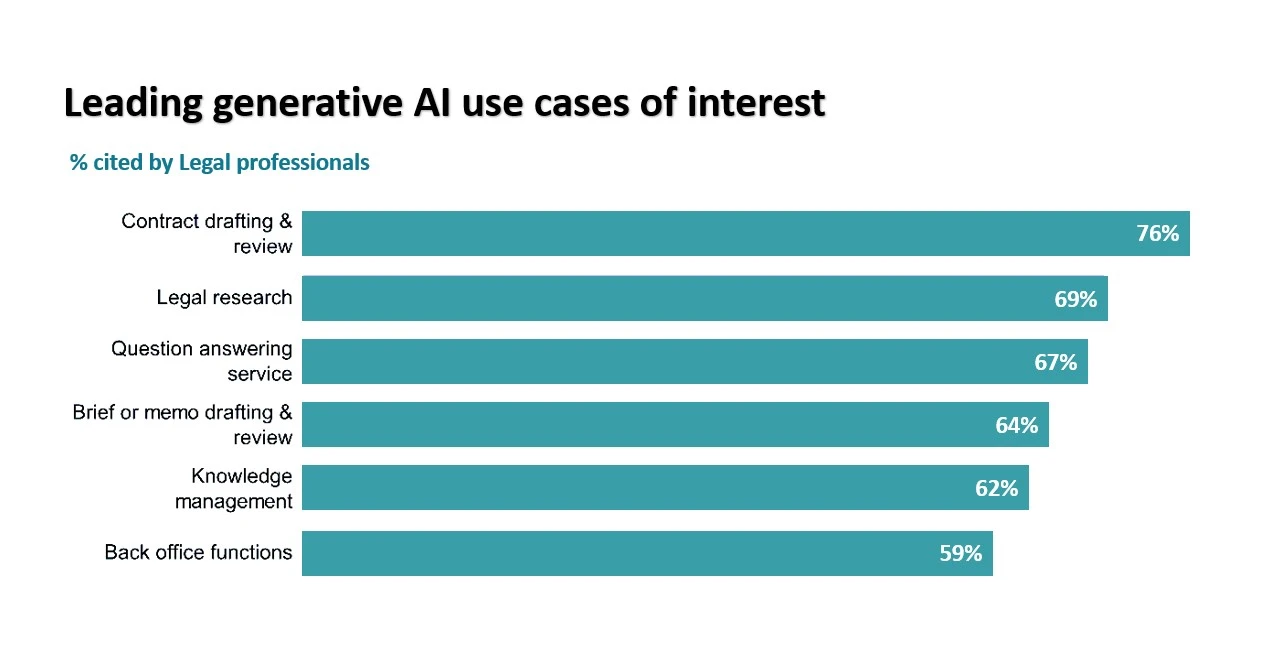 The rise of AI-based research tools has made a significant impact on legal works. Using this, attorneys are no longer burdened with hours of research. Instead, AI algorithms can pinpoint relevant data sifting through massive volumes of data, providing relevant information in a matter of seconds.
Using software development technologies can help the Legal profession accelerate the research and analysis process, support lawyers in minimizing burden, and let them focus on higher-value tasks, such as crafting persuasive arguments, providing strategic counsel to clients, and so on.
How AR and VR can be used in the Legal sector?
One more trending technology that makes an impeccable impact on the Legal business is AR and VR (Augmented Reality and Virtual Reality). With the best use of these tools, attorneys and clients can observe incidents through immersive simulations, resolve disputes, and simplify law proceedings.
Attorneys can recreate crime scenes or accident sites with virtual reality and provide judges and juries with a more immersive understanding of the case. AR, on the other hand, can enhance courtroom presentations by overlaying digital information onto physical exhibits.
These advancements promise to make legal proceedings more engaging and persuasive. As we move ahead with this discussion, you'll gain a deeper understanding of how these software revolutions are set to redefine legal work in 2024.
The most surprising Legal tech industry statistics for 2024
---
The legal sector is on the cusp of a technological revolution, and as legal professionals, navigating this future is both an opportunity and a challenge. In 2024, the legal industry will be shaped by a select group of software trends that promise to redefine how attorneys operate and deliver legal services.
"The worldwide Legal tech market is expected to reach $37.9 billion by the year 2027."
While the number of pending cases in India's legal industry is at an all-time high, the usage of technology is highly required. When technology is implemented, it will greatly improve the legal profession. They would provide data analytics and visualization tools to attorneys to help in legal decision-making.
"Significant progress was achieved in analytics-related technology in 2022, with 60% of departments reporting having adopted a legal data analytics tool (up from 52% last year) and 26% reporting adopting artificial intelligence for at least one use case (up from 15% last year)."
These technologies can process massive quantities of data and show it in visually appealing ways. Thus, helping lawyers develop data-driven arguments and forecasts, empowering their case strategy.
"54% of lawyers believe AI tools can be used in legal practices and save time on research and analysis."
Chatbots and NLPs can be used in the legal practice for client interactions and providing 24*7 support for general legal queries. With this automation, legal businesses will acquire increased client satisfaction and attorneys can free up their essential time for complicated cases.
Top Technology Trends in the Legal Sector for 2024
---
Technology developments have emerged as a benefit that not only streamlines legal operations but also alters the way judicial proceedings are conducted these days. Let's delve further into the top Legal software technology trends that will shape the legal industry in 2024, presenting legal practitioners with perfect insights and tactics to keep them at the forefront of innovation.
1. Artificial Intelligence (AI) and Machine Learning
One of the most notable trends in the legal sector for 2024 is the increasing integration of Artificial Intelligence (AI) and Machine Learning (ML).
AI-Powered Legal Research: AI algorithms are revolutionizing legal research by sifting through vast databases to provide rapid, highly relevant case law and precedent information.
Contract Analysis: AI-powered contract analysis tools automatically review and extract key terms and clauses, significantly speeding up due diligence and contract management processes.
Predictive Analytics: AI and ML models can predict case outcomes, helping attorneys make data-driven decisions and optimize litigation strategies.
2. Blockchain Technology
Blockchain technology is making waves in legal circles by enhancing security and transparency in transactions. Smart contracts, powered by blockchain, are automating routine legal processes, reducing the need for intermediaries and minimizing the risk of errors. Furthermore, cloud-based collaboration tools and document management systems are transforming how legal teams work together, enabling seamless communication and document sharing while maintaining data security. In this overview, we will explore these trends and more, offering you a roadmap to harness the power of emerging software in the legal industry in 2024.
Smart Contracts: Blockchain-powered smart contracts automate legal agreements, reducing the need for intermediaries and minimizing the risk of errors in contract execution.
Enhanced Security: Blockchain enhances data security and integrity, critical for legal documents and sensitive client information.
Transparency: Blockchain's transparent and immutable ledger ensures the integrity of legal transactions, reducing disputes.
3. Electronic Discovery (eDiscovery) Software
Efficient Document Review is something that eDiscovery software offers to legal prosecutors. This tool automates the process of examining vast volumes of data, making document review more efficient during legal proceedings. This significantly reduces costs associated with litigation and saves time for further proceedings.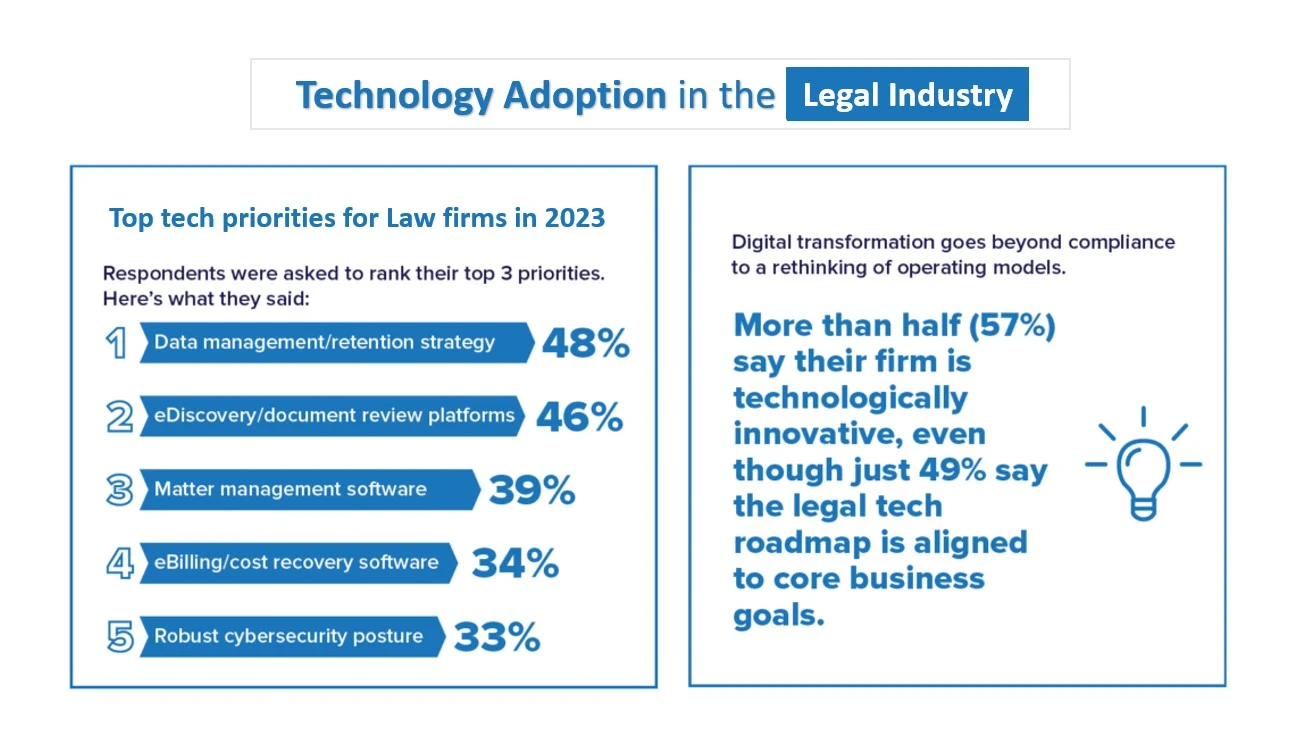 4. Natural Language Processing (NLP) and Chatbots
Client Interaction: NLP-driven chatbots provide 24/7 client support, answer common legal queries, and schedule appointments, improving client satisfaction.
Automated Document Generation: NLP-powered tools can draft legal documents and contracts based on predefined templates, saving time, and reducing errors.
Legal Transcription and Summarization: NLP can automatically transcribe and summarize legal documents, making information retrieval quicker and more efficient.
5. Data Analytics and Visualization
Data-driven decision-making through visual representation has become a new style for the legal sector.
Legal professionals are using data analytics tools to make informed decisions, predict case outcomes, and optimize resource allocation. Data visualization tools convert complex legal data into easy-to-understand charts and graphs, enhancing communication and persuasiveness.
6. Virtual Reality (VR) and Augmented Reality (AR)
Immersive Litigation: VR is used to recreate crime scenes and accident sites, providing judges and juries with immersive experiences to better understand cases.
Enhanced Courtroom Presentations: AR overlays digital information onto physical exhibits, making courtroom presentations more engaging and persuasive.
7. Cloud-based tools for seamless interaction and Document Management
Legal teams, clients, and external partners making their moves toward using cloud-based technologies such as Microsoft Azure, Google Cloud, and Amazon AWS through which document sharing and effective collaboration become flawlessly possible. Furthermore, they can have complete control over the document sharing and management system with access to tracking and version updates. This promotes data integrity and trust among the parties.
Wondering about the benefits of cloud computing? Let's take a quick look.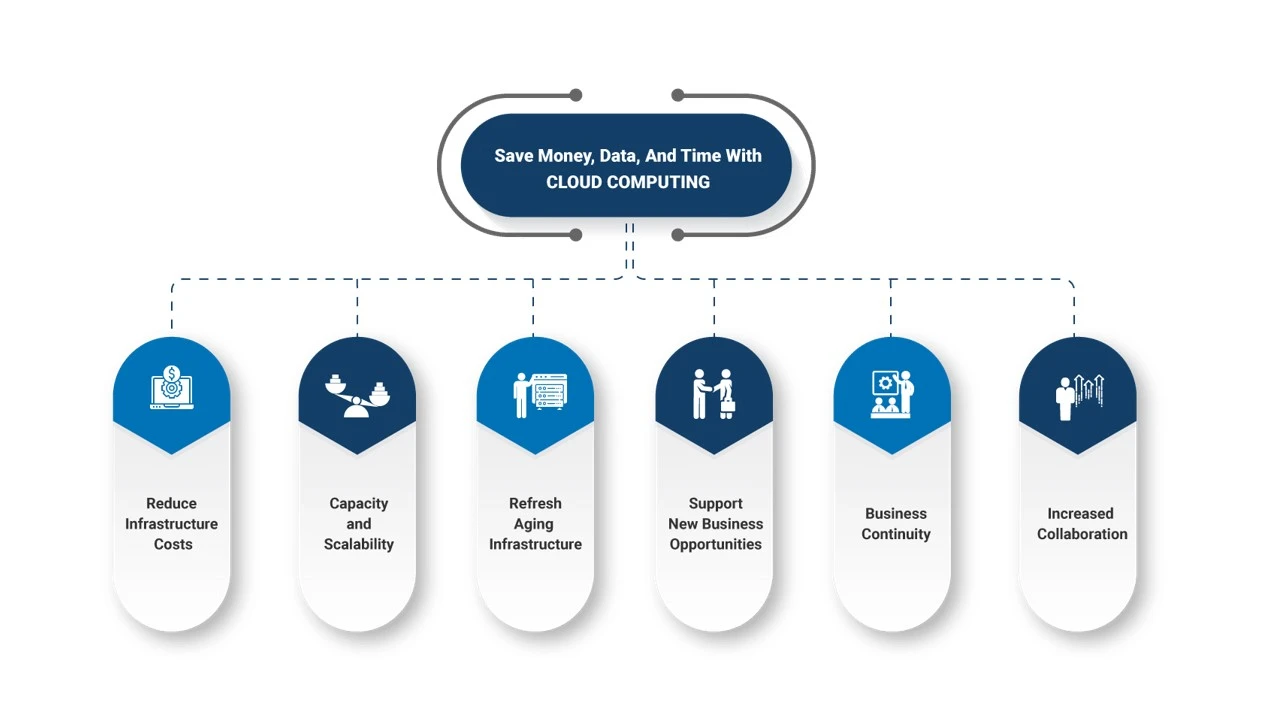 By embracing these software technology trends, law-based authorities may streamline their work processes, improve client services, and stay competitive in an ever-evolving legal landscape.
8. Cybersecurity and Data Privacy Tools
With the increasing focus on data privacy and regulations like GDPR and CCPA, cybersecurity software is essential to safeguard sensitive client information.
Threat detection and Encryption
Advanced threat detection software helps in identifying and mitigating cybersecurity threats, hence protecting against data breaches and cyberattacks. Encryption and strict access restrictions assure client confidentiality and compliance with data protection rules.
9. Legal Project Management Software
Deadline management is critical for Legal business. Given this, legal professionals have begun to use project management software. These technologies may not only assist in monitoring legal teams efficiently, but also effectively manage projects, deadlines, and case progress with improved productivity.
These tools help advocates with optimal resource allocation and utilize them effectively.
What's more interesting about these tools is that they come with client portals that help with seamless communication and collaboration.
10. Legal Practice Management Systems
CRM system: Legal practice management systems often include the capabilities of CRM that help solicitors manage client relationships, track interactions, and manage leads.
With this customized legal software development, legal professionals can simplify billing operations and financial management making it easier to track billable hours and costs.
That concludes this insightful blog. I hope you have a good understanding of what technology trends may continue to be drastic. Contact us if you are seeking a premier Legal software development company.
Conclusion
This article has discussed the emerging software technology trends that will transform the legal industry in 2024. Integrating these software innovations into your legal practice can result in increased efficiency, cost savings, and a competitive advantage in providing legal services.
While the legal industry has typically been conservative, embracing these advances can improve your capacity to meet changing client needs and efficiently negotiate the intricacies of modern legal practice.
Remember that the key to effective implementation is not only embracing the most up-to-date technology but also ensuring that it is aligned with your unique objectives and goals as a legal practitioner. Consider how these software developments may be integrated into your workflow to speed operations, improve client relationships, and improve the quality of legal services in 2024 and beyond.