A silent revolution is taking place in the ever-evolving legal field, altering the laws of efficiency and creativity. Legal businesses of all sizes are adopting serverless and Azure technologies, leading to a new era of legal practice.
By adopting serverless computing and legal software development, these firms are shedding the traditional ways of on-premises infrastructure and benefiting from enhanced agility, dynamic scalability, and reduced operational costs. Microsoft Azure, a leading cloud development platform, is playing a pivotal role in the legal tech revolution.
The legal industry's embrace of these technologies is not just a trend—it's a sign of showing the world how law is practiced and delivered in the latest era.
This blog will shed light on the effects of Azure and Serverless computing technologies on the legal business.
What's the difference between Serverless and Azure technologies?
---
Serverless technology is like hiring someone to take care of your tasks without any need to manage them directly. It's a way of running your computer programs without worrying about the underlying infrastructure, making it simpler and more cost-effective.
Azure, on the other hand, is a complete cloud platform by Microsoft that offers a wide range of services and tools, including serverless choices. It's like a toolbox with various tools to help you build, deploy, and manage your applications and services in the cloud.
So, while serverless is a specific computing approach, Microsoft Azure provides the larger ecosystem in which serverless, and many other technologies may be used
Wondering what Azure's architecture might look like? Let's learn more about it.
What is the architecture of Azure?
---
Given below is the Azure Architecture, which enables enterprises to build, install, run, and manage cloud-based applications flawlessly.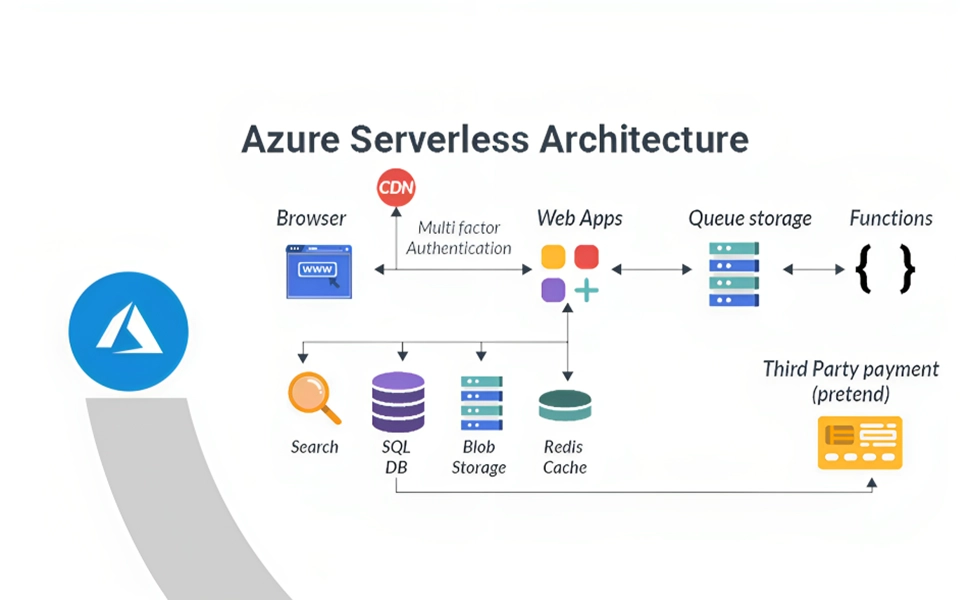 Legal professionals can now use the power of the cloud and serverless architecture in their existing processes and get better equipped to streamline operations, improve client services, and reduce the complexities of data management.
How do Serverless and Azure technologies impact the Legal sector?
---
First, it unlocks efficiency. Efficiency has always been a concern for the law profession. With the best use of these platforms, attorneys can experience successful legal practice, and take their processes to the next level. By eliminating servers and infrastructure management, legal firms can constantly focus on their work and other resources where they matter most: client needs and legal expertise.
Serverless architecture offers automatic scaling, ensuring that legal services can handle fluctuations in demand without a hitch. This translates to faster response times and improved client experiences. Furthermore, the pay-as-you-go pricing model of serverless computing aligns perfectly with the budget-conscious nature of the legal sector.
As legal professionals transition to serverless, they find themselves with more time and resources to dedicate to the intricacies of their cases, ultimately delivering better outcomes for clients. It's not just about embracing technology; it's about unlocking the full potential of legal practice.
How does Serverless computing streamline Legal operations?
---
As legal attorneys set their sights on making a meaningful mark in the legal world, they recognize the need to optimize their operations. They constantly seek ways to become more efficient, effective, and client-focused. In this pursuit, Microsoft Azure and Serverless computing emerge as formidable allies. These technologies are revolutionizing the legal sector, fundamentally reshaping how legal operations are carried out.
Azure's Serverless computing simplifies legal tasks and saves time.
It automates administrative work, allowing lawyers to focus on important legal work.
This leads to faster responses to client needs and better client service.
Serverless's pay-as-you-go pricing is budget-friendly for law firms.
It removes the need to manage servers, reducing costs.
It makes resource management more efficient.
This is how Microsoft Azure makes legal work easier, faster, and more cost-effective. Now let's discuss the security of Microsoft Azure.
Transforming Legal Data Management and Security with Microsoft Azure
---
Data is the essence of every sector including the legal industry. Therefore, data management and security are absolutely critical. Azure technologies are at the forefront of transforming how legal firms handle sensitive information and maintain compliance.
Legal professionals may use Azure to access impeccable data security capabilities such as encryption, identity management, and threat detection. This protects user data and assures compliance with severe legal rules and standards.
Moreover, you may gain fine-tuned insights from unstructured data using Azure's powerful data analytics capabilities and make informed decisions with predictive analytics.
Azure's contribution to data management and security has a huge impact on the lawyer's profession.
We know how important Cybersecurity and compliance in the legal sector is where confidentiality and data protection are non-negotiable. Azure provides a solid defense with robust security features such as threat detection, identity and access management, and compliance tools, helping legal attorneys safeguard their client information perfectly.
Legal Technology Trends Disrupting Traditional Billing Model.
---
The legal industry has traditionally relied on the billable hour model, but things are changing. Billable hours are giving way to more client-centric and value-driven methods as a result of developments in legal technology.
With the advent of cloud solutions, the invoicing process of legal services is completely changing. Microsoft Azure allows businesses to provide transparent pricing, enhanced collaboration, and data-driven insights.
Other ways that legal IT trends disrupting the traditional billing paradigm include:
Alternative fee arrangements, like fixed fees and outcome-based pricing, align the interests of clients and law firms.
Legal technology automates routine tasks, freeing lawyers to focus on higher-value work that directly benefits clients.
They offer data-driven tools that provide lawyers with detailed insights which helps them make informed decisions.
Legal tech empowers the client experience through online portals, virtual consultations, and document sharing.
Cloud platforms such as Amazon AWS, Microsoft Azure, and Google Cloud facilitate closer lawyer-client interaction and assist in tailoring solutions for client needs.
Beyond billable hours, firms shift their attention to value-added services such as proactive counsel and continuing assistance.
Above all, Law firms focused on legal tech trends gain a competitive edge by meeting evolving client expectations for cost-effective, efficient services.
Serverless Success Stories: Legal Firms Leading the Way
---
Given below is the survey of cloud adoption in the Legal sector, highlighting the positive side of serverless success stories.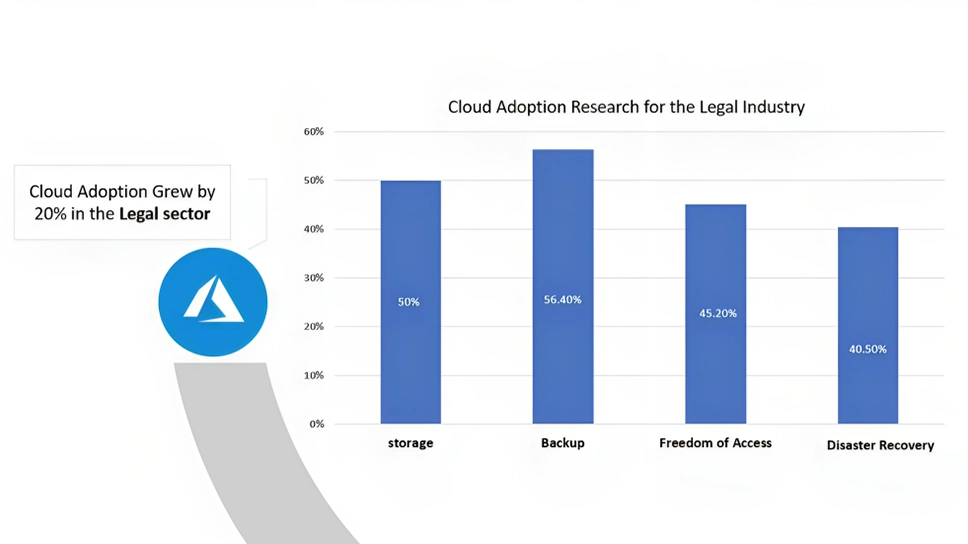 Some legal firms have already embarked on remarkable journeys of transformation. Their success stories serve as compelling examples of how serverless and Azure technologies can revolutionize legal practice. These firms are streamlining processes, reducing costs, and redefining client expectations, proving that embracing innovation is not just an option but a strategic necessity.
The Top Benefits of Serverless Strategies for Law Firms
---
Reduced paperwork, Time-saving
The legal sector has historically been associated with paperwork, administrative overhead, and time-consuming processes. However, the cloud-powered future is all about streamlining these operations. Azure technologies are enabling legal professionals to automate repetitive tasks, enhance document management, and establish seamless communication channels. In this era of increased competition and heightened client expectations, efficiency, and agility are the keys to staying ahead in the legal game.
Cutting Costs, Not Corners
Cost control is a constant challenge in the legal industry, but serverless strategies are changing the game. By excluding traditional IT infrastructure and adopting serverless computing, law firms are discovering significant cost savings.
For instance, Paying only for the computing resources they use allows them to allocate resources more efficiently, reducing overhead costs without compromising service quality. It's a transformation that allows legal professionals to cut costs without cutting corners.
Lawyers Leveraging Azure for Client Services
The legal profession's shift to the cloud is not just about internal operations; it's about enhancing client services. Azure's capabilities enable lawyers to serve their clients accessibly and collaboratively. From secure client portals to real-time document sharing and virtual consultations, Attorneys can leverage Azure to deliver a more responsive and client-centric experience. It's a win-win situation when technology improves both client interactions and legal service delivery at the same time.
Serverless Agility and inherent scalability
In the legal world, agility can be a game-changer. Serverless computing's inherent scalability and rapid deployment options give legal firms a competitive advantage. Whether it's responding to a sudden influx of cases, adapting to changing client needs, or implementing new legal tech solutions swiftly, serverless agility ensures legal firms can stay ahead in a dynamic and fast-paced industry. It's not just about keeping up; it's about leading the way in legal services.
That concludes this useful blog. We hope you now understand the importance of cloud adoption in the legal industry for accelerating existing procedures and gaining a competitive advantage in the market.
Conclusion
In conclusion, the impact of Serverless and Azure technologies in the legal industry has been nothing short of revolutionary. This technology is rewriting the rules, enabling lawyers to deliver greater transparency, value-based services, and an improved client experience. As the regulatory landscape evolves, adopters of Serverless and Azure aren't just transitions; They lead another era of legal activity. This is a future where efficiency, innovation, and client focus come together, promising a transparent and accessible regulatory environment. The journey has just begun, and the possibilities are limitless as Serverless and Azure change the very essence of the path.