Top 6 popular online tutoring and video conferencing software tools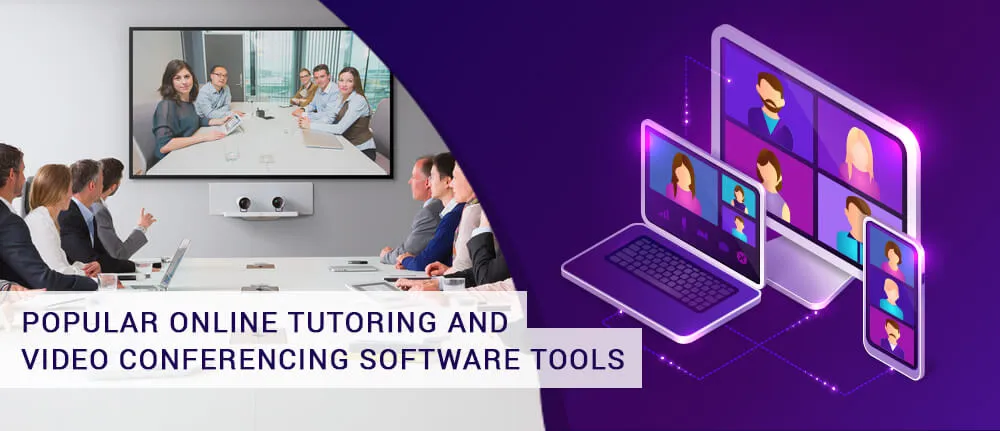 In this tech-savvy digital era, the process of education and learning is continuously getting transformed to beyond the level of imagination. Today, there is nothing you cannot find through online tutorials for learning. Online tutoring has come up as a great solution for the ones who are facing difficulty in finding the appropriate tutors or instructors for their learnings.
According to Global Market Insights, the Web conferencing market size is expected to go beyond $20 billion by 2024.
The online tutoring solutions and video conferencing software have become handy and popular that could benefit with providing flexibility for both the students as well as the tutors. At some point, these are also useful for many web developers and trainers of an Outsource Software development company for internal communication and tutorial purposes. As you can find several varieties of online tutoring software available in the market, it is up to you to decide to pick the best suited software for your business. It helps in gaining faster knowledge, saves a huge amount of time and money.
Here are the top favorite online tutoring and video conferencing software's suggested by few experts.
Table of Content
Zoom

Zoom Meeting is the impeccable video conferencing tool because of its excellent functionalities. It is an appropriate option for any company or organization if the team wants to organize online meetings, organize video webinars, require to share desktops screen to client or other team members to discuss projects or work tasks, share documents with them, etc. It can swiftly schedule meetings and share a private meeting link with the invitees through mail or message and easily connect with remote members through video.
Zoom can be integrated with Slack, PayPal, and 200+ other popular software's. It has a whiteboard, share screen, record meeting, and other function you could possibly need for a practical video conference or lesson, says Snezhina Piskova of Independent Fashion Bloggers.
Laura Bergells, Professional Story finder at Maniactive adds, "Breakout rooms are a feature that's unique to Zoom, as using that feature students can break off from the main session and work on exercises and guide each other. This kind of peer learning can create vibrant learning environments."
Ayushi Sharma from iFour Technolab, shared few excellent features of Zoom.
Users can share screen from desktop's PCs/Laptops, tablets or also mobile phones
White-boarding and document sharing with all the participants present in the meeting
Provides private and group chat option with SSL encryption
In the free tier, we can host up to hundred participants with 40 minutes of group meeting
Easy Scheduling with chrome extensions
In Zoom meetings, there is a facility for members to join the meeting by telephone as well
Google meet

Google Meet is an enhanced version of the Hangouts app, and is furthermore appropriate for business applications like webinars and video conferencing. Shiv Gupta, CEO of Incrementors Web Solutions says, "Google Meet is available for both desktop as well as for mobile devices. It allows you to present your entire screen or a specific window in a meeting. While you are presenting some business-related things, you will be able to share information such as documents, presentations, spreadsheets, and more. This tool helps you an easier way to evolve with your teammates, clients, customers, or classmates from anywhere."
Augustode Ezcurra D, Communication Executive at The Agency adds, "It is now simple and secure way to invite guests and share the meeting code which can maintain conferences and implement shadowing with several people simultaneously without major problems. This platform has the advantage of being automatically linked to Google Calendar and the rest of google apps."
Demio

Demio is the simpler way for advertising and educating customers to productively balance their attempts via live video in less time than ever before. It lets us create recurring events which are ideal for running regular product demos without the need to run it live every time.
Users can easily record the videos and collect signups. Recently, holding video calls related to onboarding or sales became even more important. Hence, Demio lets us easily and conveniently onboard a few customers at once which saves us lots of time, stated by Rafal Kloc, Marketing Manager at LiveSession.
WebEx

Many companies always try to prefer finding a physical space for face to face meetups rather than making video conferencing calls. Hence, by utilizing the WebEx conferencing software, one can connect each of the team members at one common platform using different devices like mobile, Laptop, PC, Macs.
Dusan Goljic of Deals on Health says, "WebEx is very easy to navigate and offers a variety of options for virtual meetings. For instance, breakout rooms let users to share their own screens and chat in smaller groups if necessary. As a host we can moderate all of the participants, their videos, and sounds which is quite handy in situations where people are not familiar with technology. Additionally, WebEx has different pricing plans that suit both individuals' and large businesses' needs."
MyTutoring

MyTutoring is one of the well-known software that helps students and tutors incredibly. It enables personalized learnings for the students and tutors with their personal scheduling. Being a spectacular online tutoring platform, it facilitates to integrate from discovery to payments and collaboration. In short, it provides everything that is required to start online teaching.
Tricia Lewis, Executive VP at HackEDU adds, "It offers an abundance of tools for scheduling, payment, analytics, custom themes and integrated virtual classroom capability. Anyone who wants to properly teach students in the era of social distancing, can sure benefit from this fantastic program."
WizIQ
WizIQ is a trustworthy, cloud-based software that can be used for virtual learning. It consists of built-in features and it supports all kinds of formats like pdf, HTML, stated by Azza Shahid, Content Marketing Executive at Smith Thompson.
Shahid, also shared some of its benefits and features.
WizIQ provides HD video conferencing that can help connect with distance and multiple students.
You can record your teaching session and student performance
You can create a question poll and ask students to answer
It provides an online whiteboard
You have people tab which allows you to give access to video and mic options to students of your choice.
Platform can help you create multimedia tests in different formats so you can evaluate the performance of the students
Troop Messenger

Troop Messenger works exceptionally well for online tutoring, business meetings, work meetings, remote working, and more. It lets teams initiate a quick group calling/conferencing to help meet everyone on one single interface. They can discuss course work, exchange product ideas, present product demos, share a wide range of information with the in-built screen sharing facility available within it.
Here are the few key takeaways that give you an enhanced video meeting experience:
Any member of the meeting can add more participants to the ongoing call. You can seamlessly switch to video conferencing from audio.
Any member can initiate screen share without the need for the host's permission.
You can choose an entire window and switch between the tabs while screen sharing or can choose to share an application window alone.
The host can remove members from the video meeting conference if he/she thinks they are not required anymore.
The host can mute/unmute all participants.
And, the group audio-video meetings can go on for an unlimited amount of time.