There was a time when you didn't rely on the internet for tools while CDs and floppy discs were the only media for software distribution. And then something revolutionary happened – SaaS made its debut, changing the game for global businesses. But what is SaaS? Why has it caught so much attention? Does it simplify businesses? If so, then is it cost-effective or expensive? What's the future? How is it overtaking the traditional custom software development approach?
All these things we will discuss in this blog. So, let's start with the basics of SaaS (Software as a Service).
What is SaaS?
---
SaaS is an approach to delivering services or applications through the Internet. These services can be accessed anywhere, anytime flawlessly. Some of the best examples are Dropbox, Salesforce, Google Workspace, and others.
So, SaaS, or Software as a Service, is a cloud-based service that is equivalent to renting software rather than purchasing it. Instead of purchasing a CD or downloading a program, you utilize it online.
There are three prominent cloud-based systems that provide these services and are highly desired by worldwide enterprises. These are Microsoft Azure cloud services , Amazon AWS, and Google Cloud.
How can SaaS improve business processes?
---
Just think of it like having your business tools on the web. You do not have to bother about installations, new updates, etc. In fact, it helps you save time and money. What makes it even more interesting is that you can work from anywhere - your home, office, or even a beach with Wi-Fi. It's all about flexibility and convenience.
How does it make your business life better?
Streamlines business operations with cloud-based software solutions.
Boosts efficacy by automating repetitive tasks.
Improved communication and collaboration within teams.
Adapts and scales exactly to your corporate needs.
Helps businesses make fine decisions with real-time data analysis.
Less IT maintenance, with reduced time and resources.
Rapid software updates and innovation.
Goes with security and compliance measures.
Seamless customer interaction and experience.
Overall, it is cost-effective.
Benefits of Using SaaS in B2B
---
Switching to SaaS for your B2B business brings some fantastic benefits like:
Saves expenses: SaaS lets you pay for what you use and when you use it. No more shelling out big bucks upfront for software.
Work from Anywhere, Anytime: Businesses may allow their employees to work from anywhere through their internet connection. Not required to be stuck in the office all the time.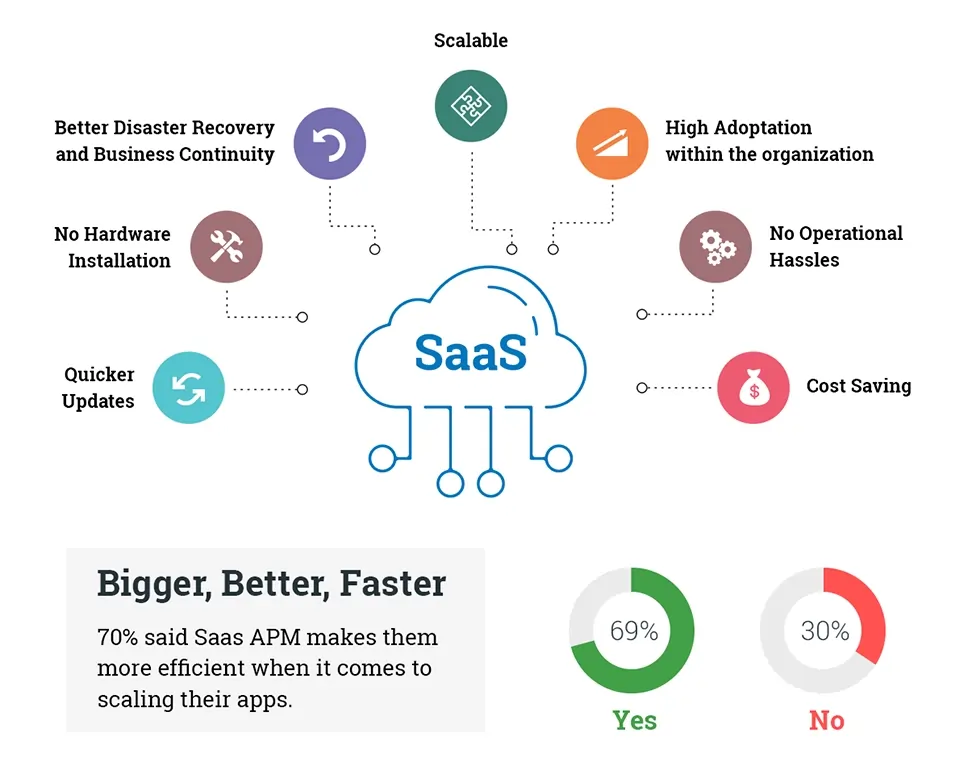 Grow Without Headaches: SaaS tools can easily grow with your business. You won't have to start everything from scratch when you're ready to expand.
No More Hassle with Updates: When you adopt SaaS you do not worry about frequent software updates. It takes care of them quietly in the background and helps you stay current with the latest version.
How to Choose the Right Cloud Tools for Your Business
---
Remember the first rule, choosing the right tools for your business shouldn't feel like a maze. Rather, it should be simple.
Knowing your needs is essential. Figure out your business goal and ensure the tools will resolve your business problems.
When it comes to budget be clear. Keep note of your budget limit. Cloud tools may save you money, but they still cost.
Make sure the SaaS tools you find are user-friendly and easy to use. No one likes complicated stuff.
When things get tricky in the product or service, only solid customer support remains the lifesaver option. So, keep focus on that.
Perfect testing before committing makes a lot of sense. Most cloud tool providers offer free trials. Take them up on it. Try before you buy.
Following these steps will help you find cloud tools that fit your business like a glove.
Making SaaS Work in Your Business: Tips and Challenges
---
SaaS is a trending platform, and it is obvious that it has benefits as well as challenges. Let's understand tips and challenges associated with SaaS.
Tips:
There is a saying "Success begins with a small step". Therefore, just go with one or two SaaS tools, get a grip over them, and then expand as per needs.
Training your company staff is critical. Therefore, make sure your team knows how to use the new tools.
SaaS is often pay-as-you-go but keep an eye on your spending. Those monthly fees can add up.
Challenges:
Data security is a major concern in any field. Therefore, check the security measures of your cloud solutions provider before storing company stuff.
A stable internet connection plays a key role. If your internet connection isn't stable, SaaS can be frustrating. Ensure you've got reliable internet.
Cloud Software vs. Traditional Programs: Which is Better for Your Business?
---
Okay, let's see what's the difference between cloud software SaaS vs on-premises software.
Cloud Software (SaaS):
Pros:No downloads, automatic updates, work from anywhere.
Cons:Needs a solid internet connection, monthly fees.
Traditional Programs:
Pros:Can work offline, one-time purchase.
Cons:Prone to becoming outdated, can be costly upfront.
To put it simply, it depends on your preferences and corporate needs. If you love flexibility and the latest features, SaaS might be your solution. But if you prefer a one-time expense and don't mind being offline sometimes, traditional software could be your go-to.
How SaaS Transformed Companies?
---
In recent times, quite a few Indian companies have shifted their focus to offering Software as a Service (SaaS) solutions. Look at the three top Indian companies that stand out for successfully making this transition:
Zoho Corporation: Zoho, which originally operated as a software company out of Chennai, has become a major player in the SaaS world. It began as a company dealing with network management software but has since expanded its horizons. Today, it offers a wide array of cloud-based business software, covering aspects from customer relationship management (CRM) to project management and collaboration tools.
Tally Solutions: 2.Tally Solutions, a Bangalore-based organization, has earned its recognition for its accounting and business management software. It has adopted the SaaS arena by offering cloud-based solutions that help businesses with tasks such as accounting, payroll, and financial management.
Freshworks:Freshworks, headquartered in Chennai, is known for creating software for customer communication. With the passage of time, it has risen to prominence as a global leader in providing cloud-based solutions for customer support, CRM, and marketing automation.
These companies have not only left a mark in the Indian tech landscape but have also made significant contributions to the global SaaS industry. Remember, the world of SaaS is constantly evolving, and it's likely that many more Indian companies have joined this transformation since my last update.
SaaS Security for Your Business: Keeping Your Data Safe
---
Protecting your data is like shielding your chest. With SaaS (those online tools), you need to make sure your treasure is safe. Here's how to do it without going all techy:
Strong Passwords: It's basic, but often overlooked. Use unique, strong passwords for your SaaS accounts.
Two-Factor Authentication (2FA): Think of it as a double lock. Turn on 2FA to add an extra layer of security.
Choose Reputable Providers: Stick with well-known SaaS providers. They've got a rep to protect.
Data Backup: Regularly backup your data. You don't want to lose everything if something goes wrong.
Data Encryption: Make sure your data is encrypted. That means it's scrambled and safe from prying eyes.
Is SaaS Worth the Investment?
---
SaaS can save you money, but is it worth the investment? Let's break it down in plain terms:
Costs vs. Savings: Compare your SaaS spending with its long-run savings. It's terrific if you're saving more.
Efficiency and Productivity: Make sure SaaS helps your team work better and faster. If it is so, that's a plus.
Scalability: If your business grows, can SaaS tools grow with you? If so, it's an investment in your future.
Trial Runs: Just as you test the water before you dive in, check SaaS adoption with free trials.
Your Gut Feeling: Sometimes, it's not just about numbers. If it feels right and makes your work easier, it's probably worth it.
Custom Cloud Solutions to Fit Your Business Needs
---
Your business is unique, so your SaaS tools should be too. Here's how to customize them to your needs:
Establish Your Goals: Begin by considering your company's goals. What do you want to achieve by utilizing SaaS? The first step is to identify your objectives.
Choose the Right Features: When looking for SaaS packages, think about what you genuinely need. Don't spend money on luxuries you'll never use. Maintain a realistic outlook.
Plan for Growth: Ensure that the SaaS solutions can scale with your firm. You don't want to come to a sudden halt.
Train your employees: It is vital that your employees learn how to use these technologies effectively. Proper training may make a significant difference in how effectively they work for you.
Customizing SaaS tools for your business is like tailoring a suit. It might take some adjustments, but it'll fit like a glove in the end.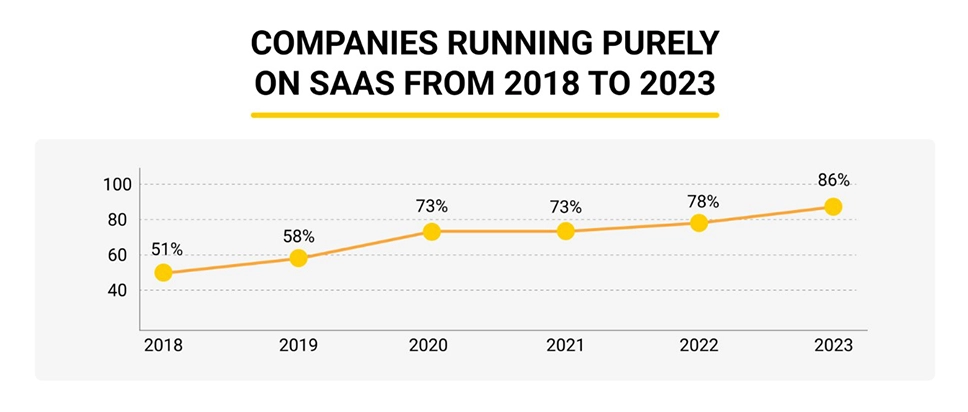 The Future of Cloud Software for B2B
---
Looking at the emergence of cloud adoption among industries, the future of cloud seems impressive.
1. More Specialization:In the future, cloud software will become even more specialized. Instead of one-size-fits-all solutions, we'll see tools customized particularly to industry needs.
2. AI and Automation: Smart suggestions and process automation are something that Artificial intelligence tends to offer. It will pique business interests, making their tasks easier. It's like having a supportive assistant for leading a business.
3. Increased Collaboration: B2B collaboration is set to become much more seamless. We're talking about real-time collaboration, regardless of where your team is. Collaboration will be as simple as conversing with pals on social media.
4. Security Evolves: Cybersecurity will remain a hot topic. To keep your data safe, SaaS companies will always update security measures. It's similar to having a castle to guard your digital assets.
5. Sustainability Matters: Greening up their operations is becoming increasingly popular. Expect cloud software vendors to prioritize sustainability. That means you can help the environment while also conducting your business.
The future of cloud software for B2B looks promising, with more tailored solutions, smarter tools, seamless collaboration, enhanced security, and a green touch. Get ready for an exciting digital journey!
Conclusion
Technology and SaaS models are always evolving. They provide ready-made tools and exceptional features that help organizations run more smoothly. When it comes to discovering SaaS benefits for the company, there are various, and they apply to both users and suppliers. This blog has covered the fundamentals of SaaS, the reasons for its popularity, how it simplifies business, and how cost-effective it is. I hope you learned a few interesting facts about SaaS and how it may affect the future of organizations.