Microsoft office Microsoft office is one of the most successful and pioneer softwares that enabled and accelerated digital revolution. Office Add-ins Office Add-ins are used for functionality extension and alteration of office clients like Outlook, Word, Excel, PowerPoint and Office 365. Microsoft supports creation of new features and modification of existing features using available APIs and Tools to VSTO software development companies in USA.
Office Add-ins types
---
Functionality extension in Excel, PowerPoint and Word
New object creation in PowerPoint and Excel
Functionality extension in Outlook add-ins
Office add-in development technologies
---
Develop add-in using Visual Studio Tools for Office (VSTO)
Develop add-in using Office JavaScript API
Office JavaScript API Add-in
---
Office JavaScript API Add-in is used to develop office add-in for functionality extension in office clients like Excel, Word, PowerPoint and Outlook using traditional web technologies like JavaScript, HTML and CSS. Following architecture depicts how JavaScript API Add-in works.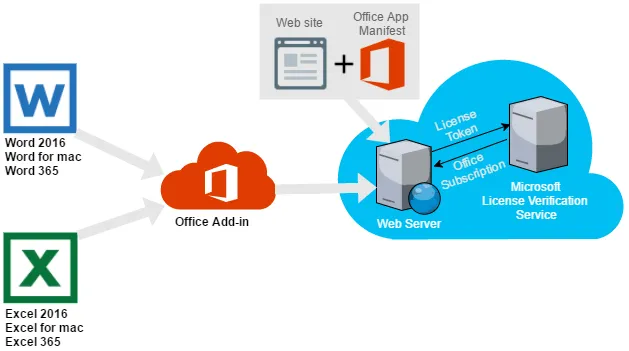 Benefits of Office JavaScript Add-in technology
---
Add-in created using this technology is highly portable across different platforms like Windows, iOS, Mobile Phones and Tablets.
Hosting and distribution of Add-ins developed using JavaScript API is easy using office store. Office store manages complete licensing process and cycle.
Online service hosting is easy in JavaScript Add-in.
Easy support to bring data from external sources or third party apps.
Supports highly interactive UI using CSS and JavaScript
Interactive visualization using Charts, Maps and ClipArt to its own excel spreadsheets and PowerPoint presentations.
Challenges of Office JavaScript Add-in technology
---
This technology is new and introduced with office 2016 and thus has very limited support available.
It offers very limited APIs and functions and thus not suitable to every requirements.
All APIs are not supported by all platforms currently. One needs consider the platform while using few APIs in add-in development.
This technology is still in development. You may find some issue during development should Microsoft changes any API or support.
Visual Studio Tools for Office (VSTO) Add-in
---
VSTO is a set of development tools that is available in the form of add-in or extension (project templates) and it allows Office 2013 and later versions of Office applications to host the add-in and to expose their functionality via .NET framework.
This allows extensions to the Office applications to be written in programming languages as well as to use functionality and user interface constructs from Office applications in .NET applications.
Benefits of Visual Studio Tools for Office (VSTO) Add-in
---
It provides access to complete office object model. So one can nearly perform any operation on office client.
Any feature of office client is feasible to improvised or modified.
Local machine integration like file systems and other applications are comparatively easy.
Good support from Microsoft and other sources available
C# or any other CLI programming language can be used to create new office add-in.
Challenges of Visual Studio Tools for Office (VSTO) Add-in
---
VSTO add-ins are not portable as JavaScript Add-ins. These require installation files that can only be used in Windows.
Distribution and licensing process need to be handled separately.
Integration with third party services using data from different sources is confined to its Microsoft support and compatibility..
Conclusion
---
We discussed how add-in allows extending office applications per our requirements. Some of the factors that determine the use of technology VSTO vs JavaScript API are following.
Purpose and objective of Add-in
Data and data source for add-in
Host support for add-in
Functionalities of add-in
If the requirement for host support is wide, like Windows, OS X, iOS, iPad then it is recommended to use JavaScript API as underlining technology. It is very easy to use and integrate. It also provides easy integration with online services. It can be hosted in office store and also can be distributed very easily. JavaScript API add-in is portable on multiple devices like Tablets, Mobile phones etc.
If the add-in requirement is to use native office functionalities or working with file system, then it is recommend to use Visual Studio Tools for Office (VSTO) as underlining technology for add-in implementation. Timely and useful support is available to VSTO development companies in USA from Microsoft and other sources compared to Office JavaScript API. Complete office object model can be accessible using VSTO. Local machine integrations can be done very easily. It is available on Windows since office 2003 so support is also easily available.