Imagine having lofty ambitions to create your own software development company but having no idea where to begin. That's exactly how current tech giants had felt when they were to start their own businesses. They were aware of their amazing ideas, but they needed assistance or motivation to implement them.
However, as the generation evolved, the difficulties diminished and a variety of chances to study and find a solution on one's own emerged. One of them is online business education, which has become common in many industries, including those that build software for education, the financial sector, and other verticals.
Due to the outstanding online business education accessible today, anyone may find solutions be it a student, employee, or an entrepreneur. It's a distinctive educational technique that you may access online from the comfort of your home.
We'll examine how taking online business courses could help digital entrepreneurs like you and me in this piece. We'll look at how it may dramatically affect the beginning of your tech startup.
Let's learn how you can turn your ideas into a booming startup!
The Harsh Reality of Startup Failure
---
Starting a business is a risky proposition. According to a study by CB Insights, about 90% of startups fail. That means that for every 10 startups that are launched, only 1 will be successful.
There are many reasons why startups fail. Some of the most common reasons include:
market demand: This is one of the most common reasons for startup failure. If you don't have a clear understanding of what your target market wants or needs, your business is likely to fail.
Running out of funding: Startups need money to survive. If you don't have enough funding to cover your costs, your business will eventually run out of money and fail.
Weak founding team: A strong founding team is essential for the success of any startup. If you don't have a team of talented and experienced people, your chances of success are slim.
Being beaten by competition: The tech industry is particularly competitive, and it's easy for startups to be beaten by more established competitors.
Factors that can contribute to startup failure.
---
In addition to these common reasons, there are several other factors that can contribute to startup failure. These include:
Poor management: A good manager is someone who can effectively lead and motivate a team, set clear goals, and make sound decisions. If you're not a good manager, your startup is likely to fail because you won't be able to effectively run the business.
Legal problems: Startups are often faced with legal challenges, such as intellectual property disputes, regulatory compliance issues, and contract disputes. If you're not familiar with the law, you could make mistakes that could lead to legal problems for your startup.
Technological problems: Startups often rely on technology to operate their businesses. If there are technological problems with your product or service, it could prevent you from delivering on your promises to customers. This could lead to customer dissatisfaction and ultimately, the failure of your startup.
The high failure rate of startups can be daunting for aspiring entrepreneurs. However, this should not deter them from pursuing their dreams. Instead, it should motivate them to equip themselves with the knowledge and skills they need to succeed.
With time and experience, many entrepreneurs have discovered the value of online business education for their companies' growth. They have been able to gain a thorough grasp of the target market, acquire efficient management techniques, and keep up with technological developments by using online learning materials.
Additionally, improving their knowledge of AI technologies, technology trends, and Education software development has helped them establish and expand their firm.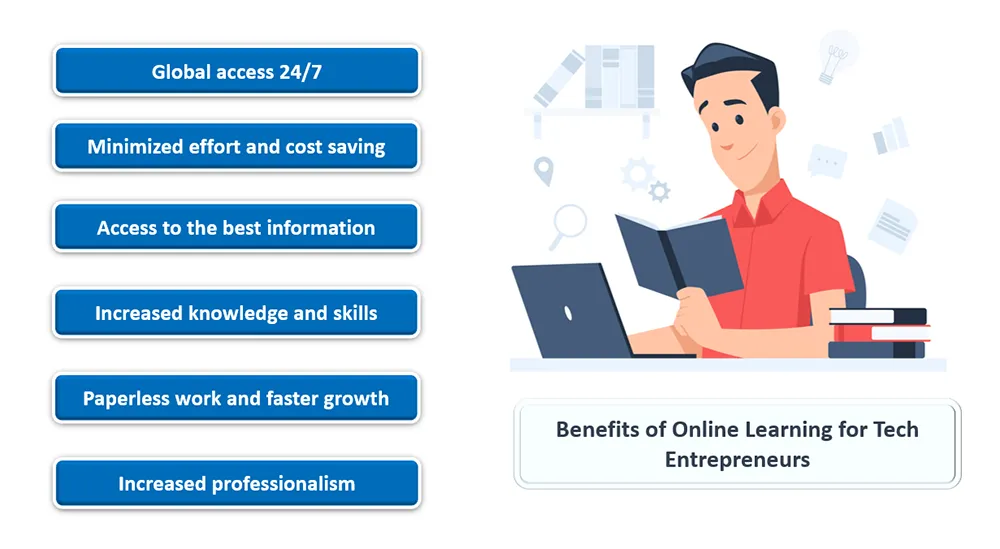 How Online Business Education Sparks Tech Startup Success?
---
Online learning is a powerful tool for tech entrepreneurs. It can help you learn the skills you need to start and run a successful startup, without having to quit your day job or travel to a traditional brick-and-mortar school.
Here are some insightful statistics you should know:
The EdTech market is expected to reach a value of $605 billion by 2027. (Research and Markets)
E-learning classes have a 72% success rate, compared to traditional teaching modules. (EdTech Magazine)
One of the key drivers of growth in the e-learning market is the increasing demand for skill-based training
These statistics show that the online learning market is growing rapidly and that e-learning classes are a successful way to learn new skills. This is important for tech entrepreneurs because it means that there are many opportunities to learn the skills they need to start and run a successful startup online.
Benefits of online learning for Tech entrepreneurs
---
Learning online is all about acquiring the skills and knowledge required to overcome barriers, accomplish business goals, and positively impact the IT consulting sector.
Here are some of the benefits of online learning for tech entrepreneurs:
Flexibility: Online learning is flexible, so you can study at your own pace and on your own time. This is especially important for tech entrepreneurs, who often have busy schedules.
Affordability: Online learning is more affordable than traditional brick-and-mortar schools. This is because you don't have to pay for room and board, and you can often find online courses that are free or low-cost.
Access to experts: Online learning gives you access to experts from all over the world. This means that you can learn from the best minds in the tech industry, regardless of where you live.
Networking opportunities: Online learning can also help you network with other tech entrepreneurs. This can be a valuable resource for finding collaborators, investors, and mentors.
Access to advanced and on-trend courses: Online learning platforms offer a wide range of courses, including many that are focused on cutting-edge technologies. This means that you can stay up-to-date on the latest trends in the tech industry and learn the skills you need to succeed in the future.
How to start learning business courses online as a Tech Entrepreneur?
---
Given below are some of the most crucial strategies Tech Entrepreneurs should consider in how to start learning online courses.
1. Set goals. What do you want to learn? What skills do you need to develop? Once you know what you want to achieve, you can start to look for online courses that will help you reach your goals. For example, if you want to learn how to code, you could take a course on Python or JavaScript.
2. Do your research. There are many different online learning platforms available, so it's important to do your research and find one that's right for you. Consider factors such as the cost of the courses, the quality of the content, and the flexibility of the platform. Some of the most popular online learning platforms include Skill Success, Coursera, edX, Udemy, and Udacity. These platforms offer a wide range of courses from top universities and institutions. For instance, try learning from Skill Success. They provide certificates, which is great for lifelong learners like us. You may also like their All-Access Pass, which provides access to unlimited courses. Skill Success is budget-friendly, but the quality of their courses is good.
3. Be patient.Learning takes time and effort. Don't expect to become an expert overnight. Just keep learning and practicing, and you'll eventually reach your goals. It's important to be patient with yourself as you learn online. There will be times when you feel frustrated or discouraged. But if you keep at it, you will eventually see results.
4. Find a mentor. A mentor can provide guidance and support as you learn and grow your business. They can help you stay motivated and on track. There are many online communities where you can find mentors. You can also reach out to people you know who are already successful tech entrepreneurs.
5. Join online communities. There are many online communities for tech entrepreneurs, where you can connect with other entrepreneurs and learn from their experiences. These communities can be a great way to get support, advice, and feedback. They can also be a great way to network and find potential collaborators.
6. Stay up-to-date: Continuously expand your knowledge by staying informed about the latest tech trends, advancements, and best practices. Follow relevant blogs, subscribe to industry newsletters, and attend virtual conferences or webinars.
7. your learning: Put your newly acquired knowledge and skills into practice. Apply what you learn to real-world projects or start your own tech initiatives. Hands-on experience will reinforce your understanding and help you grow as a tech entrepreneur.
Bonus tip: Aside from tech-related skills, I highly recommend learning soft skills, such as leadership skills, critical thinking skills, and emotional intelligence. These are also important for success in your business.
Remember, online learning offers a flexible and accessible pathway for tech entrepreneurs to acquire new skills and stay ahead in the fast-paced tech industry. By taking the initiative to learn online, you can continuously enhance your expertise, seize new opportunities, and thrive as a successful tech entrepreneur.
Key Takeaways
The harsh reality of startup failure should not discourage aspiring entrepreneurs but rather motivate them to equip themselves with the necessary tools for success. Online learning provides a unique opportunity to learn at your own pace, access expert knowledge, and stay up-to-date with the latest industry trends. It offers flexibility, affordability, and the chance to connect with a network of like-minded individuals.
By setting goals, conducting thorough research, and being patient with the learning process, you can start your journey toward building a successful tech startup. Seek mentorship, join online communities, and continuously apply your newfound knowledge to real-world projects. Stay updated, seize opportunities, and embrace the lifelong learning mindset.
Remember, online business education is not just about acquiring certificates or completing courses. It's about gaining the skills and knowledge needed to overcome challenges, fulfill your entrepreneurial dreams, and make a positive impact in the tech industry.
Harness the power of online learning and unlock your full potential as a tech entrepreneur.