What is Syncfusion?
---
Syncfusion is a software company located in north Korea. It is use to convert the tools into component in Microsoft .net.
You can create UI for desktop, mobile app, and it is more attractive web platform than normal UI. Syncfusion web is used for angular JavaScript, asp.net, vue.js, and mobile Xamarin form which support JavaScript.
Syncfusion Xamarin is a collection of controls. It is used for creating UI, by using its controls you can make better UI and it has extra features than the normal controls. It has many controls such as chart, maps, list user, grid, etc.
Syncfusion also supports good themes to freshen up look & feel. It uses dark & light theme which is crucial. Syncfusion also supports good themes and is easy to use.
In syncfusion the XAML has its template inside used it. The template also works with android, iOS, uwp, and Xamarin form all platforms and it also uses the MVVM pattern.

Image source: https://www.metoopic.com/
Installation in Syncfusion packages
---
There are 2 ways to install syncfusion package. They are as follow
1). NuGetpackage:
First of all, we have to go to a visual studio and click on NuGet. After clicking on NuGet we have to install a package name syncfusion. Xamarin. Chart.
2). ConsoleManager:
Install package (projectname) package name (projectname)
These are two ways you can use any of them to install the package.
Now, the package is installed in your project. Whenever you want to use it you can utilize it by importing the package.
Control of syncfusion
---
1) DataGrid Control:
This control is used toconvert large amount of data into tabular form and further you can also update it.This control supports the android, iOS, and Xamarin forms and it loads faster even in a large amount of data and gives the best result.
Example.

Image source: https://help.syncfusion.com/
2) Button (sfButton):
sfButton is the control of syncfusion Xamarin control. It supports UI customization and theme. We can set icon through sfButton and also in its background you can customize the image and can also do animation in it. We can able to put more than one color of combination and customize it which makes it very attractive.
We can change the radius of the button and make it oval, round, rectangle whatever you like. We can use the button even as a toggle button which works with two values either true or false.
Example:

3) ComboBox (sfcombobox):
Combobox has only one component which is textbox but it has many alternatives from thatyou can select your choice of Combobox. We can put a list or button into your Combobox. We can customize your own Combobox and can use it as altering mode. We can do filtering with an option like start with, end with, Equals, most view, Recent, etc. and make it user-friendly Combobox. It is placed horizontally.
The syncfusion Combobox control support in xamarin form, android, iOS, and UWP.
Example:

4) Calendar(sfCalendar):
Calendar control is used for displaying multiple dates and from multiple dates you have the option to select one date. It is mainly used for birthdate, working days counting, ticket booking, a holiday for festivals.
There are many other purposes we can use the calendar control. For calendar control, we have to install syncfusion. sfcalendar package from the NuGet package manager.
We can also set the minimum date and maximum date or year. We can select multiple dates in the calendar control.We can set the range for parameters like how many days, how many months, or weekends which are mostly used in the calendar control.
We can have different views like year view, month view, or weekend view also. In MVVM binding you can change or update the range at runtime for example you can change the date or month any other thing.
By using vocalization, you can see the calendar in the select language it supports multiple languages.
Example:

5) ListView (sfListview):
ListView control is used for setting the dates in the liner or grid structure. There are so many features for displaying the dates.
The list view shows the data in an easy way. We can convert the ListView into the scroll view also which are loaded in the background and can set it vertically or horizontally.
By using the data template, we can customize the view of ListView based on our business requirement.We can also give paging to your ListView according to our priorities. It is also used to swap the tasks if required. You can add an image button to it this all thing is supported by ListView.
Example: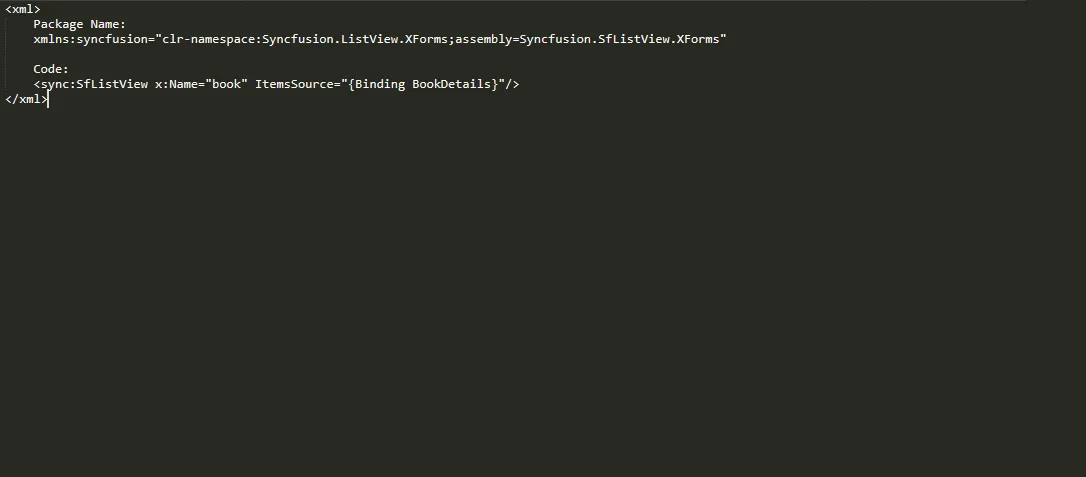 6) Picker:
Syncfusion xamarin control picker is item selection control. Which gives you the option to select a single value from multiple items. Just like the combo box, you can set buttons like header and flutter.

By using xamarin form picker you can divide the column and make the views. If we divide the view the data is been put on one side and the related data is been put on another side for example: Let take the country name on one side and let's put the state name on another side. You can see the country name and state name in one view like this you can use the xamarin. Picker.
Like normal control, you can use the data template which allows you to customize the picker. By using render you can set a different layout for every devicewhich is support by android, iOS, and UWP.
Conclusion
---
Syncfusion components assists you in delivering applications with perfect user experiences across iOS, Android, and Universal Windows Platform from a single shared code base. Components for developing Xamarin native as well as Xamarin.Forms applications are accessible.