Imagine building an Office 365 add-in that is both dynamic and responsive, with user-friendly features. Sounds challenging, right? Well, fear not, because, with React.js, you can make it happen with ease!
ReactJS is a powerful JavaScript library that allows developers to build sophisticated and dynamic UIs for web apps, including Office 365 add-ins. In this article, we'll explore the benefits of using React.js for Office 365 add-ins development and how it can help you build the best user experience possible.
Top 10 Benefits of using React.js for Office Add-in Development
---
One of the key benefits of using React.js for Office 365 Add-ins development is its component-based architecture. You can break down the application into smaller, simpler, and reusable components, which can later be combined to build complex designs. This modular approach makes it easier to scale and maintain the application as the business needs evolve.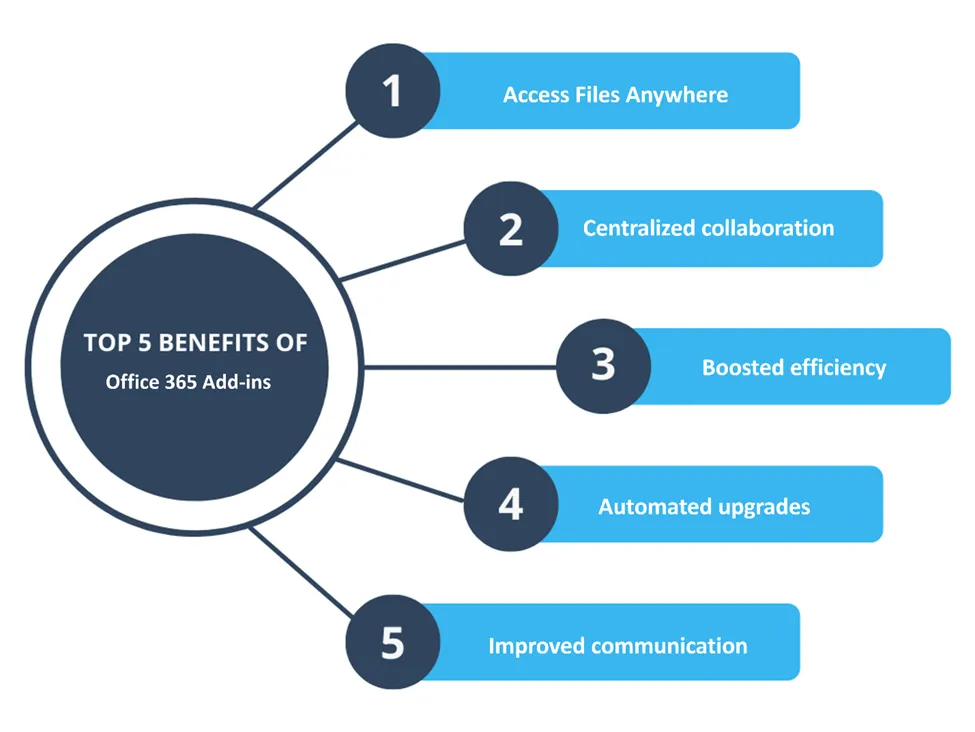 Office 365 Addin benefits
React.js is a powerful JavaScript library that can be used for developing dynamic user interfaces. When combined with Office Office 365 Add-ins development, it offers several benefits for businesses, including:
1.React helps with enhanced User Experience
---
React.js provides a modular architecture and a virtual DOM that allows for faster rendering and improved performance, resulting in a smoother and more responsive user experience for Office 365 Add-ins.
React technology is a powerful tool that helps with responsive user experience for MS Office 365 Add-ins. By using a virtual DOM, React can update the user interface quickly and efficiently, providing a seamless and responsive user experience. This feature is particularly useful for Add-ins that require frequent updates or real-time data, as it enables users to interact with the application without any delay or interruption.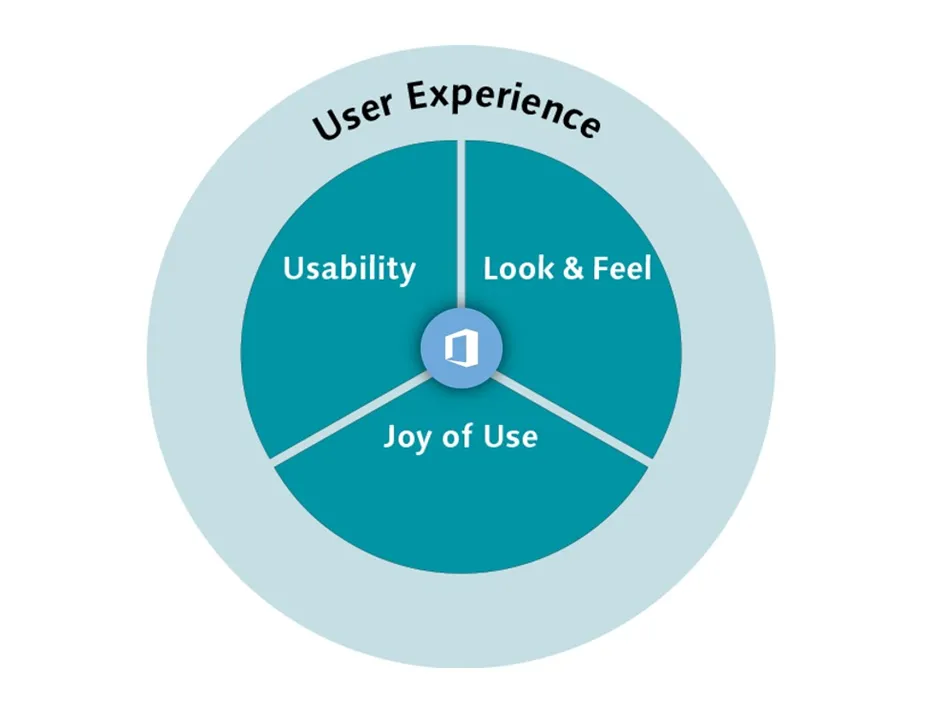 Office 365 user experience
Additionally, React's reusable components allow for a consistent user interface across different devices and platforms, ensuring that users have a smooth and familiar experience regardless of the device they are using. With its powerful performance and flexible architecture, React is an essential tool for creating responsive and user-friendly MS Office 365 Add-ins that meet the needs of modern businesses.
2.Supports Cross-Platform Compatibility
---
3.Reduces development time and cost
---
React.js has a component reusability feature that allows you to reuse the same component across multiple Office 365 Add-ins, cutting development time and costs. Yet, to accomplish so for your bespoke Office Add-in development, you need to follow some crucial tips, and practices which are provided right after this section.
Connecting with the big community of React.js developers who are active in answering user problems and learning new approaches is also important. Use platforms like Stack Overflow, GitHub, and Reddit to learn from others and seek support when you need it.
With these techniques, you may not only cut development time but also add in costs while still creating a high-quality and scalable application.
4.Scalability and Flexibility
---
React.js is highly scalable and can handle large and complex Office 365 Add-ins with ease, ensuring that businesses can grow their applications to meet their changing needs.
It can be used to customize complex and interactive Add-ins that can handle large amounts of data, making it an ideal choice for scaling Office 365 Add-ins platforms.
5.Customization as per changing needs
---
React.js integrates well with other technologies like Redux and GraphQL, making it simple to create bespoke solutions that match the needs of organizations.
Because React.js is built on the component design, developers may split down the app into smaller and reusable components while developing Office 365 Add-ins. This modular design makes it easier to maintain and grow the application as business demands change.
6.Quick plugins development and deployment
---
React.js facilitates quicker Office Plug development splitting the interface into components and providing a simpler interface. It has simple and intuitive syntax, making it easy for developers to quickly build and deploy Office 365 Addins.
7.Strong Community Support
---
React.js has a large and active community of developers who offer support, tools, and essential resources for businesses looking to develop Office 365 Add-ins using React.js.
Altogether, React.js remains to be the best technology for building Microsoft Office 365 Add-ins while also assisting organizations with cost-effectiveness and scalability. Furthermore, it delivers an amazing user experience across many platforms.
Best ways to reduce ReactJS Add-in development time and cost
---
React.js is well-known for its performance enhancement features, such as Virtual DOM and server-side rendering. These capabilities can assist boost the speed of Office 365 Add-ins platforms by shortening the time it takes to render the user interface and improving the overall user experience.
Using React.js can definitely help you reduce Add-in development time and cost. We've collected a list of ways to use React.js to help you save time and money on development.
#1 Make use of pre-built React.js component library
---
You may utilize pre-built React.js component libraries such as React Bootstrap, Material UI, or Ant Design. These libraries contain pre-built components that you may utilize in your Add-in, saving you effort and time in developing them from scratch.
#2 Reusable components that save time
---
#3 State management using Redux or MobX
---
You can manage your Addin's state more efficiently with ReactJS. For this, you can use tools like Redux or MobX to manage your application state and keep it organized.
#4 Using Jest or Enzyme for unit testing
---
Writing unit tests for your components especially with Jest and Enzyme tools can help you discover errors early and reduce the amount of time spent on debugging. Testing is one of those crucial phases where you can eliminate the most critical bugs from occurring and affecting them. So, make sure you do this much more keenly.
#5 Bundle your code and assets together
---
Use a bundler like Parcel or Webpack to bundle your code and assets together. This will reduce the number of HTTP requests needed to load your Add-in and improve performance.
#6 Use a code editor with React.js support
---
Use a code editor with React.js support, such as Visual Studio Code or Sublime Text. These editors will provide you with auto-completion, syntax highlighting, and other crucial features to speed up custom software development.
Conclusion
---
React.js relics as a strong JavaScript library in the frontend development sector, allowing developers to build rich and dynamic user interfaces for programs such as Office 365 add-ins. It's component-based architecture and reusability features allow you to simplify add-in development and reuse the same component across multiple sources.
This article has discussed the benefits of using React.js for Office 365 extension development, recommended methods for reducing ReactJS Add-in development time, and how it can help businesses acquire the best user experience possible.