The hospitality industry is a fast-paced and ever-evolving business where offering an outstanding visitor experience is critical. In this profession, managing business operations is no less than a challenge. The business is made up of several different areas, including hotels, restaurants, events, travel & transportation, entertainment, and so on. A minor lapse in any of these areas might result in a business loss. Thus, technologies play a vital role in bridging the gaps between these areas.
Hospitality management software allows you to manage various aspects of this large-scale business. It streamlines customer operations, boosts productivity, and improves overall corporate efficiency.
Importance of Security in Hospitality Software
---
Hospitality software serves as a centralized system for the hotel industry that enables to handle room reservations, event bookings, and other guest services. Therefore, security is critical to keep all these processes running smoothly and securely.
The software includes the following modules:
Centralized Reservation and Booking Management
Seamless Guest Experience
Efficient Point of Sale (POS) Systems
Streamlined Staff Management
Data-driven Decision Making
Inventory and Supply Chain Management
Enhanced Security and Data Protection
The hospitality sector increasingly relies on technology. By automating these processes, staff members can easily manage availability, check-ins, check-outs, and room assignments, resulting in reduced errors and improved customer satisfaction.
Software solutions incorporate robust security measures, including data encryption, access controls, and compliance with industry regulations. These features safeguard guest data, protect against unauthorized access, and ensure compliance with privacy laws, enhancing guest trust and minimizing the risk of data breaches.
Why .NET is best for Hospitality software development?
---
.NET technology has evolved as a robust platform employed by many tech giants and SMEs for bespoke software development. According to the Stack Overflow survey 2023, .NET Core is the seventh-best framework among developing platforms.
DOT NET Core offers support for multiple programming languages, rich class libraries, cross-platform compatibility, a robust development environment, a thriving community, and impeccable security. It also offers updated tools that help to build feature-rich, secure, and scalable applications for business.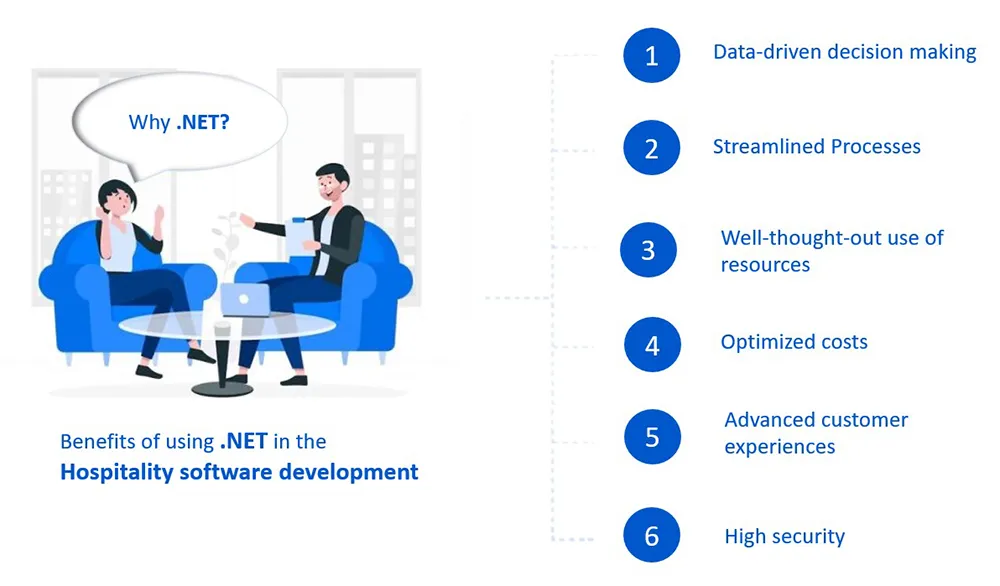 Security features of .NET framework
---
.The .NET framework offers a range of robust security features to protect software and data. Some notable security features of .NET include:
1. Code access security
Microsoft.NET allows developers to grant rights to code based on the identity so that only authorized actions are permitted.
2. Cryptography
.NET provides a comprehensive set of cryptographic algorithms and libraries to secure sensitive data, including encryption, digital signatures, and hashing.
3. Secure communication
.NET supports secure communication protocols such as SSL/TLS, and HTTPS to establish encrypted connections between clients and servers, upholding data during transmission.
4. Role-based security
.NET allows working with role-based security. You can define user roles and assign specific permissions and access rights based on those roles, ensuring proper data access controls.
5. Secure configuration
.NET enables developers to store sensitive configuration data, such as database connection strings or API keys, securely using encryption or other protective measures.
How does DOTNET improve the security of Hospitality software?
---
The robust security features offered by the .NET framework can significantly enhance the security of hospitality software. Here are some strategies that demonstrate how these features can strengthen the security of such software:
1. Code access security
By leveraging the Code Access Security feature of .NET, hospitality software can enforce fine-grained permissions for different components or modules within the application. This ensures that only authorized code can access sensitive functionalities or data, minimizing the risk of unauthorized access or malicious behavior.
2. Secure authentication and authorization
.NET provides secure authentication mechanisms, including support for various authentication protocols and frameworks. By utilizing these features, hospitality software can implement strong user authentication and authorization, verifying the identity of users and granting appropriate access privileges. This prevents unauthorized individuals from accessing sensitive data or performing critical operations within the software.
3. Cryptography
The cryptographic capabilities of .NET can be utilized to safeguard sensitive data in hospitality software. Encryption algorithms and libraries available in .NET can be employed to protect data at rest and in transit. This ensures that confidential guest information, financial data, and other sensitive details are securely stored and transmitted, reducing the risk of unauthorized disclosure or tampering.
4. Secure communication
The .NET framework supports secure communication protocols like HTTPS and SSL/TLS, which provide encryption and data integrity during the transmission of information. By implementing secure communication channels, hospitality software can safeguard sensitive data exchanged between clients, servers, and other system components, protecting against eavesdropping and data interception.
5. Input validation and secure coding practices
.NET promotes secure coding practices, including input validation and output encoding techniques. By implementing robust input validation mechanisms, hospitality software can prevent common security vulnerabilities like SQL injection and cross-site scripting (XSS) attacks. This helps ensure that user-supplied data is properly validated and sanitized, reducing the risk of code injection or malicious data manipulation.
6. Secure configuration
.NET allows developers to store sensitive configuration settings securely. Hospitality software can leverage this feature to protect critical configuration data, such as database connection strings or API keys, by encrypting or securely storing them. Properly configuring and protecting these settings helps prevent unauthorized access to sensitive resources or services.
How to protect Hospitality software data from malicious actors?
---
In terms of protecting Hospitality software data from malicious actors, here are some recommended strategies:
1.Implement secure authentication
Use strong authentication mechanisms, such as multi-factor authentication, to ensure only authorized users can access the software and its data.
2.Apply least privilege principle
Grant users and processes only the minimum privileges necessary to perform their tasks. This helps minimize the potential damage that can be caused by compromised accounts.
3. Regular updates and patching
Keep the .NET framework and all related software components up to date with the latest security patches and updates to address any known vulnerabilities.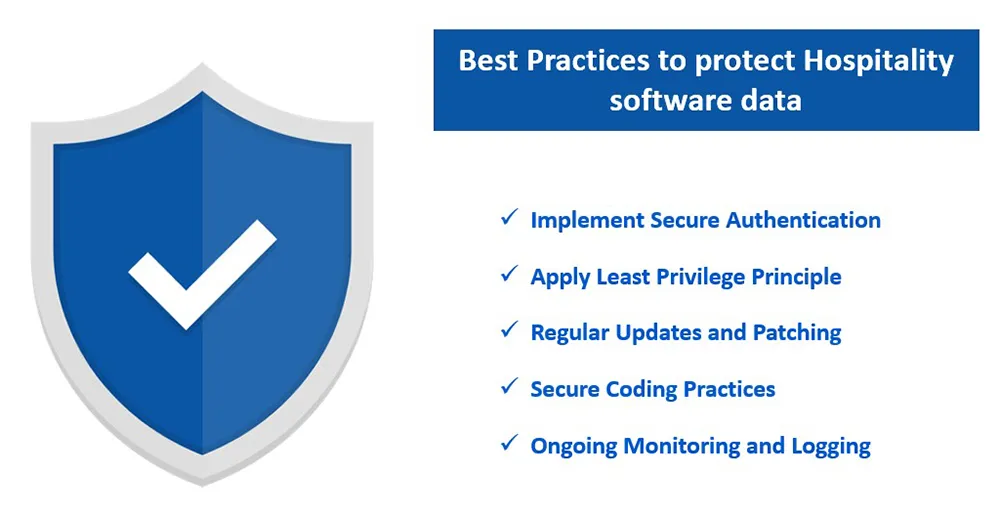 4.Secure coding practices
Follow secure coding practices while developing the software, such as input validation, output encoding, and parameterized queries, to mitigate common vulnerabilities like SQL injection or cross-site scripting (XSS) attacks.
5.Ongoing monitoring and logging
Implement robust logging and monitoring mechanisms to detect any suspicious activities or unauthorized access attempts. Monitor system logs regularly to identify and respond to potential security incidents.
Importance of secure data storage in hospitality software
---
Secure data storage plays a crucial role in the hospitality industry when it comes to protecting sensitive information and ensuring the privacy of guests. The significance of secure data storage in hospitality software can be understood through the following perspectives:
#1 Guest Privacy and Trust
Hospitality software often stores personal and confidential information about guests, including names, contact details, payment information, and sometimes even passport or identification data. Secure data storage is essential to maintain the privacy and trust of guests, as it ensures that their sensitive information remains confidential and protected from unauthorized access or misuse.
#2 Compliance with Data Protection Regulations
In many jurisdictions, there are specific data protection regulations and industry standards, such as the General Data Protection Regulation (GDPR) in the European Union. Secure data storage practices are necessary to comply with these regulations and maintain the legal obligations related to the storage and processing of guest data. Compliance helps in avoiding legal repercussions, financial penalties, and damage to the reputation of the hospitality establishment.
#3 Mitigation of Data Breach Risks
Hospitality software can be an attractive target for cybercriminals due to the valuable guest data it holds. A data breach can lead to severe consequences, including financial loss, reputational damage, and legal liabilities. Secure data storage helps mitigate the risks associated with data breaches by implementing robust encryption, access controls, and intrusion detection mechanisms. It ensures that even if unauthorized access occurs, the stolen data remains unreadable and unusable.
#4 Protection against Insider Threats
Secure data storage also addresses the potential risks posed by insiders, including employees, contractors, or third-party service providers who have access to hospitality software and its data. By implementing strict access controls, monitoring mechanisms, and separation of duties, secure data storage helps reduce the likelihood of insider misuse or unauthorized disclosure of sensitive information.
#5 Business Continuity and Disaster Recovery
Secure data storage encompasses practices such as regular data backups, redundancy, and disaster recovery planning. These measures ensure that even in the event of system failures, natural disasters, or other unforeseen events, hospitality establishments can recover their data and resume operations efficiently. It minimizes the impact on guests, business operations, and revenue generation.
Overall, the significance of secure data storage in hospitality software is paramount. It not only protects guests' privacy and builds trust but also helps businesses meet legal obligations, mitigate risks, and ensure the continuity of operations. By prioritizing secure data storage, hospitality establishments can create a resilient and secure environment for their guests and maintain a competitive edge in the industry.
Conclusion
---
In the hotel business, technological solutions have become essential for effective operations management. These new solutions give several benefits, ranging from reservation and booking administration to seamless guest experiences, improved staff management, data-driven decision-making, and increased security. In an increasingly digital and demanding world, hospitality firms may gain a competitive advantage, increase operational efficiency, and offer excellent guest experiences by embracing IT solutions adapted to their individual needs.
This blog has discussed the significance of .NET security in hospitality software development as well as why it is the ideal solution for this. I hope it helps you understand how to improve software security and the need for safe data storage in the hotel sector.