In the past few progressive years, there has been a dramatic growth in the number of companies adopting Cloud computing strategies. From using the application on the local system to now hosting it on remote cloud locations, companies have started using the cloud as they have seen several benefits of using the same application over the internet. It has been estimated that every company will be using one Cloud service in their system.
What is Cloud Computing?
---
Cloud computing is a process to provide access to the content and carry out tasks on the internet without installing the application in your local device or your mobile phones. The storage and the access are performed over the network which means you simply need to connect the device online and you can be accessible to all the features of the same.
Without your awareness, you are directly connected to cloud computing technology as if you have created a document using Google Docs, watched a video on YouTube, or hear music on Spotify. You have used cloud computing.
What is the core usage of Cloud Computing?
---
Some of the main uses of Cloud Computing are as follows:
Store and Backup data : With the use of Cloud computing, you can protect your data and file more securely. It allows you to transfer the information to the remote server and also provide access to this data wherever and whenever it is being needed by using any devices connected to the internet.
Streaming audio/video content : Cloud Computing gives access to offer audio and video content to be streamed online. Storing these contents on a remote server helps the public to watch them without downloading it
Analyse the information : The challenge is to integrate the information from all working departments and facilitate the data analytical process. This allows the merging of the data from different teams and their respective locations at a single place. Hence this is easy to use smart services and have insights and helps to make the decisions wisely.
How does Cloud Computing work?
---
In cloud computing, a remote server is used to connect numerous devices to merge features and services. The server stores programs and data which can be accessed by users from anywhere with proper internet connection in their device.
Rise of Cloud Adoption in the organizations
---
An organization can get the benefit of cloud adaptation in terms of business growth, security and stability. Cloud services give companies greater flexibility in business model development. Cloud-based applications help businesses in making the least resources useful. Cloud-based services offer benefits such as high-speed service delivery and scalability for a customer. As per the public cloud service market, cloud adaptation services are expected to reach $623.3 billion by 2023 worldwide.
Today, almost all the business verticals have started to adapt Cloud setups with the help of cloud-based solution providers and Software Development organizations for their Businesses.
Annually 50% of enterprises spend more than $1.2 million on cloud services. As per Gartner's forecast, infrastructure-as-a-service (IaaS) will be the fastest-growing segment in cloud services and its predicted growth is 24% and expected to reach $50 billion by the end of 2020. Gartner also predicts that by 2022, 90% of organizations that purchase public cloud infrastructure-as-a-service (IaaS) will do so from an integrated IaaS and platform-as-a-service (PaaS). IT spending will be affected by the cloud shift that is more than $1.3 trillion.
Distributed cloud will gain momentum of public cloud services to the places that basically needed on a short-term basis. In the coming few years the leading cloud service providers will have a distributed ATM as per Gartner predictions that require a low-latency application. Gartner also predicts that in the coming future leading cloud service providers will be able to launch micro data centers.
Artificial intelligence will assist cloud management for rapid uprooting practices and processes. Artificial intelligence clouds save time and money and its potential existence help in issue resolution and security enhancement. Artificial intelligence is a prominent trend in cloud computing. Enterprise workloads are expected to shift to the cloud that is approx 80% by the end of 2020. Data security in the public cloud is generally a key area in 2020 just because of some major public cloud breaches in 2019.
In cloud adaptation security discussion to a large extent because of its access control and policy creation. In a public cloud environment, an enterprise has more critical workloads. Public cloud aspects like cloud security, data encryption, and threat intelligence. Users are looking for real-time access to data in the IoT. Cloud computing is distributed in nature so computing moves to the mainstream. Hybrid cloud enables organizations to use a mixture of private and public clouds with interoperability. 85% of enterprise representatives believe that hybrid cloud as their ideal operating model.
Many organizations experienced that cloud is secure and its services meet their business needs. Cloud services consistently strengthen their native optimization capabilities and help organizations to select the cost-effective architecture that can deliver the required performances. Cloud application portability has the ability to migrate an application across the platform without any change.
Cloud computing is now a popular and effective solution in terms of providing an easy on-demand and scalable infrastructure of computing to many platforms. Today, almost every business deals with cloud computing setup by the assistance of Cloud-based solution providers and Software Development firms.
There are several domains where cloud computing is used which are education, health-care, business, project management, agriculture, routine life, and many others. These days there are plenty of tools that use this technology whether to use in data storage or to allow access to services and features. In this blog, you'll learn complete Cloud computing. Keep reading!
What are the types of Clouds services?
---
IaaS (Infrastructure as a Service): It is the basic type where the users rent the IT infrastructure which includes servers, storage, network, virtual machine and operational systems from a provider and purchase accordingly.
PaaS (Platform as a Service):Users hire an on-demand development environment, where they can create, change and optimize software applications. It allows developers to create applications quickly, without configuring or managing the infrastructure.
SaaS (Software as a Service): It allows users to access the software without having to download and install data on their device. It is based on the subscription model where users pay as per the requirement.
What are the benefits of Cloud Computing?
---
Cloud Technology is now allowing small-scale industries to access high-end technologies which were earlier limited to large-scale industries. Cloud Technology offers benefits such as business productivity, cash flow, process efficiency, and many other benefits.
Following are the Benefits of cloud computing:
Scalability
Your business may face many ups and down so your operations and storage need to be quickly accessible as per the situation, providing the flexibility as per the need. The Cloud computing service provider handles all the purchases and installation of the expensive upgrades.
Cloud software enables your customer to accommodate a large increase in a remote workplace very quickly. Employees can use their own mobile or laptops without incurring additional costs. Employees can access internal information via cloud software whenever they choose to work. New employees can easily be granted access to all of the information that they will need without visiting the office.
Reduced IT costs
Migrating your IT system to cloud computing reduces the managing and maintenance costs. Instead of buying costly systems and equipment for the business, you can provide them with the reduced cost by using the resources of the Cloud computing system. The cost gets reduces because the contract for cloud computing includes system upgrades, new software, and hardware. No longer paying of salary to the expert
Business continuity
Data protection and system protection is an important aspect of business continuity planning. Data stored on the cloud can make you secure from threats such as natural disasters; power failure and many other issues can be faced. If you are accessible to your data frequently there will be downtime and loss of productivity.
Collaboration efficiency
Collaboration in a cloud environment which allows the business the ability to communicate and share details more conveniently in the outer world by following the standard methods. If you are working remotely on a project, then possibly you can give access to employees, contractor and third party companies the access to work using the same file. You possibly have the right to choose an appropriate cloud computing model which will make it easier for the companies to share the recorded data with the advisor.
Communication and collaboration are very important for remote workers because you have to work that little bit harder to do it effectively. Cloud software makes these things work in remote working. With the help of the cloud, the software team can work on the same documents at the same time and changes being saved instantly. SaaS tools such as Google Hangout, employees can collaborate nearly effectively as if they were in the office together.
Geographic Reach
Another benefit is to know the geographic reach of the cloud. Rather than host your application on a single geographic location, the cloud allows you to possibly host the application in several data centres spread across the globe. The content delivery network also assists to increase the geolocation of the application even though it's been hosted on a single location. CDN is the set of servers that responds to the user and acknowledges the user requests for web content. This provides access to the application, images, audio, videos, and other files to accelerate content delivery.
Cloud Software Provides Flexibility
Cloud software enables employees to work from any location. Employees can access via a virtual environment to the same information that they'd have access to from the office. Employees can also access documents and data that they need by using the specific credential to maintain security at the same time. Cloud computing provides a greater level of flexibility and shared access to information centrally accessible via a single server. Employees are more secure using the cloud software provided by their company.
Reliability and security
Major Cloud computing providers work under the polices, specific technologies and control that ensures that security and protection of the data. It provides a feature for the backup and recovery of the data.
Time-saving
Using traditional computing acquiring and expanding basic services such as storing, requires planning and waiting time until all the features are ready. More advance is developed and features are approaching sooner be added to the technology. You are just one click away from the increased storage space and collectively add on new features in cloud computing technology.
Increases Productivity
The local datacentre requires many resources like a variety of equipment and processes. So, it gets mandatory to configure the hardware, install and update the very time-consuming software. By cloud computing, all the tasks are performed by cloud services automatically and your business is allowing to invest in other areas to raise productivity.
Improved performance
Cloud computing uses secure data centers with regular updates of the hardware. This ensures benefits such as lower network latency for the use of the application.
Successful Tips for Keeping Your Cloud Costs Under Control
---
Nowadays more and more business organizations and Software development companies are moving towards the cloud. Multi-cloud deployments are leading the standards with 84% of industries embracing a multi-cloud procedure, according to the online report.
Despite the advantages and versatility, IT decision producers still have concerns about cloud costs and managing their budgets. At the inception, individual cloud costs may look a little adequate not to worry about. But when they all are connected together, businesses can rapidly find costs escalating out of control, proceeding valuable time and money from other IT projects.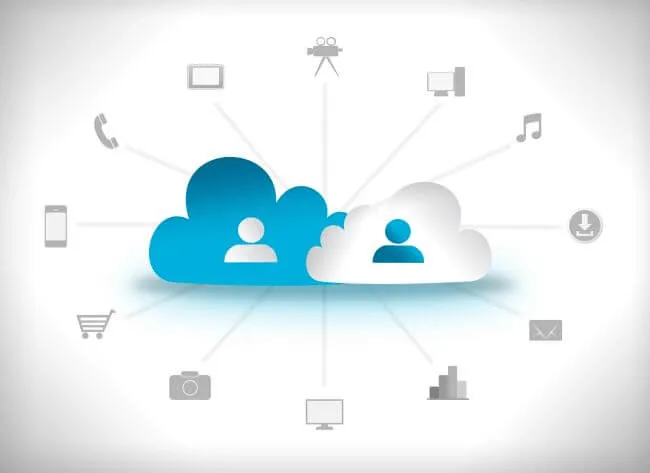 Cloud Costs Under Control
Image source: https://www.datapine.com/
Unite services
An autonomous cloud service may be the perfect option for your business in some cases, but few are often less cost-effective than a packaged suite of services when everything is added up. Many substantial organizations will be using a combination of on-premises and cloud resources across hybrid cloud infrastructure, so assuring that services are integrated across management platforms is supreme for monitoring usage and stability with other business applications.
There are many advantages to safeguarding your cloud services which are unified with other systems you utilize, such as easy data collection and transfer, and proficiency of use for employees scrabbling around various platforms for files is far from time systematic.
Gain superiority of lower cost and prepaid occurrence for known usage
Numerous service providers propose noteworthy discounts for prepaid or reserved instances, sometimes up to 75% when differentiating to the costs of on-demand instances
Hence, this alternative offers significant savings, specifically if capacity is known or it can be precisely anticipated.
Organize your assets
IT will never eradicate trail IT spending by users but, what it can do is execute a corporate-wide IT asset management system that can instantly track a new service when it comes online.
At some point, the upper management including the board may initiate to get apprehensive about overall IT spending. Notable cloud spend is originating from end-user departments because it's easy to captivate cloud resources without even notifying IT. Using this way, services that are involved stealthy are promptly visible and so are their costs.
Discard deadwood
The role of the asset management process is corroborating that you are acquiring your money's worth from your IT investments. If an IT strength like a cloud service is undervalued, utilize it, or implement it
Utilize a centralized management tool
If your corporate utilizes multiple cloud service contributors, a management tool empowers you to simply track the services you have paid for and adjust as required.
Get finance entangled
Finance is extensively proficient at reading complex cost formulas and assisting to derive projected costs when you are executing cloud ROI cost modeling.
On the other side, IT is not perfect at this. It is to your benefit to capture finance's help in forecasting your cloud costs.
Don't stock valueless data
Major Cloud computing providers work under the polices, specific technologies and control that ensures that security and protection of the data. It provides a feature for the backup and recovery of the data.
If your corporate is one of these organizations, so it's time to analyze what you have thrown out to the cloud to regulate if it's worth saving.
Cloud software keeps your employees connected and productive regardless of work from home. Cloud gives employees the freedom to work from home that does not only increase employees' satisfaction and productivity but also helps businesses to grow with greater ease. Cloud software makes secure access to critical data and applications from various devices anytime, anywhere. Cloud software enhances collaboration among team members in real-time and easily scales your cloud capacity to match your current and ongoing needs. Cloud software maintains productivity outside the office, saves valuable time to spend with those you love, cut down upfront capital purchases, and helps on expanding your businesses.
Cloud software is becoming common for Software development companies and other business organizations to boost the productivity of employees, enhance their accessibility, and create a mobile-friendly environment for remote working. For most of the businesses, cloud computing decision is an easy one. Cloud software can actually work towards increasing their overall security levels as a business. Cloud increases security for remote working such as user-specific password and encryption of files when there are attempts to open these by unauthorized users. Cloud additional security measures can be implemented in the event of mobile devices or laptops to prevent the security breach. Cloud software provides a high-level of security in favor of remote working capabilities.
Conclusion
---
The future of cloud computing is speedily entering the physical world. It enables businesses to leverage innovative ways to grow and achieve their goals.
According to Synergy, the market of software-as-a-service (SaaS) generates $20 billion for the examined quarter and it is growing yearly 37% in revenue for software vendors. Microsoft is the market leader in SaaS with a market share of 17% and a 45% growth in yearly revenue. According to Forbes, 48% went to SaaS, 30% to IaaS, and 21$ to PaaS.
Cloud software offers greater flexibility, security, and scalability in remote working. Cloud create a comfortable work environment and secure access to the documents from anywhere. The Cloud computing environment offers a better alternative for managing, applying, and adjusting to changes throughout your organization. You may work from your home but cloud software can help make sure you are still collaborating effectively as part of a team.