Crazy technology ideas to tackle Demonetization situation in India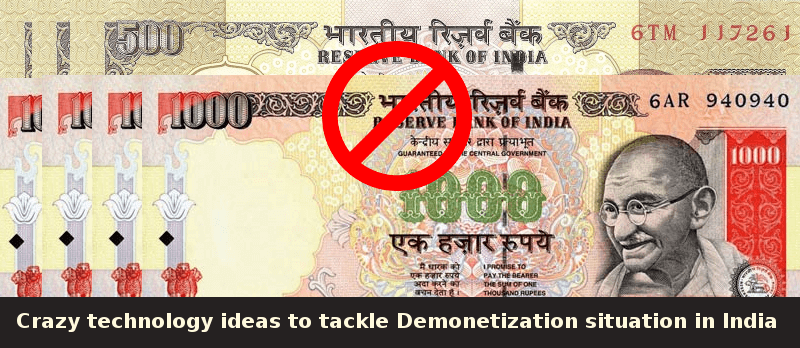 Black money is a big menace in Indian economy. There are businesses that run heavily on black money transactions like real estate, textile, fertilizer, agriculture and FMCG etc. Black money transactions for economic activities in India is the main culprit for high tax evasion, terrorist activities, fake currency in economy, low per capita income and low GDP growth in India.
It was a historic event on 8
th
November, when
the Prime Minister of India
, Mr.
Narendra Modi
, declared the demonetization of 500 and 1000 INR currency notes. This was historic in the execution as well as it was very sudden and did not give any chance to black money holders to adjust the same. Lot of Indian citizens are supporting this marvelous and bold move though it created some inconveniences to citizens. Time will tell if these small inconveniences are worth the economic gains that economists are predicting. As a
, we could not resist thinking of ways a technology can assist managing the chaos and long queues at banks and ATMs.
Cash deposit scheduling system by bank or RBI
Business owners, traders, house wives, farmers are some of the citizens who might have heavy cash piped up in their businesses or houses. Deposits of cash higher than threshold amount should be planned so that it should not cause inconvenience to general public who are in genuine need of cash for their day to day operations. Big cash deposits creates havoc at bank as it takes time. This can be managed by an online scheduling system or app. If such system is in place, cash deposits can be managed more effectively. This can also save time of citizens by avoiding long queues and such transactions can be processed faster at bank.
App or website to validate fake currency notes
One of the reason of demonetization as cited by Government was to demolish face currency notes that has piped up heavily in the economy since long. If Government or bank can develop a mobile application or website that validates fake currency notes before deposit that can help citizens a lot. Technical feasibility of such mobile app or website needs to be verified though. We believe RBI should work on some API or web service that can help achieve this.
Nearby ATM/bank locator with cash/no-cash status
Standing in ATM queue for hours and ATM runs out of cash the moment your turn comes can be very frustrating and disturbing. If a mobile app or website that can help citizens know the status of nearby ATM or bank that has cash for replacement or withdrawal can assist them a lot. Google recently published a service whereby user can locate the nearby ATM however this does not show the status if ATM has enough cash or no.
Avoidance of recurring withdrawals using biometrics or aadhar card linkage
As cited by few local newspapers, one of the biggest reason for long queue is dummy people withdrawing money on others' behalf multiple times. If such recurring withdrawals can be monitored and controlled, you automatically control the long queues. Biometrics with aadhar linkage is one of the technical way to address this. I understand that complete elimination of such cases is beyond control however this can surely help a lot to control the long queues.
Online grievance redressal system and helpline
The moment the Prime Minister of India announced the demonetization of 500, 1000 INR currency notes, there are thousands of various types of rumors being spread via WhatsApp, Emails and SMS. A helpline number and an online system to address the grievances and inconveniences of citizen can be a great idea. There are people who do not know how to manage their cash even though that is their genuine earnings and is totally legitimate money like farmers' earnings, housewives savings etc. If there can be a system by RBI or banks to address such grievances, it can help Govt. to control the situation.
RBI Notifications, alerts and messaging app
It has been observed that various kinds of notifications, orders etc. are being circulated by RBI regularly. Some of the notifications are like change in withdrawal limits, relaxation on various situations etc. are not reaching till the bottom. A mobile app or online website/webpage with such notifications, alerts and messages can help people to remain updated with the situation.
Increase of online services to farmers and other citizens
Govt. agencies like GNFC, IFFCO etc. should start providing fertilizers, chemicals, seeds etc. to farmers who are in dearth of currency notes on credit. This can assist people who are in genuine needs of currency notes. This can lower the public inconveniences and can also be good for overall economy.
Technical feasibility of above applications is not thoroughly reviewed, however if implemented with help of
, can surely assist in managing the long queues at ATMs and Banks. It can also help government in addressing grievances of citizens and can help them in long run. This is not addressing economic impact though as we could not comment on economic impact of this move.