Introduction
---
There are a huge number of front-end frameworks available today in market, each with different strengths and weaknesses. This makes it tricky to conclude which one you should invest your time in learning, or which is most suitable for your next project. Hence, we conducted one survey among the MVP's, software developers, Team leaders, project managers, business managers, QA to know their perspective and discover the final alternative.
|   | Blazor | Angular | Vue | React | NodeJS |
| --- | --- | --- | --- | --- | --- |
| First release | 2018 | 14-Sep-16 | February 2014 | May 29, 2013 | May 27, 2009 |
| Developed by | Microsoft | Google | Evan You | Facebook | OpenJS Foundation |
| Type | Web Framework | Web Framework | JavaScript Framework | JavaScript Library | Runtime Environment |
| Architecture | Client Side/ Server Side | Full-fledged MVC framework | Flux-inspired application | MVC | Single Threaded Event Loop |
| Data binding | Two-way data binding | String Interpolation Two-Way Data Binding | Two-way data binding | One-way data binding |   |
| Popular projects | Damselfly | Story book | Koel, Faviator | Facebook, Instagram, Snapchat | Axios, Strapi |
In this article, we will look at a few of the most popular web frameworks, and how they fare against each other. We will examine various parameters of these frameworks and take a deep dive analysis, which generally eases the process of deciding about the most promising front-end web frameworks.
We analysed the most significant insights of 36 subject experts comprising various designations such as Software Developer, CEO/CIO/CXO, Project Manager, and other professionals, to represent the facts of Blazor, Angular, Vue, React, NodeJS.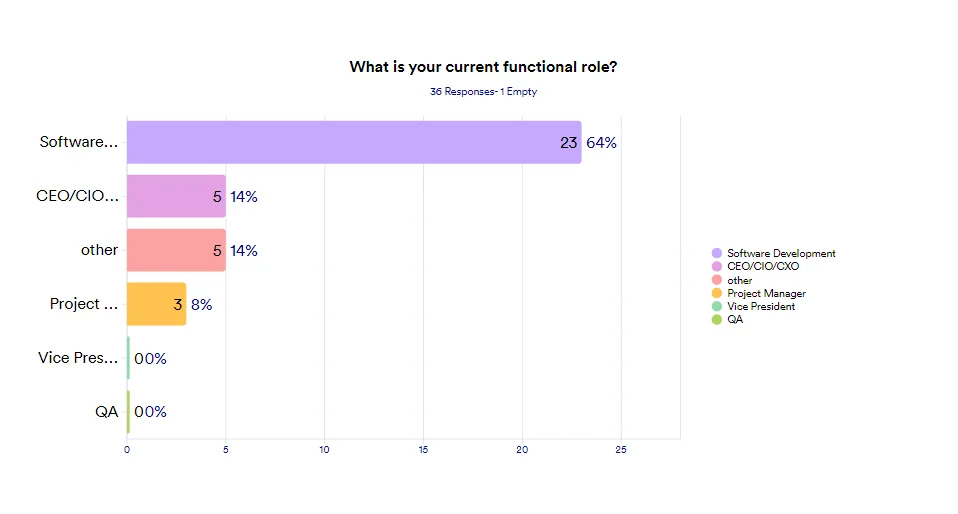 The above figure demonstrates various experts with different functional roles shared their insights based on their experience on these technologies.
Now, let's dive deeper into the key findings of each technology.